[brb_collection id="16984″]
​
________________________________________
I need to tell you that I have been "swimming" & basking, & dreaming through your magazine since 2010 when I first picked one up from Ken Wagner at K&S Saddlery…& I love it.  I've learned & laughed & planned & schemed… I've put events in & recommended your mag as a resource to many clubs & joined other posted events myself. One of these days I'm even gonna advertise my horse related properties & myself as a Windermere Equine Specialist like my REALTOR friend Linda Solheim from another one of our 4 Windermere Professional Partners office's does. Thank you for the gift of Northwest Horse Source…I'm a fan!
Sincerely,
Cath
Windermere Professional Partners
________________________________________
To any future Northwest Horse Source customers;
Any time we as a business can reach a specific clientele efficiently and affordably, it is a plus. The magazine is readily available and free to customers. Why would a horse person not pick it up at the feed store? Since the magazine went online the number of readers has multiplied. One of the deciding factures for me as to where to spend our advertising dollars was the ease with which I can maintain our ads. Karen is the most helpful person so I am not wasting sales time coming up with new ads each month. My time is important.
If someone were trying to reach the thousands of horse owners in Washington state, the Northwest Horse Source is the logical place to start.
Thank you, Maggi Clark
​________________________________________
Karen and Nicole,
I want to thank both of you for your help in getting the word out about our event. The event went well! Everyone heard about it from Facebook which was your doing because of the post and boost you did for us. Thank you both so much!
Best regards,
Lisa (Genesis RV)
​________________________________________
Hi Karen,
We just wanted to thank you and everyone involved in your magazine for the excellent exposure you have given the Mane Event, we are EXTREMELY pleased with everything you have done for us and the amazing professionalism from everyone at Northwest Horse Source – please pass our gratitude along to everyone!!!!
Gail
[email protected]
www.maneeventexpo.com
1-844-578-7518
________________________________________
Karen,
I am proud to be included, however small my part is, in your outstanding magazine. As we discussed at the Albany Expo, I am in awe of what you have accomplished. You had your goals and oh-my, you are a SUCCESS! You have set the standard for many novice businesswomen, me included. There is so much to starting a business, and it is easy to be overwhelmed. But every time I read one of your articles, I am inspired!
Rebecca Herron
________________________________________
The Northwest Horse Source is a publication that I've enjoyed for years. Always look forward to reading articles about our Northwest equine community.
It is my go to place to advertise my equine based business and is topped off with excellent customer service with a smile!
Audrey King
From Our Appreciated Readers
I love
️ NW Horse Source Mag! In addition to the email version I also pick up a hard copy from my local Wilco so I can refer back to the articles. I try not to keep more than 12 months worth or my husband has a fit. LOL!
Keep up the good work, thousands of horse owners / riders are better for your contribution to the equine world.
Sincerely ,
Norma Schwab
Oregon
________________________________________
Hi Karen,
I was so glad you helped to distribute this request. (Link to Dental Work Fundraiser) I had never heard of ETC, but was happy to assist with a donation because your magazine is a trusted source.
Thanks!
Caroline Bombar-Kaplan
________________________________________
Great magazine providing resources to horse enthusiasts around the Pacific Northwest. Everyone I know with horses around here reads it.
Constance Scharff
________________________________________
Hi! My name is Isabella and I love horses!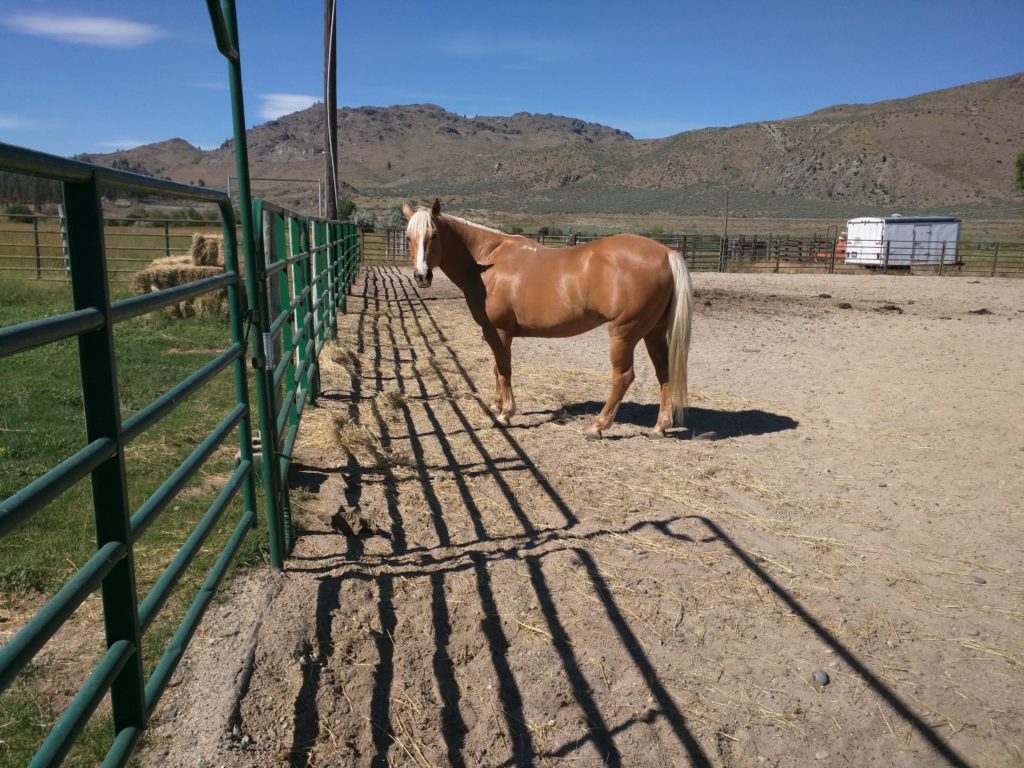 I get the Northwest Horse Source magazine every month!
I read the article on your horse, Dynanic in the December issue for 2016. He sounds like he was such a good horse!
At the bottom you said feel free to contact you so I did!
I don't have a horse but I have always wanted one. My grandparents have a neighbor that has two horses and I have know them forever! I met Hotrod (who is one of the horses) when I was about 5 years old. I am now almost 13. Hotrod is super special to me! One time we were trying to do a canter and I was a little nervous. We got up to a pretty fast trot and we were about to start cantering. I let him go into a canter but them I tensed up and Hotrod felt that so he slowed down. I think that it is so cool that we can connect that much to our horses! I have attached some pictures of him so you can see what he looks like.