Provided by BMG Events
Photos by Waltenberry Photography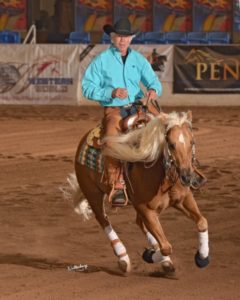 On March 19th exhibitors arrived from as far away as Florida, Pennsylvania and Canada with great enthusiasm for competing in the thirteenth Cactus Reining Classic at West World in Scottsdale Arizona.  When it comes to winter weather, Scottsdale is the place to be.  Warm days and cool nights are just what a great horse show such as the Cactus Reining Classic hopes for and that's what was ordered up for this year's event.  Several hundred talented competitors made the trip to this fabulous city and experienced the first of five Brumley Management Group, LLC's events in 2018.
This year's event setting did not disappoint.  Over $150,000 in cash and prizes was offered and with it brought a significant increase in attendance.  The competition began with the Ancillary Open and Non Pro slates. A fixture of BMG Events are the coveted High Point awards. Based on the riders placings in each slate determines the Champion and Reserve Champion High Point winners. Loren Booth from Orange Cove, California rode her mare Taris Little Gunner, a 2011 mare, by Gunner and out of Taris Modern Design, to win High Point Champion in the Non Pro, Intermediate Non Pro and Prime Time Non Pro divisions. "Loren was super consistent with the mare", comments Tracer Gilson her trainer.  The two have really come together in the last year. She won the Select Amateur Circuit at the Sun Country show last month and was a finalist at the AQHA Select World in 2017".
Rick Christen's mare Msdreamy, Magnum Chic Dream x A Gal With A Gun, won the Open High Point Championship with rider Dan Huss.  Whizen Big Chex, (Big Chex To Cash x Whizgun) won both the Intermediate and Limited Open High Point Championship with rider Gary Roberts for owner Kimberly Laser.  The Reserve High Point Intermediate Open Championship was awarded to the 2010 gelding Holier Then Thou (Jacs Electric Spark x Slide Me Again) owned by Nicole McDevitt of Woodside, California and ridden by Eric LaPorte.
A feature of the CRC event for the second year in a row was the National Arabian Reining Horse Association (NARHA) Ancillary divisions. "We are slowly starting to see exhibitors from the Arabian industry come to our events," notes Amanda Brumley the event's producer.  "Avid Arabian enthusiasts now have venues to show off their talented and beautiful working western horses and can win cash and prizes.  NRHA reining events are open to all breeds, as a producer I want to see more breeds at our shows."  The NARHA Open High Point Championship went to Twylite Zone, (Basic Four x JB Dos Jalepenas) a 2007 Half Arabian ridden by Jessica Bein for owner Ashlye Caruth Daniel. Reserve High Point Champion went to TCR Gone N Dunit, (Shiner Dun It x All Laced Up) a 2014 Half Arabian ridden by Martin Padilla for owner Isabelle Ord.  NRHA Professional and Arabian reining trainer Jessica Bein from Scottsdale, Arizona has this to say about bringing Arabians into mainstream NRHA events, "The opportunity to bring our Arab clientele to Cactus (Reining) Classic allows our riders to see national level reining horses, without intimidating them. Having separate divisions for the Arabs allows a natural progression to raising their level of expertise." Bein continued, "Brumley Management utilizes the needs of growing the industry and bridging the gap between entry level shows and upper level competition."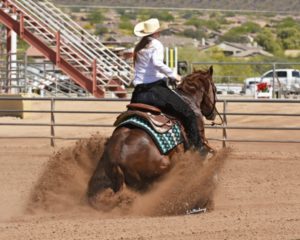 Consistently the largest Ancillary divisions entered at BMG events are the Limited Non Pro and Rookie divisions. "I love to see large entry numbers in these divisions as these are the exhibitors buying the older horses, lengthening their careers and strengthening our industry as a whole," notes Brumley. "We look to reward these large classes by offering custom High Point Champion trophy saddles. The competition to win these saddles is fierce. Those who win them have definitely worked and showed their tails off."  Winner of the Limited Non Pro High Point Championship and taking home the Silver Spurs Saddle sponsored by Scottsdale Western World was Katherine Dazendorf and her horse Olenas Bright Star, (Starlights Starbright x Olenas Frecklemint). Rookie Level 2 and Prime Time Rookie High Point Champion, Carla Odetto riding Wimpchester 73, (Wimpys Little Step x Whiz N Darlin). Rookie Level 1 High Point Champion went to Ava Bush and Shes A Shining Gun, (Hes A Loaded Gun x Lil Shining Suzana) and the Desert Reining Horse Association (DRHA) Rookie High Point Championship Bob's Custom Saddles trophy saddle was awarded to Quanahs Last Alex, (Alexander Pep x Quanah Dawn Doc) owner/rider Desiree Hardin.
NRHA Professional Bub Poplin, from Colorado, coaches Dazendorf and Hardin and had this to say about the event. "We look forward to the Cactus (Reining Classic). It starts our show season for the year. We love to get to the warm weather this time of year. The show is so well run and there is always somewhere to go ride. Neither of my riders knew they were up for trophy saddles. They knew they were up for circuit buckles and were so excited about that. Once they found out about the saddles there were a lot of joyful tears. Awesome show!" Bob's Custom Saddles Vice President Chris Weaver notes, "Bob's Custom Saddles is very pleased to be able to work with Brumley Management by placing the saddles in divisions where it could potentially be someone's first achievement award saddle."  The saddles awarded at Brumley events aren't just trophy saddles, there is a big difference between a 'trophy' saddle and an award saddle. "We are very particular about the saddles we award to our exhibitors, as with all the awards. This is why we choose the best manufactures in our industry, Bob's Custom Saddles and Scottsdale Western World's Silver Spurs line of saddles," comments Brumley. "We work closely with our saddle manufacturers to make sure these saddles are not only beautiful, but ride well for years to come. We want exhibitors to be proud to ride them and show them off."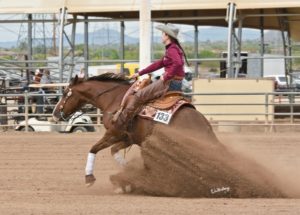 The Youth divisions witnessed an increase this year with 70 overall entries. The youth riders marked some impressive scores for these young Reiners. Ava Bush once again entered the winners circle on Shes A Shining Gun, (Hes A Loaded Gun x Lil Shining Suzanna) winning the Youth 13 & Under High Point Championship and Reagan Vokoun riding Dunitwithashinyface, (Pale Face Dunnit x Shine On Tejon) took the Reserve High Point.
Jennifer Neudorf showed her strength for consistency winning the first slate of Youth 14-18 and took reserve in the second slate aboard her horse Blue Collar Tag, (Whiz N Tag Chex x Kachina Oak Olena). Neudorf's efforts awarded her High Point Champion. Shelby Clausen and Xtra Voodoo Pal, (Shiners Voodoo Dr x Wimpys New Pal) gave Neudorf a run for her money narrowly missing the championship by 1.5 points. However Clausen still took home the High Point Reserve Championship custom trophy buckle.
The growth and popularity of the SmartPak Maturity divisions proved evident at this year's Cactus Reining Classic. Forty seven exhibitors competed and the performances were impressive. After the dust settled on the last rider, Chandler Winard with her score of 220 on her eight year old gelding Tags Golden Star (Whiz N Tag Chex x Boogies Smart Star) to win the Level 2, 3 and 4 divisions, three Gist custom trophy buckles and a check for $1,489.29. Megan Dante aboard her flashy bay gelding Lookies Gotta Gun (Spooks Gotta Gun x Lookie Lu) marked a 219 to win the Level 1 and took reserve in Levels 2, 3 and 4. While Cady Shaw, a California native, showed off her talented horse Dream Whiz Me, (Magnum Chic Dream x Whiz Out Chex) to win the Prime Time division while placing second in the Level 1, and third in Levels 2, 3 and 4 claiming her piece of the pie, a check for $1,496.95.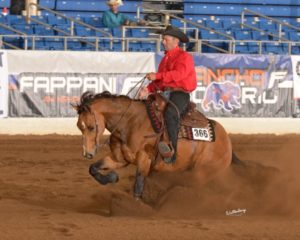 The Arabians also enjoyed success in the Maturity.  A Maturity is designated as a competition for horses seven years of age and older, while for the Arabians and Half Arabians it is six years of age and older. Michelle Betten took the championship aboard SH Imvaguelysurprised winning $585 while Cotton McNutt claimed the reserve with her pretty grey mare Wheres Wanda RA and a check for $455.
The days were long, but the competition just kept getting better. The Non Pro Derby presented a big jump in entries over 2017.  With $42,000 in added money no one was holding back.  Mark Blake, riding Hot Hollywood Whizky (Topsail Whiz x Hot Hollywood Jewels) laid down a score of 220.5 to win his first Cactus Reining Classic Derby claiming Levels 1,3,4, Prime Time and Masters Derby Championships and a paycheck of $15,009.09. A huge win for Blake! A consistent face in the winner's circle, Rick Christen gave Blake a run for his money marking a 219.5 on Xtra Voodoo Step (Wimpys Little Step x Voodoo Chic) winning reserve in the Level 3, 4, Prime Time and Masters, taking home a check for $7,755.44. Winner of the Level 2 Non Pro Derby was Kylie Warn riding Lenas Shining Gun (Gunners Special Nite x SL Lenas Chick).
For the first time the Cactus Reining Classic offered two youth divisions in the Non Pro Derby, the Buckshot Farms 13 & Under Youth Derby and the Mr Electric Spark 14-18 Youth Derby. Luca Fappani riding the darling four year old mare Off Whiz A Spook (Smart Spook x Whizin Off Sparks) marked a 215.5 to win the 13 & Under and Kylie Robinson riding Xtra Bamstep (Wimpys Little Step x Miss Bam Bam Command) laid tracks to win the 14-18 division. "I am very grateful to the sponsors of these youth divisions," notes Brumley. "A Derby can be tough!  To have these kids out here competing against adults with decades of experience is a lot to expect from them. These divisions, which help level the playing field, provide encouragement and instills confidence for these young Reiners."
The week's competition culminated in the highly anticipated $70,000 Added Open Derby that brought the 'big guns' out to play.  Seventy two horses were lined up to compete. Andrea Fappani riding Ifwhizswereguns (Spooks Gotta Gun x Ifwhizsweredollars) for owner Rancho Oso Rio, wasn't going to let being draw three deter him. With the 'Fappani style' determination Ifwhizswereguns marked a 229.5 while the exuberant crowd whistled and cheered. The electricity and anticipation of what was coming next was giving everyone watching goosebumps. Draw twelve, Martin Muehlsteatter aboard his wife Kim's horse, Spooks Grand Slam (Spooks Gotta Whiz x Shiney Diamond Lady) knocked Fappani right off his lead by marking an outstanding 231.  Spectators thought they had witnessed the winning run. The high scores kept coming, Marco Ricotta marked a 228.5 on his wife Jenny's homebred mare Miss Whizzletown (Hollywoodtinseltown x Rewind N Whiz). To be in the top ten scores it took a 224.5.  At draw 65 Muehlsteatter was still holding onto his lead. Then, once again Andrea Fappani entered the arena.  This time on his third and last entry draw 66, the stunning five year old stallion Epic Titan (Colonels Smoking Gun x Princess In Diamonds) owned by Clinton Anderson from Stephensville Texas. Avid Reining fans know Fappani will keep trying to outperform others and himself all the way down to his last draw. Once more Fappani walked calm, cool and collected into the arena, started his pattern and after the first set of plus 1.5 spins the crowd knew they were watching something special. 'The Score'… 233.5 Epic!
What is it like to judge a reining competition of this caliber?  Darren Stancik, NRHA Professional and Judge was sitting in the judge's chair and has this to say, "I watch what these guys are accomplishing with their horses. The athleticism of the horses and riders amazes me. As a judge, to be able to mark horses of this quality, with the consistency of my peers in the chairs next to me, was an honor. This was a great reining!"
For complete results and to watch the video of Epic Titan go to www.CactusReiningClassic.com/results
The popular series of west coast reining competitions begins with the Cactus Reining Classic, Scottsdale, Arizona, followed by the Wild Card Reining Challenge, Las Vegas in May, Reining by the Bay, Woodside, California in July, and the High Roller Reining Classic, Las Vegas in September.  These events are all on the NRHA's Top 15 list of worldwide events and are considered not to be missed. "We would like to thank our sponsors for their support of BMG Events, as without them, and our loyal exhibitors, these events would not exist. Rancho Oso Rio, Markel, Lucas Oil, Tamarack Ranch, Rhodes River Ranch, Xtra Quarter Horses, Silver Spurs Equine, SmartPak, Bob's Custom Saddles, and Scottsdale Western World just to name a few. There are so many more I would like to mention, the list goes on and on," notes Brumley. "It is a blessing to be able to produce such premier events. We are very fortunate and thankful for the opportunity."
This article sponsored by: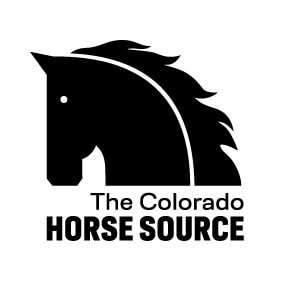 News from the horse industry. Sharing today's information as it happens. The Colorado Horse Source is not responsible for the content of 3rd party submissions.