Riders win big at the 11th Annual High Roller Reining Classic, Las Vegas, Nevada.
Provided by BMG Events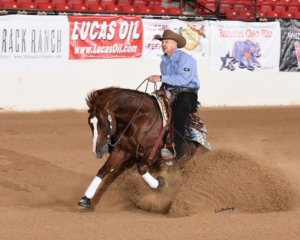 The High Roller Reining Classic (HRRC) wrapped up the last of Brumley Management Group's premier West Coast reining events for the season.  One reporter wrote, "There is something for everyone at the High Roller Reining Classic."   The HRRC, held at the South Point Arena and Equestrian Center in Las Vegas, is unusual in that the event has multiple divisions of competition. Two slates of Ancillary divisions, 3 Year Old Futurity, 4 Year Old Futurity, 4 Year Old Stakes, 4, 5, & 6 Year Old Derby, 7 and Up Maturity, Arabian and Half Arabian 4 and 5 Year Old Futurities and Ancillary divisions are all packed into this incredible nine day event. A feat which is not duplicated at any Reining competition worldwide. All these add up to the tremendous added prize money offered, $477,900 to be exact.  Wait, there's even more!!  Management made the risky decision to change the event retainage percent for the Aged Events to only 30%!  This equates to 70% of the entries fees collected went back into the prize money for the 3 Year Old Futurity, 4 Year Old Futurity, 4 Year Old Stakes, and 4, 5, & 6 Year Old Derby increasing the overall payout to just under $1,000,000.
That format was a risky business decision considering the World Equestrian Games (WEG) in Tryon, North Carolina was schedule right over the top of the High Roller Reining Classic this year.  In 2017, producer Amanda Brumley discovered the date conflict. "We tried to move the 2018 dates," comments Brumley. "The South Point did everything they could to convince other producers to switch dates with us, but no one would budge." With blind faith, the decisions were made, and the event carried on without them. However, some of the industries professionals decided to skip WEG. Five Million Dollar Rider Andrea Fappani said, "Missing out on the High Roller, with all its prize money, is not good for my business." Many other professionals said the same and opted out of WEG. Million Dollar Rider Casey Deary was very unhappy with the conflict as he had qualified for the U.S. Team. Not wanting to miss out entirely he sent his assistant trainers and several nice horses for them to show anyway. NRHA Non Pro Million Dollar Rider Jose Vasquez, who rode at WEG for the Mexico Team, chose to send his horses to Las Vegas and take a red eye flight in from North Carolina to compete. "What many people don't understand is that conflicts like this are not healthy for the industry, the horses, owners and professionals alike," notes Brumley. "Taking time to look at the year's event schedule before planning a major event is extremely vital to having successful shows. We want to promote good healthy growth and prosperity for the whole Reining Horse industry"
The High Roller Reining Classic is all about maximizing everyone's positive event experience. It is always exciting to watch exhibitors enjoying themselves at this unique show as well as seeing new faces who have never been to the High Roller or any Brumley (BMG) event.  Some new competitors drove from as far away as Wisconsin, Florida and a father and his daughter flew into Vegas from Europe to compete. The days were smooth, competition tough, extracurricular activities plentiful and the parties were just awesome.  A Build Your Own Pizza station was part of the well attend Tamarack Ranch Judge's Seminar.  A new event sponsor Firestone & Robinson Distillery offered the 'Taste of Texas, Whiskey' party offering sample tastings paired with appetizers and cocktails. The last day of competition hosted the 'Celebration of Champions' offering the popular "best fresh" made to order sushi in town, provided by Zenshin, the Japanese sushi restaurant located in the hotel.
The High Roller is known for not holding back when it comes to awards.  Prizes included twenty custom trophy saddles crafted by Scottsdale Western World, and Bob's Custom saddles, as well as custom Gist Silversmiths trophy buckles, Markel Insurance embroidered fleece coolers, beautiful sterling silver earring + neckless sets from Sami's Fine Jewelry, Tamarack Ranch embroidered blankets and stall bags, embroidered "Top Ten" Aged Event stall bags provided by SMARTPAK, large beautiful trophy ribbons, quality equine products from Ultra Cruz-Santa Cruz Animal Health, SMARTPAK, Pards and Equine Oasis gift certificates, and a fun "dice game of chance" provided additional cool prizes including a variety of gift cards.
Eighteen custom Gist silver buckles were awarded on the first day of nine exciting days of competition that started with the Novice Horse Open and Non Pro classes competing in the Lucas Oil Arena and the Open Ancillary divisions showing in the Priefert Arena.  Each arena saw over 90 competitors show their horses.  Mike Boyle captured the Open Novice Horse Level 2 Championship on Hollywood Voodoo, (Dunnit In Hollywood x Peppys Royal Gal), riding for owner Ken Hamilton.  While Jared LeClair was Reserve Champion on Steppin Down, (Wimpys Little Step x GS Shot Gun Wedding). Jared also took the Open NH Level 1 Champion on that same horse for owner Susan Meyer.  Cody Cowdell riding Melody Of The West, (West Coast Whiz x Melon Kalibaby), for Jewlene Howland and Jimmy Nichols on Peptos Lil Step, (Wimpys Little Step x Peptos Lil Melody), for Nancy Wheeler tied for the Open Novice Horse L 1 Reserve Championship.  In the Novice Horse Non Pro classes Melinda Cresap rode Melodys Steppin Out, (Wimpys Little Step x Spooks Melody) to a Level 2 Championship.  Kelsey Nichols-Rhyne was Reserve Champion in that class and was Champion in the Level 1 class on Streetsoftinseltown, (Pale Face Dunnit x Lost In Tinseltown).  Donna Rogers claimed the L 1 Reserve Championship riding Hellomercedes, (Cromed Out Mercedes x Hello Starshine).
Mike Boyle pick up another Champion Buckle for the day, in the NRHA Open class on Chics Dream, (Magnum Chic Dream x First Ex Flame) for owner Elizabeth M McHugh, while Matt McAuslan was Open Reserve Champion riding Chicsdigthewestcoast, (West Coast Whiz x Juanita Chis Olena) owner Carla Spackman.  In the Open Intermediate, Gabe Garrison won the Championship on Walla Whiz Affair, (Walla Walla Whiz x Memorable Affair) for Alison Bendale and Dallas Wedel was Reserve Champion riding Shinestein, (Einsteins Revolution x Shiney O Lady) for owner Pat Kafeetzopulos.  Ashley Wilson-Hammer took home the championship in the Limited Open for Julianne Wilson riding Mister Smartpants, (Smart And Shiney x Peppys Lady Di) and Drake Johnson captured the Reserve Championship on Spook is A Whizgun, (Smart Spook x Whizgun) for owner Megan Douthit-Downey.  The Rookie Professional Champion winner was Torri Simms riding for Danica Caravetta on Mister Big Gun, (Gunner x Chic Olena Starbuck). Bridgette Neese on Okie Whimps for Britta Jacobsen and JoAnna Brewer on her horse, Spook Me Now, (Smart Spook x Solanos Pearl) tied for Reserve Champion.  In the Open Arabian-Half Arabian class, Crystal McNutt took the Championship on Wheres Wanda RA, (Gunner x Minding Ps And Qs) for Cotton McNutt as well as the Reserve Championship for Catherina Ferandelli on Whata Chic Olena TR.
The High Roller Reining Classic proudly welcomed Eleanors's Arabians to their team of terrific sponsors with the $10,000.00 Added HEZA ZEE Arabian and $10,000.00 added Half Arabian Futurities. The HEZA ZEE Arabian Futurities, presented by Eleanor Hamilton Arabians, were the first Aged Events of HRRC and the Lucas Oil Arena was perfectly prepped for the action.  Crystal McNutt captured the Open Arabian Futurity on her horse, Wheres Wanda RA and was also Reserve Champion in that class riding Whata Chic Olena TR for Catherina Ferandelli.  Crystal continued her success by winning the Open Half Arabian Futurity on Yellow Bug, (Yellow Jersey x Czars Fire Bug) for owner Joe Betten.  Gordon Potts tied himself capturing for Open Reserve Champion on LJ Maverick, (Al Marah Matt Dillion x Mild Beauty) for Clair Robertson and Hollywood Snapchat for Talia Lydick.
Sunday's exciting competition was highlighted by the popular High Roller Youth Team Tournament with many fun activities sponsored by the Markel Insurance Company. This special event was run concurrently with the NRHA Youth classes.  $500.00 scholarships for higher education opportunities were awarded to each individual on the Gold Medal Team and the top three individual riders in the overall team completion received; Gold $1,000.00, Silver $750.00 and Bronze $500.00.  Team's riders were 'blind draws" and each youth tourney team consisted of varied age levels and included both Quarter and Arabian horse riders.  The Gold Medal team consisted of; Ava Bush on Shes A Shining Gun, (Hes A Loaded Gun x Lil Shining Suzanna) Clair Robertson on LJ Maverick, Kate Bucanan on Spark Me Again, (Shining Spark x Sliden Wright By) and Logan Flaherty on Gangsters Wiseguy. In the Individual competition, $1,000.00 scholarships were awarded to both Ava Bush riding Shes A Shining Gun and Jennifer Neudorf riding Blue Collar Tag, (Whiz N Tag Chex x Kachina Oak Olena) for their tie for Individual Gold Medal.  Anna Clausen captured the Individual Silver Medal on her horse Whiz Elie Codie and Caroline Buchanan won the Individual Bronze Medal on Vintage Neptune, (A Sparkling Vintage x Chic Hickory Doc).
The two days of tough NRHA Youth competition produced many High Point Buckle winners.  In the Youth 13 & Under Ava Bush was Champion on Shes A Shining Gun and Anna Clausen was Reserve Champion.  The Youth 14-18 Championship was won by Jennifer Neudorf on Blue Collar Tag and the Reserve Champion was Megan Lynch riding Revolutionic.  Ava Bush also won the Unrestricted Youth High Point and Megan Lynch captured the Reserve Championship. Logan Flaherty won the 10 & Under Short Stirrup Championship Buckle.
The Futurity action continued with the $40,000.00 Added SILVER SPURS EQUINE 3 Year Old Non Pro on Tuesday and the $75,000.00 Added Silver Spurs Equine Open 3 years Old on Wednesday.   Tuesday morning ended with Whizkeymakesmefrisky, (Whizkey N Diamonds x One Smart Pepto) or "Jackie," as owner Dana Avila calls her mare, swept all three levels of the Non Pro 3 year old aged event with a score of 215, winning $24,435.76.  The great run and successful outcome were extremely special to Dana because, "Jackie is home bred and raised by myself and my husband Bob, (an Equi-Stat Elite $1 Million Rider)."  Jackie's dam, One Smart Pepto (by One Time Pepto), is the beloved mare that Dana won all four levels of the 2013 Reining By The Bay Non Pro Derby and Jackie's sire is, Rhodes River Ranch's  Whizkey N Diamonds.  "It has been a lot of fun for us to see our hopes for Jackie come to fruition. She is a big stopper just like her mom", and "she is quirky, beautiful and has great movement."   Avila plans to take her mare home for a "good rest" and then on to the NRHA Futurity in November.  Tish Fappani and Icecube (SG Frozen Enterprise x Taris Designer Genes) were the Reserve Champions of Level 4 Non Pro 3yr Old Futurity taking home $4,776.79 for her efforts.  Sheley Brien rode to the Reserve Champions in Levels 2 and 3, and third in Level 4 Non Pro Futurity divisions riding Shine Your Pistol, (Shine Chic Shine x Aim Your Pistol) winning $7,041.74.
The $75,000.00 Added SILVER SPURS EQUINE Open 3 Year Old Futurity was packed with talented young horses.  Diane Mesmer, proved that dreams can come true when the plan she made three years ago became fruitful.  Diane said that when she retired, she wanted to own reining horses.  She was raised working cattle with her family, she understood the importance of genetics and what she wanted in her yearling purchases for the sport of Reining.  She said that, "It was divine intervention, and we've been incredibly blessed to have two talented three year olds this year".  The one that captured the Level 4 Open 3 Year Old Futurity Champion and $17,053.98, with a score of 223.5 was her stallion, A Vintage Smoke, A Sparkling Vintage colt out of Lady Smoke Peppy (by Mister Dual Pep)  ridden by NRHA Million Dollar Rider Jason Vanlandingham.  Jason said that the horse was "always physically talented, he's a huge stopper, good in his turnarounds and has a unique presence."  Craig Schmersal road The Star Jersey (Yellow Jersey x Nicastar Lite) for owner Timothy J Anderson earning the Level 4 Reserve Championship, $10,380.69.  Tracer Gilson and Brent Naylor were Co-Champions of the Level 3 Open Futurity.  Tracer rode Guns N Dreams (Tinker With Guns x Brennas Dream x Magnum chic Dream) for Loren Booth, who owns, bred and raised him at home on the Booth Ranch in California. Tracer is proud of the horse and the Booth Ranches breeding program saying that, "It's pretty cool to have Guns N Dreams first show be so successful", adding, "He sure went out there and horse showed."   Their 219 earned a $3,304 paycheck. The Level 3 Co-Champion Brent Naylor also claimed the Open Level 2 Championship riding KR Retro for owners, Three Forty One Group.  Naylor described the Magnum Chic Dream stallion, who is out of KR Legacy (by Tejons Peppy Doc) as "a quick learner with a big heart and lots of try".  Brent was pleased with the horse's performance saying, "I know there's a lot more there, but it was important, for his first show, to set a good foundation for the shows coming up at the end of the year".  Linde Von Koeding riding Midnite Whizkey Run (Whizkey N Diamonds x KR Miss Oxbow x Tejons Peppy Doc) for owner Sarah M Dawe and Erik Caddeo on Trigger Happy a Gunnatrashya stallion (out of HA Lenas Tune x Lena spark) for Marilyn Overgaard/Wright tied for the Open Level 2 Reserve Championship.  Linde and Erik were also the Open Level 1 Co-Champions.  Linde described Midnight Whizkey Run as a gentle horse that tries hard every day.  Sarah Dawe has raised her horse from day one and brought him to Linde as a two year old.   They say the gelding is mature for his age and "handled his first show like a veteran show horse".    Erik said that he has been riding Trigger Happy almost from the time he joined Equa-Stat Elite $5 Million Dollar Rider, Andrea Fappani's team.  The stallion proved he's a talented competitor and Erik said he is "grateful for the tips and training that he has received from Andrea and Ricky," and that he was "able to have good results in the arena with this young horse to reward the two men for the time they have spent with him".  Erik expressed a "special thanks to Marilyn for the amazing opportunity to ride her young horse".
The $65,000.00 WILD CARD 4 Year Old Futurity Presented by TAMARACK RANCH added excitement and opportunity for riders to show 4 year olds that did not compete in an NRHA-approved, Category 2 aged event as a 3 year old.   In the $40,000.00 Open Futurity's Open Level 4 division, three riders shared the Championship honor. Justin "Gunny" Mathison rode Its All On The Line (Shine On Line x Teresas Twist x Dun It With A Twist) for owner Mary Jansma. The gelding came to Gunny as a two year old and he encouraged its owner 'to be patient and give the horse a chance' and it paid off.  Joining Mathison was Dallas Cunningham who rode Krista Marshall's Mi Mercedes (Cromed Out Mercedes x Mi Mega x Marthas Mega Jac).  Dallas noted that the horse was shown in both the Open and Non Pro classes, 'the horse is, just that talented and good minded enough to be in both levels of this Futurity'. Arno Hostetter joined the trio of Champions riding his own Gunshot Whizkey (Whizkey N Diamonds x Gunners Sureshot by Colonels Smoking Gun (Gunner), a horse he bought as a yearling for a client and re-purchased him as a two year old.  Each rider collected a $6,160.00 check for marking 217s.  This trio also shared the Open Level 3 Reserve Championship. Gunny and Dallas shared the Championship in the Open Level 2 as well.  The Champion of the Open Level 3 division with a 218 , was Jesus (Chuy) Chavez who rode for owner Karin DiNapoli on Spooks Got Style (Spooks Gotta Whiz x Stylish Lena).  Chuy also captured the Open Level 1 Championship while Dallas was the Open L1 Reserve Champion.  Chavez noted that he regretted not entering all divisions to be able to claim a clean sweep of all four Open divisions, but was very grateful to have had a great ride on a talented horse for a very happy owner.
Reid Fady rode Homeschooled Baby (Spooks Gotta Whiz x Smart Blonde Chic x Smart Chic Olena) to a win in all four Non Pro Levels of the Tamarack Ranch $25,000.00 Non Pro 4 Year Old Futurity.   After a five year hiatus from showing, Reid entered the show and scored 6 points ahead of second place marking a 214 and winning $13,026.87.  He said that his mare was "very honest' and "went in and performed the way she told me she was going to when she was in the warm up pen."   Reid purchased his mare as a yearling and she was still small as a two year old because she was foaled in May so Reid decided not to start her until June of her 2 year old year. Reid said, "I knew she was not big enough to tolerate it as a 3 year old" and he "couldn't be more happy about that decision" noting that "this is an awesome event with very nice payouts".  Tiffany Bauer proudly claimed a clean sweep as Reserve Championship in all four Non Pro Levels of the Non Pro 4 year Old Fururity riding The Poker Face (Wimpys Little Step x A Gal With A Gun x Gunner) winning $9,746.69.
The Priefert Arena saw seven full days of Ancillary Classes plus the SMARTPAK 7and Up Maturity and World PARA Reining.  Well over 100 Rookie and Green riders competed for High Point awards.  Ava Bush was the Rookie Level 1 and 2 Championship on Shes A Shining Gun and Megan Tice took the Rookie Level 1 and 2 Reserve Championship riding Im Smart N Lucky.  Tami Ferguson captured the Prime Time Rookie on Nu Chex Surprise and Dana Pastorino won the Reserve Championship in the class on Jac Bee Whiz.  Ava Bush repeated her win in the DRHA Rookie Class and Megan Tice was Reserve Champion.  Megan also won the Green As Grass and Green Reiner classes, while Rochelle Zimmerman on Olenas Little Step took the Reserve Championships in the class.  In the World PARP Reining, Kimberly A Olivetto riding Optimus Shine was Champion and Lara Oles was Reserve Champion riding Just A Little Chaos.  The nearly 200 competitors in the Non Pro and SMARTPAK 7Up Maturity classes experienced tough competition on many talents horses.  Shaundra Rai Ruckman won the NonPro championship riding Valentino Tag and Melissa Wigen was NP Reserve Champion on Dunit In Wranglers.  Debi Murnan took the Intermediate Non Pro Championship on Jacs Red Pine and was Reserve Champion in the Prime Time while Jackie T Redish won the Intermediate Reserve Championship on Gold Digging Dunnit.  Jackie also won the Prime Time and Masters Non Pro Championships.  Bettina (tina) Bellini took the Masters Non Pro Reserve Championship riding Big Great Chex.  In the Limited Non Pro division, Mary K "Katie" Cachat won the class riding Hollywood Boom Town and Addisyn Lyn Schmersal rode CC Enterprise to win Reserve Champion.  The Arabian Non Pro Championship was won by Catherine Ferandelli on Whata Chic Olena TR while Maria Danieli-Krueger on VLO Friendly Fire and Cotton McNutt on Wheres Wanda RA tied for the Reserve Championship.  Cotton McNutt rode Wheres Wanda RA to win the Arabian Limited class and Catherine Ferandelli was Reserve Champion.
In the SMARTPAK 7and Up Maturity, Shaundra Rai Ruckman riding Valentino Tag won the Level 4, 3 and 2 classes while Jennifer Neudorf on Blue Collar Tag and Melissa Wigen on Dunit In Wranglers tied for the Reserve Championships in the Level 4, 3 and 2.  Jeniffer and Melissa shared the Level 1 Maturity Championship.   Debi Murnan riding Jacs Red Pine won the Prime Time Maturity class and Kevin Rosenbaum was Reserve Champion on Bejewled.  Glen Roach won Masters division showing Freckles Nu Lil Gun and Kathleen Roach took Reserve Champion riding Jac Electric Shine.  The National Arabian Reining Horse Association Non Pro Maturity was captured by Maria Danieli-Krueger riding VLO Friendly Fire and Cotton McNutt won the Reserve Championship on All Maxed Out RA.
The $78,000.00 Added Protect The Harvest Non Pro Derby excitement exploded when Indy Roper rode into the Lucas Oil Arena on her five year old flashy buckskin gelding "Raymond", Spooks Show Time (Spooks Gotta Whiz x Dolittle Lena x Shining Spark), and scored a 221.5 to captured the Derby's NP Level 4, 3, 2, and 1 Championships wiing $39,073.09.  It was only the fourth time she had ridden talented horse she had purchased only three weeks prior to the High Roller.  Spooks Show Time "did everything I wanted him to do. There is nothing tricky about Raymond, he's a straight shooter."  Indy followed Ricky Nicolazzi instructions and trusted Raymond's athletic abilities and his willingness to do all the maneuvers. Indy admitted that Raymond's big stops were the "fun part" of the winning run.  Indy plans on taking Raymond home with her to Indiana while her 4 year old stays in training with Andrea Fappani.  Ginger Schmersal rode Shiney Workboots (Smart And Shiney x Reminic At Work) scoring 220 to take the Level 4 and 3 Reserve Championships and Prime Time Championship earning herself $19,179.37.  Kylie Warn riding Lenas Shining Gun (Gun Special Nite x SI Lenas Chic) and Luca Fappani on Spooks N Jewels (Smart Spook x Whiz Jewels) tied as the Level 2 Reserve Champions and Luca took the Level 1 Reserve Championship. Mark A Blake riding Hot Hollywood Whizkey (Topsail Whiz x Hot Hollywood Jewels) and Kelle Lee Smith on Night Time Spook (Spooks Gotta Whiz x Custom Night Time) tied for the PT Reserve Championship.  Mark also took the Non pro Masters Championship and Michael A Garnett won the Masters Reserve Championship on Hollywood Nites (Spooks Gotta Whiz x Docs Lil Bullet).  Luca Fappani was the Youth 13-Under Derby champion and Anna Clause riding Whiz Eli Cody (Electric Code x Whiz Stage Doll) were Reserve Champions.  In the Youth 14-18 Derby, Lane Colston was Champion on Baileys Not Painted (Gunners Special Nite x Whatta Royal Vintage) and Mariana Vazquez took the Reserve Championship.
The $37,000.00 Added WHIZKEY N DIAMONDS  Non Pro Stakes saw Gina Maria Schumacher score a 219.5 to capture the Level 4 riding All Right Magnum (Magnum Chic Dream x the Right Motion) $9,731.47 and Kylie Warn on Lenas Shining Gun (Gunners Special Nite x SI Lenas Chic) won the L4 Reserve Championship $5,923.51.  Kylie's score of 218.5 also gave her the L3 and L2 Championships.  Samantha Smith on Dun Its Shiney Son (Hollywood Dun It x Shining And Sassy) and Edorado Bernardelli on Spooks Gotta Cowboy (Spooks Gotta Whiz x Marq Of Cita) tie for the Level 3 Reserve Championship.  Lane Colston was the L2 Reserve Champion and took the Level 1 Championship on One Stormy Nite (Gunners Special Nite x Whatta Royal Vintage).  Indy Roper rode Lil Patron (Lil Joe Cash x Miss Rey O Shine) to claim the Reserve Level 1 Championship.
The much anticipated $95,000.00 PROTECT THE HARVEST Open Derby did not disappoint its knowledgeable crowd of spectators.  At the start of his Level 4 winning run the stallion, nicknamed "Leroy", loped in to the show pen with confidence piloted by Equa-Stat elite $5 Million Rider Andrea Fappaini.  The pair marked an impressive 224 to win the top prize, a check for $22,673.00 for owners, Rancho Oso Rio, LLC.   Leroy, If Whizswereguns (Spooks Gotta Gun x Ifwhizsweredollars x Topsail Whiz) is now three for three at the High Roller Reining Classic.  His previous wins were the Open Futurity and the Open Stakes.  Fappani noted that patience has paid off with Leroy.  His original owners knew he was talented and thought that he could fit Fappani.  When Rancho Oso Rio, LLC purchased him, Andrea said that his mind didn't match his potential and he needed time to mature.  The light sided, quick footed stallion has come into his own and "will last well beyond his derby years and will likely go into the FEI program".   Duane Latimer scored a 223.5 to secure the Level 4 Reserve Championship riding PS Mega Shine Chic (Shine Chic Shine x Megas Sugar Baby) and a check for $13,800.96 for owners ADH Mor Ranch.  Sean Mc Burney marked a 221.5 to capture the Level 2 and Level 3 Championships riding Tinker With Dreams (Tinker With Guns x This Chicsdundreamin) for owner Rhodes River Ranch. McBurney's winnings increased do to cross entering in the WHIZKEY N DIAMONDS 4 Year Old Open Stakes winning championship in Level 2, 3 and 4. This amazing team earned themselves a paycheck of $47,996.79. "We are so proud of the Whizkey N Diamond offspring, and Rhodes River Ranch breeding program.  To see so many of the programs offspring in the winner's circle is fantastic", McBurney noted.  Abby Lengel on Gotta Twist It Up (Spooks Gotta Whiz x Make It With A Twist) for Sandra Bentien and Matt Mills on Trashy Chics Dig Me (Gunnatrashya x Wimpys Little Chic) for Janice F Dickson tied for the Level 3 Reserve Championship.  Kari Klingenberg was the Level 2 Reserve Champion on Spook Whiz Jewels (Smart Spook x Whiz Jewels) for owner Foothill Farms.   Jesus "Chuy" Chavez scored 220 riding Woodys Toy Gun (Hollywoodstinseltown x Gunners Pearl) for Karin Di Napoli to win the Level 1 division and a paycheck of $5,213.70.  Clemerson Barbalho rode Sharp Dressed Spook (Spooks Gotta Whiz x Dolittle Lena) for Bobby Lewis winning the Level 1 Reserve Championship and a paycheck of $3,173.56.
The $62,000.00 Added WHIZKEY N DIAMONDS 4 Year Open Old Stakes ran concurrently with the Open Derby totaling 117 draws.  Sean McBurney's week of success continued when his 221.5 had bested all others to take the top three levels of the Open Stakes.  Rhodes River Ranch's Tinker With Dreams had won Championship recognition in every class that his rider Sean Mc Burney was eligible for and entered in for both the Open Derby and 4 Year Old Stakes at the High Roller 2018. "What a way to end a successful week at the High Roller Reining Classic" said McBurney.
Matt Mills picked up the Level 4 and 3 Reserve Championships riding Trashy Chics Dig Me for Janice Dickson earning $15,038.82, while Riccardo "Ricky" Nicolazzi captured the Level 2 Championship riding Morris H Kulmer's entry NVR What A Lucky Joe (Lil Joe Cash x What A Lucky Hit) and $2,333.91.  The Level 1 Open Stakes and paycheck of $1,500.35 was won on Sharp Dressed Spook (Spooks Gotta Whiz x Dolittle Lena) ridden by Clemerson Barbalho for owner Bobby Lewis.  Martin Padilla rode Shine Superboy Shine (Shine Chic Shine x Spooks Stylin) to take the L1 Reserve Champion spot for owner Hanna Hopper.
For complete results go to the website at www.HighRollerReiningClassic.com Many thanks to all of this year's sponsors, exhibitors and owners. The High Roller Reining Classic will return in 2019, September 6 -14. Mark Your Calendars!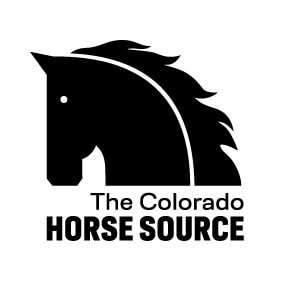 News from the horse industry. Sharing today's information as it happens. The Colorado Horse Source is not responsible for the content of 3rd party submissions.