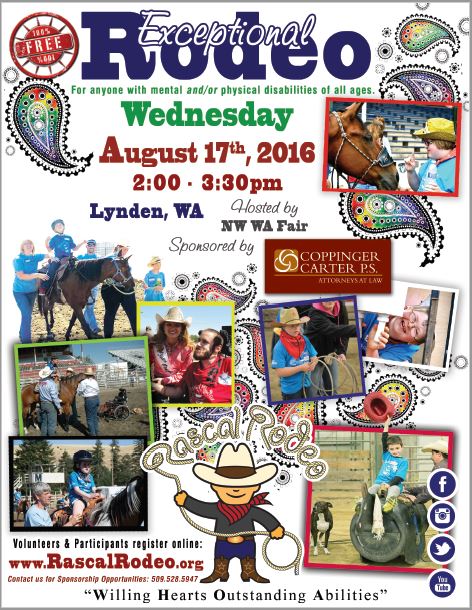 This is the 3rd Annual Rascal Rodeo for Lynden, WA once again sponsored by Coppinger Carter P.S. Attorneys at Law. Because of their sponsorship this event is free of charge to the special needs community.
The purpose of our events is to show the special needs community that they are loved, cared for, accepted and can do things many say they can not. No horse or rodeo experience required to be involved. Pre-registration is appreciated on our website, www.rascalrodeo.org, but not required, participants and volunteers can register when they arrive. (Liability Release forms for both Participants and Volunteers will need to be signed upon arrival.)
To be a participant or volunteer you don't need horse or rodeo experience. Just come have fun, something for everyone to do. Please register on our website to volunteer or participate. Sponsorship opportunities are available as well.
Not able to participate or volunteer? You can still help! Make a tax deductible donation HERE using PayPal or a check (you do not need a PayPal account to donate). You can also make Rascal Rodeo your "charitable organization" on Amazon by purchasing through AmazonSmile HERE. Amazon will donate 0.5% of the price of your eligible AmazonSmile purchases to Rascal Rodeo whenever you shop on AmazonSmile
We hope you will join us and can help spread the word to your special needs and volunteer communities. Feel free to ask any questions you may have. Visit our event on Rascal Rodeo Facebook Page.
Below is the event flier to pass along – simply click it to enlarge, then right click on the flyer and select "Save Image As" to save to your computer.
Additional info for volunteers and participants:
Everyone should be in closed toe shoes and dressed for the weather.
Volunteers should arrive at 1pm. Horses ready at 1:15pm. Participants arrive at 2pm. Event will be over by 3:30pm. With a group photo taking place about 3pm. Tickets into the Fair/Rodeo will be at the Will Call window. Please report there first to get your ticket then head to the rodeo arena once inside the fairgrounds.
There is a job for anyone as a volunteer; setting up, checking people in, writing name tags, partnering with a participant, helping with the horses, photography, cleaning up, and just helping cheer on the participants.
Siblings, friends and family members are encouraged to attend as volunteers or be spectators to help welcome the special needs participants be the stars of the show. The rodeo "swag" will be strictly for the special needs participants but if time and resources allow siblings can jump in on some of the activities. Thank you for your understanding with this.
No pressure to the participants when they arrive. They will be able to go at their own pace and do whichever events they want to do. Below is the event flier, there is also an event page on the Rascal Rodeo Facebook. Please feel free to share with those who would be interested in participating or volunteering. We will take day-of-registration at the event, as we don't want to turn anyone away.
If an underage participant or volunteer will not be arriving with their legal parent/guardian then they will need to have the this release form signed beforehand. Please print, sign and bring with on Wednesday.
For those not familiar with exactly what we do or takes place at the events please watch our videos on YouTube "Rascal Rodeo".
Please direct all questions to [email protected] or 509-528-5947. Yeehaw, see you Wednesday, rain or shine!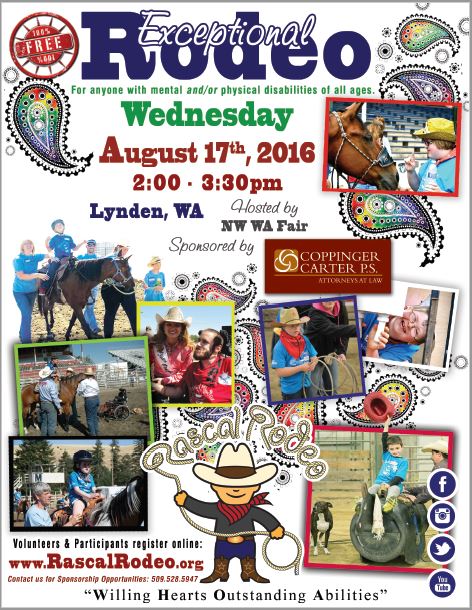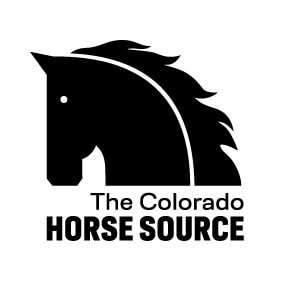 News from the horse industry. Sharing today's information as it happens. The Colorado Horse Source is not responsible for the content of 3rd party submissions.