Valuable Members Honored at Annual Banquet
In November, members gathered at the Idaho Center in Nampa for the fifth annual ABHA banquet. At the event, the Association took time out to honor two members who have made lasting contributions on behalf of Blazer Horses. The newest recipients of the Ambassador Award, which recognizes members for their lasting dedication to Blazers, were Brian Harper and Josh Cram. Harper has been involved with Blazers since the breed was created by his father, Neil Hinck. Harper served on the ABHA's Board of Directors and has been the driving force behind writing the rules and regulations for the Association.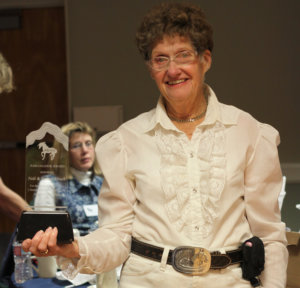 As for Cram, he was introduced to the breed by his parents, Stewart and Katharine Cram, and has also been involved with Blazers for his entire life. Josh moved to Utah and began breeding Blazers, almost single-handedly introducing the breed to horse enthusiasts in Utah. Josh and the ABHA have branched out with his introduction of Blazerhorsesales.com*, and coordinating information booths at fairs and a local pet expo. Harper and Cram follow in the footsteps of previous Ambassador Award honorees, including Neil and Norma Hinck, who received the inaugural award in 2009, along with last year's winners Diane Robson and Mike Stetson. As creators of the Blazer Horse breed, the honors presented to the Hincks were long overdue. Robson, who recently competed with Smokey in the nationally televised "America's Favorite Trail Horse" series, was honored for her efforts to promote Blazers in North Idaho and nationwide. Stetson has also made valuable contributions as an active volunteer in many events and also as writer for the quarterly Blazer Times. For more information visit www.abha.com.
*This link is no longer active at the time this article was added to the website in 2018
Published April 2012 Issue
The mission of ABHA is to encourage and support members of the Association, while they raise, exhibit, promote and enjoy the American Blazer Horse. It is also our goal to maintain a history of the Blazer Horse by recording their bloodlines and achievements for the preservation of the breed. blazerhorse.com