Club Members Enjoy a Stunning Trail Riding Experience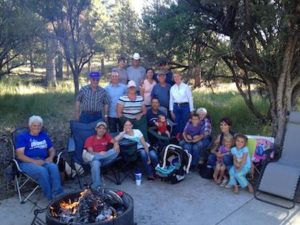 Zion National Park in southwestern Utah contains some of the country's most unique topographic landscapes. The stunning expanses of red Navajo sandstone, the panoramic views of unforgettable canyon landscapes and the unique array of plant and animal life make Zion a national treasure and a popular destination for outdoorsmen. One of the best ways to see it is on horseback.
In June, 21 members of the ABHA headed for southern Utah to experience Zion from the saddle of a Blazer Horse and the experience left a lasting impression. Members came from Idaho, Utah, Montana and Minnesota to participate in the ride which was a great opportunity for the club to reach out across geographic borders. The choice of Utah as a destination was an important one, as Blazer ownership is growing rapidly across that state.
ABHA board member Josh Cram and his wife live at Veyo, Utah near St. George. An outdoor enthusiast, Cram helped organize the event and led his fellow Blazer riders through country he knows well. All of the riders appreciated the benefit of a local tour guide who was familiar with the trails as well as the history and culture of the area. In addition to the national park, riders also spent time at Snow Canyon State Park and enjoyed an entire day riding through the Pine Valley Mountains west of Zion. For more information on the club visit blazerhorse.com
Originally Published August 2014 Issue
The mission of ABHA is to encourage and support members of the Association, while they raise, exhibit, promote and enjoy the American Blazer Horse. It is also our goal to maintain a history of the Blazer Horse by recording their bloodlines and achievements for the preservation of the breed. blazerhorse.com