It's Easier than Ever to Learn More About the Blazer Horse Online
Since the incorporation of the American Blazer Horse Association in 2006, the ABHA has enjoyed a presence on the World Wide Web at www.blazerhorse.com. Ken and Deanna Wirz took on the role as web masters and we appreciated the work they put into the design and support of this online tool for the ABHA. The primary goal of the website was to help the public know more about the association and the American Blazer Horse. It was also an online tool for ABHA members.
Members could use the website to download registration, horse transfer and membership forms. They could also use it to access the "members only" area. There was a ranch directory and an area for ABHA contact information. Over the past 6 years it was a very valuable tool in the initial stages of the ABHA as an organization.
In March of this year a new website was launched, hosted by web master Tamara Holdaway and Rocking H Productions in southern Utah. Tamara has designed this new website using tools that enable our website to be self-managed internally within our own organization. We have transferred most of the same functionality that came with our first website (e.g. forms and information), but with the ease of managing this new website we will be able to keep content more fluid and current.
Many thanks to Tamara and a big thank you to Ken and Deanna for their work in our early years! www.blazerhorse.com.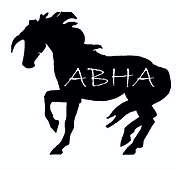 Published May 2013 Issue
The mission of ABHA is to encourage and support members of the Association, while they raise, exhibit, promote and enjoy the American Blazer Horse. It is also our goal to maintain a history of the Blazer Horse by recording their bloodlines and achievements for the preservation of the breed. blazerhorse.com