The Horse World's Most Trusted Name® Plans Several Initiatives to Celebrate Heritage and Thank Generations of Customers in 2017
East Longmeadow, MA – Absorbine® is celebrating an important milestone, and a legacy that began with an extraordinary couple: Mary Ida and Wilbur Young. When the Young family originally formulated Absorbine® Veterinary Liniment in 1892, they were pursuing a humane method of treating lameness in their beloved, hardworking horses. That spirit of innovation and passion for the well-being of our equine partners has driven Absorbine® for 125 years, and lies in the roots of everything that the company does. In 2017, Absorbine® is celebrating their anniversary with limited edition anniversary packaging, exclusive offers, initiatives to give back to equines in need, and much more.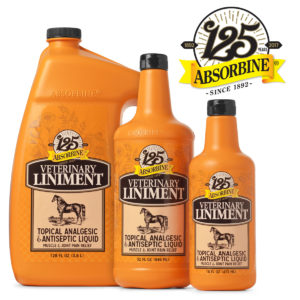 The Absorbine® story begins in late 19th century New England. Mary Ida Young cared for the horses that were essential to her husband's freight business, and was also an herbalist and avid gardener. Those skills proved valuable when she set out to find an alternative to the common, harsh practice of "blistering" lame horses. Knowing there had to be a better way, she developed a special blend of herbs into an essential oils tincture designed to increase blood flow and speed healing. Using knowledge he gained working part time for a pharmacist, Wilbur rounded out the formula with a few more natural ingredients. The result of their teamwork became the Absorbine® Veterinary Liniment that's been helping people care for their horses for the past 125 years.
Today, Absorbine® continues this spirit of caring for animals instilled by Mary Ida and Wilbur with constant innovation.  Along with the flagship Absorbine® Veterinary Liniment, the company has brought several trusted brands to market including UltraShield® fly control, ShowSheen® grooming products, Hooflex® hoof care, Leather Therapy® leather care, Flex+Max joint supplement, and The Missing Link® wellness supplements. With further expansion into pet care, the same caliber of quality and innovation is now available to companion animals under both The Missing Link® and Absorbine® brands.
Throughout 2017, Absorbine® will be celebrating the milestone with a significant campaign, including lots of exciting initiatives. The release of special, limited edition anniversary packaging for all Absorbine® Veterinary Liniment bottles will kick off the year, and can now be seen on shelves of participating retailers. The design features vintage elements inspired by the original edition of the product, and will surely be a nostalgic treat for horse owners that know the traditional ochre bottle and distinct scent of minty green liniment from their childhood so well.
Absorbine® was built on finding a better way to care for horses, and the company is pleased to continue that legacy by giving back to the equine community in need. As part of the anniversary celebration, a portion of all proceeds generated from Absorbine® Veterinary Liniment sales in 2017 will be donated towards efforts of Brooke, the world's largest international equine welfare charity. The organization works to improve the lives of over 1.8 million working equines and the people who depend on them in impoverished countries around the world. As a further measure, Absorbine® employees have committed to volunteering time at animal welfare charities across the nation throughout 2017, putting their dedication to caring for needy animals into action.
Special offers on favorite Absorbine® products can be seen during the anniversary year, including coupons, mail-in-rebates, and social media contests. Visit absorbine.com/specialoffers to download an exclusive $1.25 off any Absorbine® product coupon to start the celebration with savings.
While this anniversary is a celebration of heritage and accomplishments over the last 125 years, it is even more so an expression of gratitude for horse owners around the globe that have trusted Absorbine® products for generations. "We at Absorbine® are proud of our unique heritage, and the 125-year legacy that has taken the form of several successful animal health care brands regarded internationally for their quality and dependability," says Chris Jacobi, President of Absorbine®. "However, we know that it is the dedication and passion of our loyal customers that has allowed us to make such progress since 1892, and this celebration is our opportunity to give back and express our gratitude. They are the reason we have become The Horse World's Most Trusted Name®, and we intend to live up to that name for years to come."
To learn more about Absorbine® Veterinary Liniment, other Absorbine® products, and the 125-year history of the Absorbine® brand including celebratory videos, visit www.absorbine.com/absorbine125.
About W. F. Young / Absorbine®
Founded in 1892 by Wilbur Fenelon Young and his wife, Mary Ida, W. F. Young, Inc. has manufactured and distributed quality health care products for over 120 years. The company is recognized as a worldwide leader in innovative, specialized animal health care brands – including Absorbine® Veterinary Liniment, UltraShield® fly control, ShowSheen® grooming products, Leather Therapy® leather care, Hooflex® hoof care, as well as Absorbine® and The Missing Link® supplements – that improve wellness and enhance the quality and enjoyment of life for people and their animals. For more information, visit www.absorbine.com.
This article sponsored by: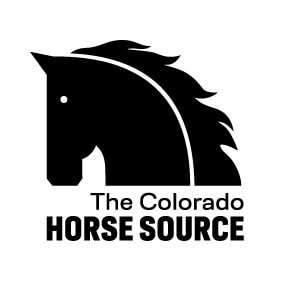 News from the horse industry. Sharing today's information as it happens. The Colorado Horse Source is not responsible for the content of 3rd party submissions.