What is horse showing if not a Roll of the Dice? Each and every time we walk into the show pen, we are "throwing the dice" that today is the day that our horse is prepared and willing and that we will remain on pattern and keep our wits about us.  Each time we cross the threshold of an open arena gate, we are taking a gamble that our horse is focused and swift and that we as riders guide our charges through their paces with ease and perfection, running our pattern with the buckle, blue ribbon, or trophy in mind.   Each time we send in our entries, load the trailer, and saddle up to show, we are gambling on the fact that Lady Luck is on our side.  So how fitting that at a facility by the name of Rolling Hills Casino and Equestrian Center, the West Coast Reining Horse Association should create a class where everyone is welcome to try their hand first inside the arena aboard their trusty steeds, and then after the fact with a Roll of the Dice to determine who would ultimately take home the trophy saddle?!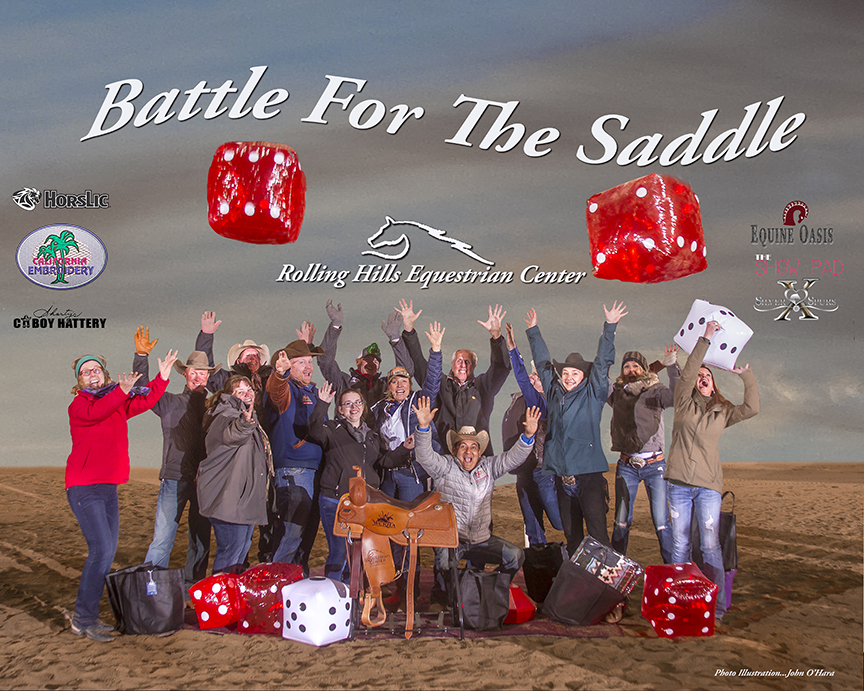 Confused?  Well, let me explain.  "Battle for the Saddle" was created in conjunction with Rolling Hills Casino and Equestrian Center in Corning, California in order to provide every entry, whether it be in the Open or the Non Pro or even both, with the chance to win a trophy saddle regardless of age, experience, or caliber of horse.  How exciting to know that even though you may not be riding the best horse in the hunt, that a pair of dice might permit you take home a brand  new trophy saddle. For the 21 entries on the night of March 3rd, that is exactly what happened.  For a mere $75 entry fee, a person could enter the "Battle for the Saddle", execute the run of their choosing…..maybe fast and furious….maybe clean and correct….maybe something in the middle….and at the conclusion of the class, roll a pair of giant red dice whose total would then be added to their score, providing an added element of suspense as to who would proudly take home a custom ordered Silver Spurs Saddle of Scottsdale sponsored by Rolling Hills Casino and Equestrian Center.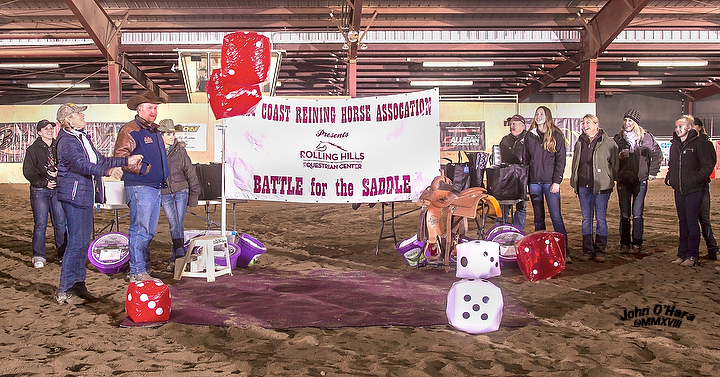 Comprised of Youth riders, a Green as Grass, both seasoned and less seasoned Non  Pros and a handful of Open riders, the field of 21 was set to "gamble for the saddle."  The strategy of some riders was to run big and amass as many points as they could in the sand, leaving less chance to the dice, while others showed clean and steady in hopes of rolling a high number in order to supplement their score, and then there were those entries who were in it to participate, support a fun new class, and hope that a clean pattern and a big roll would be the combo that would take home one of the great awards offered up to all of those who paid their entries and took a chance.
The evening event began with 13 year old Maggie Chancellor, who despite the fact that her horse Steady Like a Star, challenged her at every step, exited the arena to the cheers of a supportive crowd, a smile ear to ear, and the beaming pride of her mom Sandy and coach Amy Walden.  Behind Maggie came sport newcomer and Green as Grasser Stephanie Munzinger and her brand new gelding Aces High Ace who hauled off and laid down a clean pattern on their maiden voyage together in the arena.  Again, smiles all around as Stephanie exited the arena, heart pounding and thrilled to be competing, anxious to see what her roll later in the evening might contribute to her total.   And so the evening progressed with scores ranging anywhere from a 146 to a 127, nothing would be taken for granted until each rider rolled their dice at the end of the evening.
At the completion of the class, a pizza party sponsored by Osphos and Jessica Marvis would commence at the in gate for riders, sponsors, trainers, coaches and anyone who had been there to clap and cheer, while the magic dice and buckets of awards were schlepped to the center of the arena where only minutes before riders had been spinning and sliding their way to possible stardom.  With everything in place, the dice were warmed up and ready to roll as each contestant took their turn at adding up to 12 free points to their final score.  Rolling in order of their go, Maggie Chancellor was the first one on the podium and managed to roll a 2 and 3, adding 5 points to her score original score.  Stephanie Munzinger, who entered both the Non Pro and the Open, was permitted two throws, one for each class.  Snake eyes would do little to gain her the saddle in the Non Pro, but a total of 6 would help move her ever so slightly up the Open placings.  Martin Padilla had knocked out the second highest score of the evening with a 146.5, but luck would not be on his side as the dice turned up a whopping total of 3, making his total a 149.5, 2 ½ points shy of the top spot.  Three riders in, Martin's total was still the high score, but it was anyone's guess how long that would hold.  Following Martin, Dave Hanson would see the lucky side of the dice as he managed to roll a 6, bringing his total to a 150 and putting him in the top position where he would remain for the next five riders.  But his reign would be brief as Kain Emmons managed to who  Lady Luck once more, rolling a 6 and taking the lead with a total of 152.  Six more riders to roll…. each to the cheers and jeers of his or her fellow competitors as each one willed their pair of dice to outshine those who had rolled before them.  When the dust settled and the points were tallied, Kain Emmons and Tereasa Canada's Ez On The Slide would be the Open victors with a 152 total, leaving the Reserve Champion position to be split between Dave Hanson and Laetitia Loubser's A Wayward Revolution and Kelly Keenan riding Paola Troia's Suga Suga.  Britta Jocobson and Ms Benz with an arena score of 142 and one of the highest rolls of the night, an  8, would have a total of 150 and take home the custom order Non Pro saddle for her efforts, leaving the Non Pro Reserve Champion position to Bailey Alexander and her horse Ima Ugly Stick, with a total score of 148.5 after an 8 was added to her arena score of 140.5.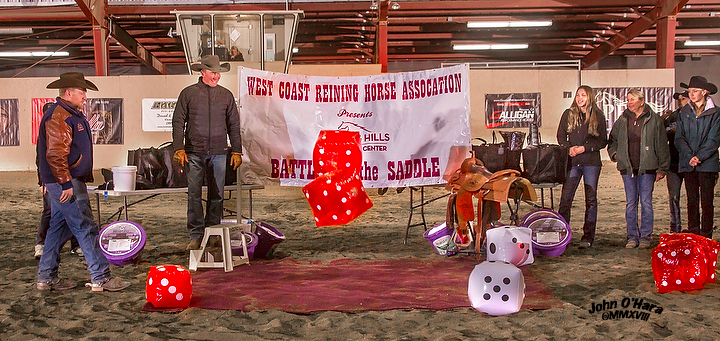 However, all was not lost for those who fell short of the top spots because thanks to the hard work and dedication of Britta Jacobson, who worked tirelessly gathering a host of awesome sponsors, every entry went home something fabulous to commemorate their participation in the 2nd Annual Battle for the Saddle.  Of course, there were the Silver Spurs Saddlery of Arizona saddles sponsored by Rolling Hills Casino and Equine Center, but in addition, there were beautiful show blankets provided by Michelle Miola and The Show Pads, Horslic sponsored buckets full of goodies to every entry, Shorty's Caboy Hattery sponsored Gift Certificates and Hat Cans, Equine Oasis tack courtesy of Tim Bauer and super cool embroidered ball caps thanks to California Embroidery.   Thank you to everyone who sponsored, entered, supported and cheered for our Battle in the Saddle entries!  What an exciting start to another great year out on the West Coast!
This article sponsored by: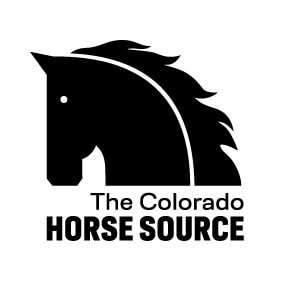 News from the horse industry. Sharing today's information as it happens. The Colorado Horse Source is not responsible for the content of 3rd party submissions.