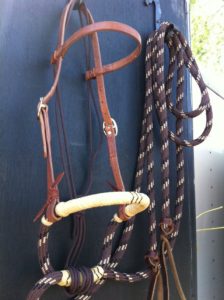 Introducing a quality American made western Hermann oak leather hackamore loping soft nose bridle. This product is perfect for cutters, reiners, and natural horsemanship trainers; perfect for relief from the bit. We are honored that well-known clinician Mark Rashid uses this bridle on his own horses during clinics. This set-up is a must have for anyone wanting to use a bit less bridle for some bit relief. We are currently making these in many different styles and can also customize to your taste, preferences, as well as tailor the bridle specifically to your horse. This is a round soft nose rope caveson hackamore designed to give relief from the bit and around your horse's nose. Because it is round, it works like a sidepull/hackamore combo. The rein and caveson are all one piece of marine yacht cotton rope with a leather wrap under the chin binding it all together. You can also add rawhide (as pictured above) to replace the cotton rope for a firmer feel and more control. This is a split rein 8′ long with leather poppers. The bridle features our working 5/8″ harness leather double cheek adjustment headstall with a hand-braided fiador (throat latch), which is adjustable to hold the hack in the proper position. For this and more great products visit buckarooleather.com.
Published September 2013 Issue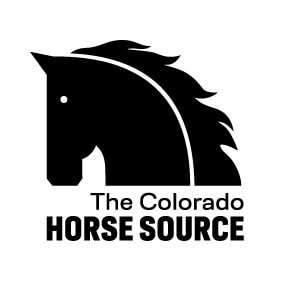 The Colorado Horse Source is an independently owned and operated print and online magazine for horse owners and enthusiasts of all breeds and disciplines in Colorado and surrounding area. Our contemporary editorial columns are predominantly written by experts in the region, covering the care, training, keeping and enjoyment of horses, with an eye to the specific concerns in our region.