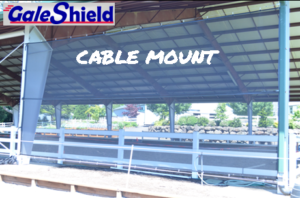 Do you own an all-steel arena with 20' to 30' open bay spacing? If so, you may be tired of wind, rain, snow, sleet, and hot, drying sun interrupting the use of your arena. Riding and training should be enjoyable and productive without tolerating adverse weather conditions. Until now, it has been nearly impossible to purchase custom fabricated, easily installed, high-quality weather screens for all-steel arenas. Screens that install easily, enhance the arena appearance and withstand various adverse weather conditions while maintaining the outside view.
A & B Associates has designed, developed and tested a screen kit model specifically for all-steel arenas: Introducing the GaleShield Cable Mount Weather Control Screen Kit.  It is custom fabricated to properly fit your particular structure's dimensions; no need to fabricate additional steel frameworks and weld them into place. The kit comes complete with a suspension cable system and only requires drilling a few holes. The mesh screen is suspended from the cables, pulled tight, and held in place across the opening with custom designed tension straps.
A & B Associates is a Northwest company with a 16-year history of serving customers across the USA with quality weather control screen kits. To obtain additional information go to www.galeshield.com or contact us at 360-573-1088 or email [email protected].
Published April 2014 Issue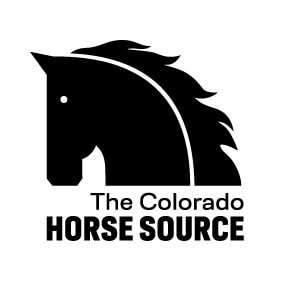 The Colorado Horse Source is an independently owned and operated print and online magazine for horse owners and enthusiasts of all breeds and disciplines in Colorado and surrounding area. Our contemporary editorial columns are predominantly written by experts in the region, covering the care, training, keeping and enjoyment of horses, with an eye to the specific concerns in our region.