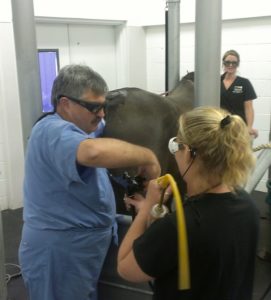 Snohomish's Pilchuck Veterinary Hospital (PVH) has secured the availability of a fiber-optic Holmium laser. Via an arrangement with a local company that provides a fee-per-use service, PVH can now offer this therapy to its equine patients. PVH staff surgeon and lameness specialist James Bryant, DVM, DACVS, explains, "The laser provides a minimally invasive method of treating a variety of surgical conditions in our equine patients. With this fiber-optic laser, we are able to pass the fiber through our endoscope and perform procedures within various body openings or cavities. This approach allows for more focused treatment of lesions, less damage to other tissue and better healing outcomes."
The most common uses in equines include: 1) treatment of intrauterine cysts that cause fertility issues, 2) treatment of urethral tears in male horses that result in blood in the urine, and 3) upper airway procedures, including on the soft palate, ventriculectomies in horses that are roarers, and removal of masses on the arytenoid cartilages of the larynx (flappers). Dr. Bryant had extensive training in fiber-optic lasers during his time at the University of Florida, most specifically with upper airway procedures. PVH also continues to offer CO2 laser therapy for the treatment of cutaneous tumors and masses. To learn more about the laser and PVH's comprehensive referral hospital and ambulatory services, call 360.568.3111. Visit PVH online at pilchuckvet.com and facebook.com/pvhequine.
Published October 2013 Issue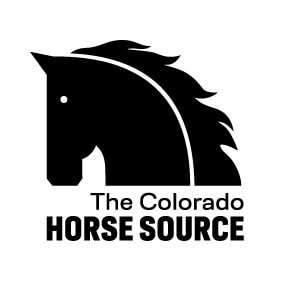 The Colorado Horse Source is an independently owned and operated print and online magazine for horse owners and enthusiasts of all breeds and disciplines in Colorado and surrounding area. Our contemporary editorial columns are predominantly written by experts in the region, covering the care, training, keeping and enjoyment of horses, with an eye to the specific concerns in our region.