AQHA Trainers Donate Training for the Region One Scholarship Fund
by Cynthia Dees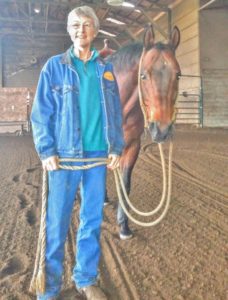 Sue Sultze of Double SS Quarter Horses was one of the many generous trainers who donated a month of training to the AQHA Region One Scholarship Silent Auction Fundraiser. The monies raised go directly to the scholarship fund for which youth may apply to help them "get their smart on" during the college years. I was fortunate to have been the highest bidder for Sue's donated training.
Do you ever wish you could learn something new? Do you ever wonder how horse professionals make it look so easy? Well, I discovered that not only did I financially contribute to the future of our youth, but I contributed to my own growth as an equestrian, mother and business owner. After putting my horse in training for about a month and taking a couple of lessons, I can tell you that Sue Sultze gives the excellent sort of instruction that applies to life outside the arena: set your intentions, give clear cues and make sure you are getting the desired response. I definitely brought that knowledge home to my daughter and to my business.
A professional horsewoman since 1979, Sue spends many hours a day perfecting her skills. Though she primarily focuses on ranch riding, reining and cow horse events she is still a well rounded horsewoman. All horses must know how to stop, move off of the legs, give to the hands and listen to seat and voice. Sue Sultze is definitely a professional horsewoman that I feel fortunate to have gotten an opportunity to learn from. I can't wait for my next lesson and challenge others to "go get your smart on."
For more information on this program or WSQHA visit wsqha.com.
Published in December 2015 Issue
WSQHA is the AQHA affilate group for Washington State. WSQHA is committed to encouraging the growth and development of the American Quarter Horse through showing, trail rides, community outreach and much more!