Club Members Win Big in Multiple States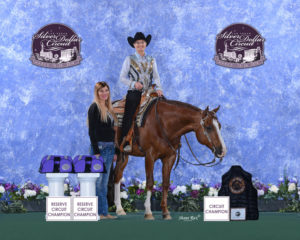 Show season is well underway and our members have been seen all over the United States. Sun Circuit kicked off our show season in sunny Arizona. Cory Seebach won the circuit in performance halter mares and then went on to Nevada to the Silver Dollar Circuit with repeat performance in the amateur and open divisions. Several members also attended the Eugene Oregon Show with wins in many events including Kaitlyn Dierks who brought home two buckles with her new horse.
Silver Dollar in Las Vegas is always a club favorite. Many members won circuit awards: Linda Coakley, Kristy McCann, Tami Jennings, Teri Christofferson, Crysta Lombardi, Jessica Grodzins and  Zoe MacBeth, to name just a few people we heard called for circuit awards. WSQHA can certainly say we held our own in this tough competition!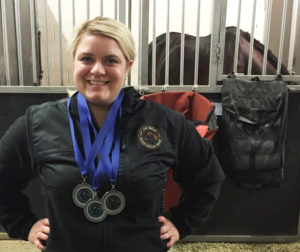 Next up for WSHQA is our Trophy Circuit Memorial Day weekend at the Evergreen State Fairgrounds in Monroe, WA so come join us! We offer flat fees and a wide range of classes including the new walk/trot, rookie or novice. We are also offering reining and ranch pleasure classes this year. If you are on the Canadian side of the border we are offering entries at par to help offset the exchange rate. Find out more at wsqha.com.
WSQHA is the AQHA affilate group for Washington State. WSQHA is committed to encouraging the growth and development of the American Quarter Horse through showing, trail rides, community outreach and much more!