ABHA Finishes 2013 with 7
th
Annual Banquet and Business Meeting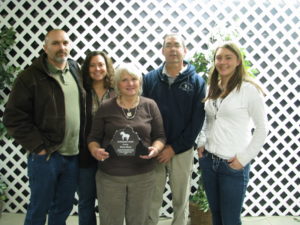 On November 2nd, the American Blazer Horse Association wrapped up the 2013 year with its 7th Annual banquet and general business meeting.  Our banquet was held in Nampa, Idaho at the Personal Ponies Event Center.  It is a very nice facility for occasions of this nature and appropriate for an equine banquet.  The event was catered with a very delicious Dutch oven dinner.
Many acknowledgements and awards were presented at the banquet.  Of note, Minnie Mouse, a 20+ old Blazer Horse was acknowledged with one of this year's Ambassador Award.  Handed out each year, this Ambassador Award is presented to a person or horse that has gone over and above in lifetime achievements representing our breed and association.  Minnie Mouse has trained many riders, young and old, and helped people achieve the dream of riding a horse—she taught them well!  The present owners, Russ and Angie Magoffin, and past owners, Stewart and Katharine Cram, were on hand to receive the award in Minnie Mouse's honor.
The ABHA started the day with its annual Business meeting and had good participation from the membership in attendance and we came away with good excitement and challenges ahead for the coming year.  We look forward to 2014 and the events we have planned.  Please visit our website to see our complete calendar: blazerhorse.com.
Published January 2014 Issue
The mission of ABHA is to encourage and support members of the Association, while they raise, exhibit, promote and enjoy the American Blazer Horse. It is also our goal to maintain a history of the Blazer Horse by recording their bloodlines and achievements for the preservation of the breed. blazerhorse.com