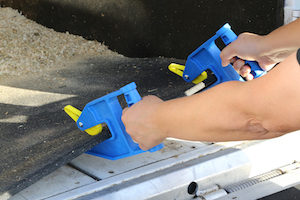 The EZGrip Mat Mover is the original invention of Jim Connell of Montana.  Jim found a way to make moving heavy stall mats easier and wanted to share his invention with every horse owner. At DoCo we applaud Jim's efforts and have carried on his tradition by making improvements to increase the grip.
When we acquired the manufacturing rights we surveyed many of the past customers to find out what they liked about the product as well as areas of possible improvement. The results of our study were overwhelmingly positive; people who had used the EZGrip loved it.  However, occasionally we got the comment, "…when it doesn't slip." Improving the product was rather simple, put elongated teeth into it for improved grip. Reaction from customers has been incredible. Give EZGrip a try, we guarantee you will love it.  If EZGrip ever fails we'll replace it; if it doesn't meet your needs you'll get a full refund. EZGrip Mat Movers are $20.50, plus shipping. Order online at ezmatmover.com or call/email: [email protected]  503-329-6659.
Publisher's note: Wow, this is a great tool for moving mats. My horse trailer might get cleaned out more often! It's so much easier than trying to pull them out with your hands. They have teeth that "bite" into the mat so it doesn't slip. The grips are heavy duty, made in USA and by a Northwest company. It doesn't get much better than that. EZGrip Mat Mover gets a big thumbs up from NWHS!
Originally Published November 2014 Issue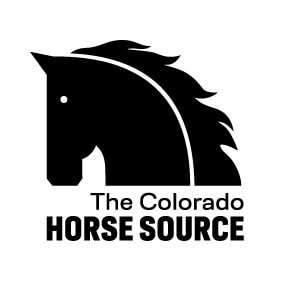 The Colorado Horse Source is an independently owned and operated print and online magazine for horse owners and enthusiasts of all breeds and disciplines in Colorado and surrounding area. Our contemporary editorial columns are predominantly written by experts in the region, covering the care, training, keeping and enjoyment of horses, with an eye to the specific concerns in our region.