With only 5 days before the first show on January 29, the world's largest touring production puts the final touches on its preparations.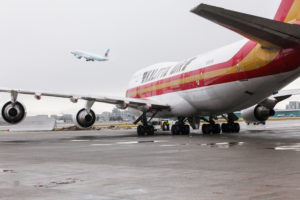 VANCOUVER, BC (Tuesday, January 24) #OdysseoYVR – Sixty-five majestic horses, stars of the 30-million dollar theatrical production Odysseo, are taking up residence in their new home in Vancouver ahead of the equestrian extravaganza's first show scheduled for January 29 under the White Big Top at Olympic Village.
After the last performance in Los Angeles, the four-legged stars flew into Vancouver International Airport aboard a charted 747 aircraft equipped with airstalls. Prior to arriving at Olympic Village, the Odysseo herd, consisting of 11 breeds including Arabian, Lusitano, Paint Horse, Quarter Horse, Thoroughbred and Spanish Purebred (P.R.E.), traveled with a dedicated team of Cavalia's equine specialists to a local farm in Delta for 15 days of leisure. At their retreat, expansive paddocks welcomed the four-legged stars of Odysseo where they were able to play, bathe in the sun or roll in the mud.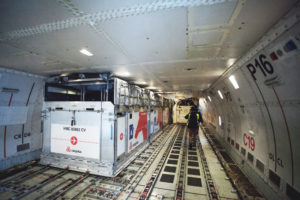 The horses were then transported by specially equipped trailers to Vancouver. The trailers transporting the four-legged stars to their spacious stable tent, adjacent to Odysseo's massive White Big Top at Olympic Village, were the last to arrive of the 110 semi-trailer trucks necessary to move the biggest touring show on earth from its last stop in Southern California to Vancouver.
Before, during and after transport, a 20-person stables team including trainers, veterinarian, health technicians and grooms create a comfortable environment and provide the horses with daily health care, grooming and activities. Once settled in the 1,600 square-metre stable tent, the horses each have a designated box with ample space to stretch, lie down, sprawl out, roll and relax. They always have the same neighbors to ensure a familiar and comforting environment in each city.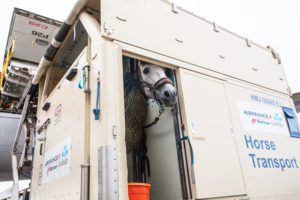 Every day the horses receive their share of pampering, including showers, grooming, massages, workshops with their riders, and outings to the paddocks where they roam and play. The performance aspect for each horse lasts roughly 12 minutes. The rest of their daily activities include warm-up, recouping, grooming and free time. Odysseo's horse training is based on communication, observation and patience as well as a keen understanding of each horse's talents and needs. The tone of the show, embraced by the entire company, is one of mutual respect, kindness and trust.
With only five days before the first performance of Odysseo in Vancouver scheduled for January 29, workers are completing the installation of the largest touring production in the world. "It takes 10,000 tons of stone, earth and sand to create a phenomenal stage, an open space where man and horse come to enjoy each other's company in complete complicity," explains Odysseo's resident artistic director Darren Charles. "Overhanging the performance area is a technical grid that can support 80 tons of equipment, including a full-sized merry-go-round. This defies everything that has ever been done under a tent to date in the world."
ABOUT CAVALIA INC. – Cavalia Inc. is an entertainment company that specializes in the creation, production and touring of innovative shows. Founded by Normand Latourelle, the company re-imagines the equestrian and theatrical arts. With its headquarters in Montreal, Cavalia Inc. is an integral part of Canada's cultural heritage, and the largest Canadian-owned cultural enterprise. Its expertise in high technology, multimedia and special effects creates magical, unique, never-before-seen experiences. Its first show, Cavalia, has been seen by more than 4 million people across North America, Europe, Australia, the Middle East and Asia since its 2003 debut. Odysseo, the company's second show, has toured to rave reviews and public acclaim since its 2011 premiere. Follow Cavalia's latest developments at www.twitter.com/cavalia or www.facebook.com/cavalia. #OdysseoYVR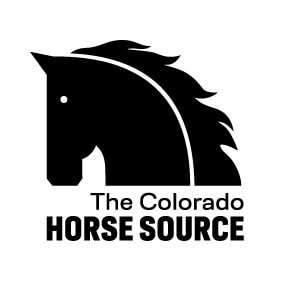 News from the horse industry. Sharing today's information as it happens. The Colorado Horse Source is not responsible for the content of 3rd party submissions.