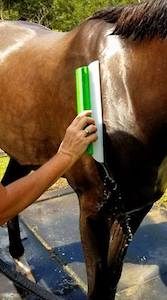 Call it a squeegee, sweat scraper or anything you like, nothing works as effectively at drying off horses and livestock as well as the One Pass Water Blade. Developed for the automotive market in 1996, the equine version takes the genius of the first blade to an entirely new level. Completely safe and effective, the One Pass Horse & Livestock Body Blade is a must have for any tack trunk or grooming bucket.
The pliable silicone blade is comfortable, hygienic and easy to clean. It glides right over sensitive areas, fly bites and other irregularities, easily removing the water without breaking a scab. The patented blade design curves to the profile of the animal's body, but it is equally effective on smaller areas like hocks or lower legs.
The Body Blade skims sweat or water away in one pass, making it much more efficient than towel drying a horse. The durable nylon handle fits hands of all sizes comfortably.
Features & Benefits
Patented Y-Blade design quickly removes water, sweat, and debris and conforms to contours of the body
Safe, gentle and comfortable
Sanitary, antibacterial, and antimicrobial food grade silicone blade
5 Year Warranty
MSRP $23.95
More information at www.originalwaterblade.com
Originally Published November 2017 Issue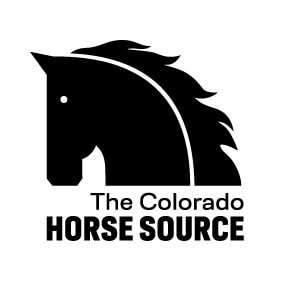 The Colorado Horse Source is an independently owned and operated print and online magazine for horse owners and enthusiasts of all breeds and disciplines in Colorado and surrounding area. Our contemporary editorial columns are predominantly written by experts in the region, covering the care, training, keeping and enjoyment of horses, with an eye to the specific concerns in our region.