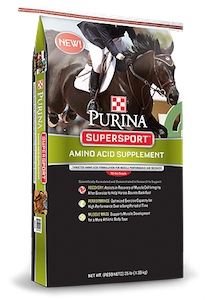 Purina Animal Nutrition recently introduced SuperSport™ amino acid supplement, a scientifically formulated amino acid formula proven to support equine performance and overall fitness. Purina developed the proprietary formula on its 1,200-acre nutrition research farm, where it demonstrated the ability to support muscle recovery, increase exercise capacity and support muscle development. In a controlled 56-day study, horses received either SuperSport™ supplement or an identical level of protein from alfalfa pellets. Horses on SuperSport™ supplement saw significant improvements in key measures that are critically important to top equine athletes, including: faster muscle recovery, increased exercise capacity, supported muscle development and maintained optimal performance.
"At the highest level of competition, the smallest advantage can give you the edge needed," said Beezie Madden, two-time team jumping gold medalist and Purina Ambassador. "So, endurance, muscle recovery and strength all play a part in being more successful than your competitors."
To learn more about Purina and this exciting new supplement visit: purinamills.com and supersportready.com
Originally Published 2014 Issue
Purina Animal Nutrition LLC (www.purinamills.com) is a national organization serving producers, animal owners and their families through more than 4,700 local cooperatives, independent dealers and other large retailers throughout the United States. Driven by an uncompromising commitment to animal excellence, Purina Animal Nutrition is an industry-leading innovator offering a valued portfolio of complete feeds, supplements, premixes, ingredients and specialty technologies for the livestock and lifestyle animal markets. Headquartered in Shoreview, Minn., Purina Animal Nutrition LLC is a wholly owned subsidiary of Land O'Lakes, Inc.