Dujardin and her horse with a heart of gold do it again: Individual Dressage Final
by Louise Parkes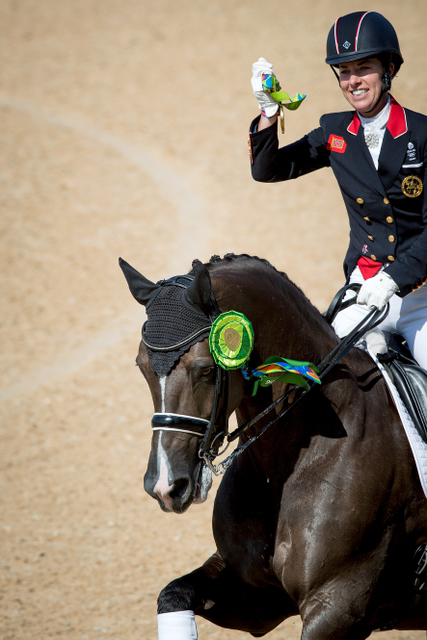 Great Britain's Charlotte Dujardin (31) and the fabulous 14-year-old gelding, Valegro, were in a class of their own when posting an Olympic Dressage record score of 93.857 in the Grand Prix Freestyle to claim their second successive individual title today. The double-gold medallist at London 2012 is the first British woman to retain an individual Olympic title, and she now matches the British record of three gold medals for a female athlete set by cyclist Laura Trott yesterday.
On an afternoon of high emotion in Deodoro Olympic Park it was two members of Friday's gold-medal-winning German team who took silver and bronze, the multi-medalled Isabell Werth (47) and Weihegold scoring 89.071 to finish ahead of world no. 1 Kristina Broring-Sprehe (29) and Desperados on a mark of 87.142.
Emotions
Dujardin could hardly contain her emotions after securing the victory. "He couldn't have done anymore" she said of the much-loved horse who is known at home as Blueberry, "I was thinking this could be the last time" she added before bursting into tears. The British partnership hold all the world records in their sport, and today's result was just short of the Freestyle record of 94.30 per cent they set at Olympia Horse Show in London (GBR) in 2014.
The scores really began to soar as the final six combinations took their turn, and IOC President, Thomas Bach, arrived just in time to see Broring-Sprehe set the new standard before Dujardin and Valegro blew that away when rocketing into the lead by a margin of more than six points. America's Laura Graves produced the performance of her career with Verdades to finish just off the podium on 85.196, her third personal-best result posted at these Games.
Record books
Werth already entered the record books when her team gold on Friday gave her the edge over the previously most-medalled German Olympic equestrian, Dr Reiner Klimke. Today's silver brings her tally to a massive 10 Olympic medals during an extraordinary career but, last to go today, she was realistic in her expectations. "I knew Charlotte had 93 or 94 per cent, and Germany already won team gold, so with silver today I couldn't ask for more. I really enjoy competing against the best, that's what makes us all better, and Charlotte and Valegro really deserve this" she said.
Dujardin talked about her own expectations. "We set the world record at 94 so I knew it was possible, but to come and do it again here at the Olympics is quite special. Today was magic, in London there was no pressure to take gold but today I was nervous because I felt the expectation to deliver. But trotting around the arena before the start, Blueberry felt so good it just put a smile on my face and I just knew it was going to be ok. I felt he knew what I was thinking in there and he looked after me, he did his very best. I have a partnership, a connection with this horse that nothing is going to break, he has a heart of gold", she said.
Lit up
The pair have lit up the sport since coming together in 2011. "To think what he has achieved in the last four or five years, it seems almost impossible", the British rider said, admitting that retirement is "on the cards" for Valegro now. "We'll discuss it when we get home, and he definitely won't be doing another Olympic Games or a big championship. I owe it to him to finish at the top", she pointed out.
As for her own plans, marriage is at last on the horizon. Her partner, Dean Wyatt Golding, proposed to her during the London 2012 Games "and I said yes" she explained today, "bless him, he's been waiting a long time, we've been together nine years but it's definitely going to happen now!" Somehow it seems very likely that a horse with three Olympic gold medals around his neck could be a prominent member of the wedding party.
Result here https://www.rio2016.com/en/equestrian-dressage-individual-grand-prix-freestyle
Quotes:
Patrick Kittel SWE: "I only heard a couple of days ago that I couldn't use my Stevie Wonder music. We asked a long time ago about using it for the Olympic Games and we only heard back at the very last minute so this music is an old one and Deja isn't used to it and I think she felt lost in it, and I did too! I'm happy overall, this is an amazing horse, she needs more experience competing over three days but she's going to be great!"
Carl Hester GBR: "I felt the mark matched my test, sometimes you go in there and think you should have gotten more, but not today. We got five more marks than Friday and he was so much more relaxed. He was so quiet I could just let him walk for the last five minutes before we came in."
Charlotte Dujardin GBR: "I've only ridden that floorplan once, at Hartpury and we've changed it a few times since. There were things I hadn't even tried before today and that's why he is so magical!"
Laura Graves USA: "I'm thrilled with this score, I didn't feel like I had quite as much horse as I had in the last couple of days, it's obviously very hot, we've been here now for a day over two weeks, so it's been a long time to keep our horses going like this.
It was another personal best for me, by three percent or something like that, so that's three personal bests at the Olympic Games!"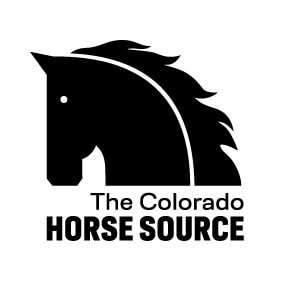 The Colorado Horse Source is an independently owned and operated print and online magazine for horse owners and enthusiasts of all breeds and disciplines in Colorado and surrounding area. Our contemporary editorial columns are predominantly written by experts in the region, covering the care, training, keeping and enjoyment of horses, with an eye to the specific concerns in our region.