More Super Seniors!
Wendi Ross and Mister Tom
Mister Tom is a 23-year-old, 11 hand pony stallion that was born here on our place.  He has out-lasted, out-witted and out-smarted several husbands!  Tom has been a driving pony all of his life.  He has always been a good sport and played along with whatever we asked of him.  Tom has participated in many parades including the Pendleton Round-Up parade, CDEs (combined driving events), drives on the beach and enjoys playing pony ambassador to the world.  He has been the herd sire on our farm all of his life and continues to produce gorgeous and correct foals; always a gentleman and a pleasure to be around.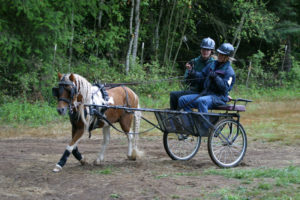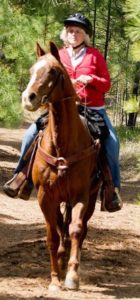 Kathy Richardson and Bones
I rescued Bones, registered name Dean's Go Go, October 16, 2006.  He was born March 24, 1982.  He had a BCS score of 1 and was about 50 lbs from dying, according to our vet.  After doing what dental work he could, the vet said I'd be lucky if Bones survived the winter.  By May 2007, with lots of TLC and hot mashes for meals, Bones didn't look like the same horse.  I discovered Bones had extensive training which included gaming, roping, reining and trail.  I use him for Girl Scouts events, riding lessons, gaming and trail riding.  After an 8 mile competitive trail ride, including steep hills, he was ready for more.  After a recent trail ride with a friend whose horse is 1/3rd his age, she remarked Bones has two more gears than her horse.  Bones not only out walked her horse, but beat him in an impromptu race. No one told Bones he is old and he continues to please me with good health.  He has more than repaid me for bringing him into my life.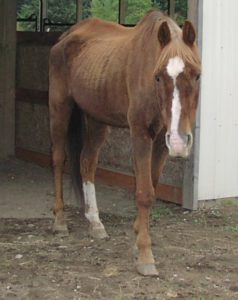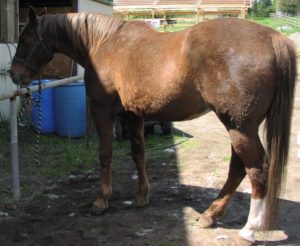 Published December 2013 Issue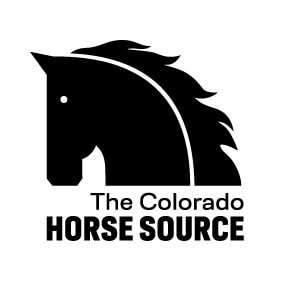 The Colorado Horse Source is an independently owned and operated print and online magazine for horse owners and enthusiasts of all breeds and disciplines in Colorado and surrounding area. Our contemporary editorial columns are predominantly written by experts in the region, covering the care, training, keeping and enjoyment of horses, with an eye to the specific concerns in our region.