Meet Mounted Shooter Laurie Hughes and Baylee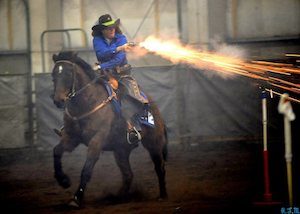 Meet Baylee (Plumb Dry Tequila) a 21-year-old AQHA gelding. Baylee has competed in reining, working cow horse, roping, Extreme Cowboy Racing, mountain trail competitions and even some jousting. Now, he is successfully competing in cowboy mounted shooting. Laurie was introduced to the sport in 2011, through a new shooters clinic, and has been working her way up through the Senior Ladies 1 division. "Fun! That's the word to describe it" says Laurie. "Fun and a real test of different skills, especially horsemanship."
Cowboy mounted shooting utilizes two single action .45 caliber pistols, which fire specially loaded black powder blank ammunition. The burning embers travel about 15 feet to pop the balloons. Competitors are scored on time and accuracy with a 5 second penalty for each missed balloon. Learn more at WWMS Facebook or the following summer events:
---
2014 June -August Local Events:
July 4-6
Northwest Mounted Shooters Shoot, Coeur d' Alene, ID
July 11-13 
Lone Pine Rangers Shoot, Prineville, OR
July 12  
Kittitas County Mounted Shooters, Ellensburg Rodeo Grounds
July 19-20
South Sound Mounted Shooters, Rochester, WA (MSA)
July 30-Aug 2
** CMSA Western U.S. Championships, South Point Casino, Las Vegas, NV
---
Call or email Karen Plumlee, Secretary, WWMS, 425 985-8321 or [email protected].
Originally Published July 2014 Issue
This article sponsored by:
WWMS members vary from kids to adults, and from the recreational shooter to the serious National and World competitor, so there's a spot for everyone. We are a friendly group, and enjoy introducing the sport to others. Please feel free to contact us at any time, and come join the addiction that is Cowboy Mounted Shooting!!! www.WesternWashingtonMountedShooters.com