By Caroline Baldock, Historian
I have been around horses all my life. I have worked and travelled within the horse world too. Not just England but Turkmenistan, Iran, Europe, and America. I have never met horses like the Wilbur-Cruce.
It isn't just in the eye, for I have looked into the eye of many a good horse, it isn't just the conformation, for I understand conformation for purpose, pulling, racing, dressage, show- jumping, polo, and eventing, all these disciplines require a certain type of horse, one built both mentally and physically for the job. But the Wilbur-Cruce, this was a horse of which I had never before encountered.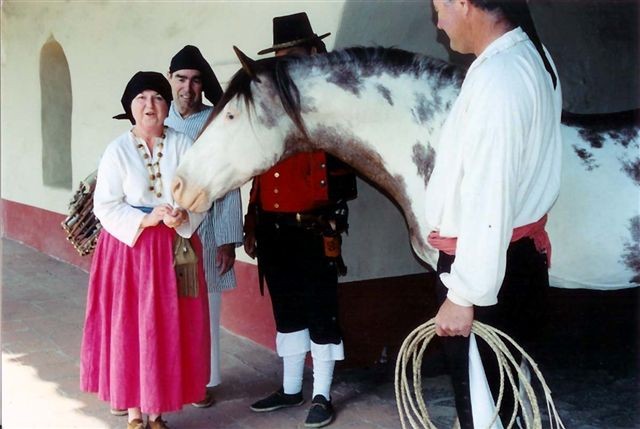 I first met Robin Keller and Francisco at a barbeque on the side of the road in Los Olivos, California. Francisco was milling with the people, wandering about, looking for all the world like Oscar Wilde. He gazed with such intent at his surroundings as if to say, "Good for them to put a party on for me."
My heart melted. I was looking into the eyes of a very intelligent horse. One whose ancestry clearly shone out. A type of horse I had never seen before. A noble head, fine chiseled, a roman nose, but refined not thick or heavy. His coat colour reminded me of the paintings of long ago of Spanish horses in the courts of 16th century monarchies. I recall wandering around the castle of Alexis Wrangle in Sweden, north of Stockholm and seeing paintings of the very same horse. His head has intelligence; it is fine but strong, full of honesty. His coat colour unlike any I have seen before, a skewbald technically, but I have never seen such a rich chestnut, flecked, mottled, no clear definition between the white and the rich chestnut.
I spent the next day at the Lompoc mission. We met Robin opened a horsebox and out walked a calm serene Francisco, free not tied up. He just stood as if for all the world he was a human being. He waited patiently as we scrabbled for our equipment and then we set off for the Mission to do a photo shoot. Imagine my amazement when whatever I asked for he stood or moved or looked gazing into the distance. He was saddled with a replica saddle made by Joe MacCummings. The days shooting produced some of the most amazing photographs I have ever had the privilege to take. Francisco was a star. What I learned from Francisco and Robin is that breeding is everything. Selection of type for purpose will after many years hone the character, strength and type of horse for a purpose. The Thoroughbred bred for racing, the Suffolk Punch for hauling great heavy loads from heavy clay Suffolk soil. The Cleveland Bay for lighter farm work, and so we go on. Adaptation for a discipline, provides us with an animal's highly perfected for its job. These horses carried their riders through bog and jungle, across desert and into rivers; they had courage, strength, loyalty and a deep affection for the men they carried. Robin was as close to Francisco as any human could be to another specie.
The herd was blood typed and according to Gus Cothran and Dr. Phil Sponenberg they have a surprising purity. Dr. Sponenberg says."These horses represent a unique strain in colonial Spanish Horses, a breed that figures importantly in Hispanic and American history, and worldwide conservation."
If you look up 'The Spanish Colonial Horse' in the International Encyclopedia of Horse Breeds, by Bonny Hendricks, the first things you will notice is that their status is 'RARE'. What Bonny tells us is paramount. The horses existed in a small herd for over a century in southern Arizona. Dr. Ruben Wilbur, a physician came west in the 1800's. He purchased a ranch married a Mexican woman and purchased a twenty-six head of Spanish horses from Juan Sepulveda of Magdalena, Mexico. 1000 of these horses were destined for Kansas City, however they were all sold before he left New Mexico.
The importance of this blood is that horses from Magdelena are traceable back to Father Eusebio Kino who in the late 1600's and early 1700's provided his Indian workers with domestic stock. The stock was a collection of types chosen by the astute Father Kino clearly understood the importance of selective breeding. Dr. Wilbur due to circumstances beyond his control became the first Indian agent at the Mission of San Xavier del Bac south of Tucson. In 1884 the horses passed to his son and in 1933 upon the death of the son to his daughter Eva Wilbur-Cruce. The purity of the herd was verified by Eva Wilbur-Cruce and documented in her book 'Beautiful Cruel Country'. In 1990 the Wilbur-Cruce ranch was purchased by the Nature Conservancy. When that was in turn handed over the United States Fish and Wildlife Services, the Wilbur-Cruce horses were ordered off the land. Thanks to the intervention of Dr. Philip Sponenberg and cooperation of Mrs. Eva Wilbur-Cruce, the sixty mares and stallions were placed in three groups, including with Robin in California.
Dr. Gus Cothran writes, "Robin has played the primary role in the preservation of these horses up to now. If it wasn't for her dedication and effort there is little doubt that this strain of horses would have been lost."
These horses are now critically endangered. Two years of drought have caused many problems. Help is needed. Robin has been fighting a battle against the elements for too long now. Saving this rare gene pool is in the final moment.
The importance of them is their subtly correct conformation for horses of this type. They are the ancestral to the horses we know today as Andalusians. Their perfection in both conformation and character makes them unique and very special. Their ancestors can be seen in paintings in Europe.
These horses must be preserved, not just for their purity but also for their intelligence, conformation and if for nothing else to prove that breeding carefully for selective qualities is the only way to go. We spend far too much money breeding bad horses to more bad horse, certainly in the UK. The result is a disaster, we have ugly unsound horses with dodgy characters and poorly adapted for work. I see them all the time.
Francisco and his relatives are proved horses through hundreds years of trial and error, the survival of the fittest, we should honor them and keep them pure.
About Caroline Baldock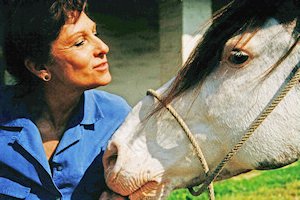 Caroline Baldock is a noted author, historian, anthropologist, artist, photographer, and horsewoman. Rancho Del Sueño would like to thank her for her contribution.
For more information on the Colonial Spanish Wilbur-Cruce Horses at Rancho Del Sueño, please visit www.ranchodelsueno.com. If you would like to help us in our conservation efforts to save this endangered breed, please email us at [email protected], or give us a call at (559) 868-8681.  We are a registered 501(C)3 non-profit organization.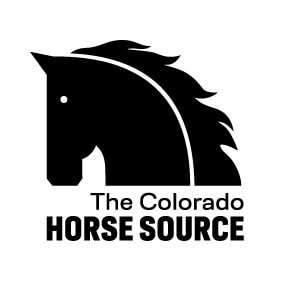 News from the horse industry. Sharing today's information as it happens. The Colorado Horse Source is not responsible for the content of 3rd party submissions.