Legendary comic book cowboy Red Ryder was a fictional American hero to millions of boys and girls for almost three decades. He was created by noted cowboy artist Fred Harman and his marketing partner, Stephen Slesinger. Red Ryder first appeared in print on Sunday, November 6, 1938, eventually appearing in more than 750 newspapers with more than 14 million readers, in 10 languages.
Slesinger soon embarked on an aggressive marketing campaign of merchandising and licensing with an endless array of comic books, Big Little Books, novels, radio programs, rodeos, powwows, and numerous licensed products including the legendary Daisy Red Ryder BB gun, the longest continuous license agreement in history.
It was inevitable that Red Ryder would make it to Hollywood, first appearing in 1940 in the classic 12-chapter serial The Adventures of Red Ryder, starring Don "Red" Barry in the title role with Tommy Cook as his juvenile Indian sidekick, Little Beaver. This was followed by 23 Red Ryder feature films from Republic Pictures beginning in 1944 through 1947. Cowboy actor Wild Bill Elliott starred in the first 16 films followed by Allan "Rocky" Lane. Child actor Bobby Blake appeared in all 23 films as Little Beaver.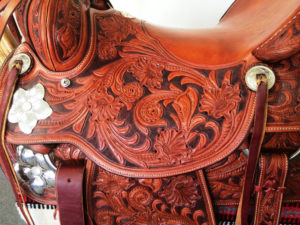 Wild Bill Elliott as Red Ryder rode a magnificent black stallion named Thunder. Elliott used a very unique saddle in these exciting productions. When Allan "Rocky" Lane took over the role of Ryder, he used the same horse and a similar saddle. After the Red Ryder series ended, Lane kept the black horse and changed his name to Black Jack and continued to use the same horse and saddle in his long-running series of B-westerns at Republic. Lorne Greene as Ben Cartwright on Bonanza used a similar saddle on his big buckskin gelding.
This magnificent saddle was made by Master Saddlemaker Ed Mathieus of Oak Brand Leather especially for Ronnie Aycoth of North Carolina. Ronnie is almost an exact double for Wild Bill Elliott and appeared at film festivals and other events across the country for many years honoring the memory of "Wild Bill."
This saddle is beautifully hand-carved and two-toned with a 16" seat, double rigging, and leather covered stirrups. It has eight unique sterling silver flowers on the corners just like the original saddles and it comes complete with a bridle, bit, reins, breast collar and saddle blanket. You don't need to own a horse to enjoy this fantastic saddle because it comes with its own horse, a custom deluxe saddle stand made by Master wood worker Terry Kirk, just for this saddle.
This is an eye-catching outfit that anyone would be proud to own. It is a museum quality cowboy collectible and one of the greatest conversation pieces you could display in your home, office or business. Tickets are only $10 each or 11 tickets for $100. The drawing will be held on Saturday night, May 20, 2017 at the FRIENDS OF HAPPY TRAILS BANQUET in Victorville, CA. YOU DO NOT NEED TO BE PRESENT TO WIN! Order your tickets today! Discover, MasterCard, and VISA accepted. Phone toll free (855) 788-4440.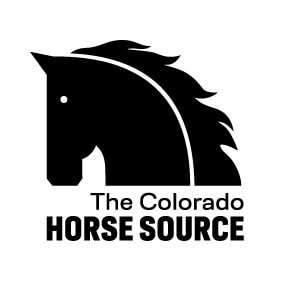 News from the horse industry. Sharing today's information as it happens. The Colorado Horse Source is not responsible for the content of 3rd party submissions.