ABHA Invites You to Excel in Natural Horsemanship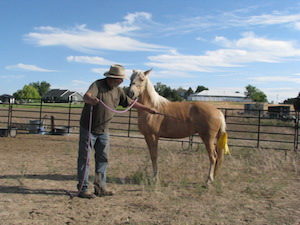 ABHA members have had the blessing of learning the lessons of the masters: Ray Hunt, Tom Dorrance, Buck Brannaman and others. Natural horsemanship is about learning the horse's language and how he thinks to better communicate what you want him to do. The methods are simple and easy to learn and the outcome is astonishing. You will be surprised how quickly your horse understands once you learn his language. It just takes desire and practice.
Every horse owner is a trainer, whether they intend to be or not. Each time we touch our horses or interact with them (even for simple things such as feeding) we are training them, for the positive or for the negative. Many a horse has been ruined by an uneducated human, and many horses are smart enough to do well in spite of an uneducated human. They are very forgiving creatures!
Now is the time to learn to train your horse in a positive way, on purpose. Brock Loveland is an ABHA member who is an avid natural horseman. His desire is to teach others how to be safer with horses and have better relationships that include positive riding experiences. We can help horses reach their great potential through natural horsemanship.
Friend us on Facebook to receive announcements of upcoming natural horsemanship clinics. Club information can also be found at blazerhorse.com
Originally Published September 2014 Issue
This article sponsored by:
The mission of ABHA is to encourage and support members of the Association, while they raise, exhibit, promote and enjoy the American Blazer Horse. It is also our goal to maintain a history of the Blazer Horse by recording their bloodlines and achievements for the preservation of the breed. blazerhorse.com