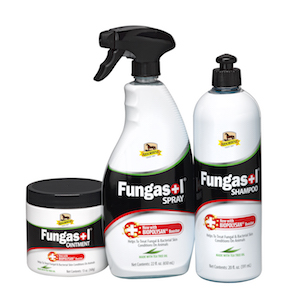 Building on its trusted line of Absorbine® skin and coat care products, W.F. Young, Inc. introduces Fungasol®, a skin solution system to help treat fungal and bacterial conditions on horses. The shampoo, spray, and ointment contain therapeutic ingredients plus the addition of revolutionary Biopolysan® booster, proven to boost the effectiveness of the formula.
Formerly Equine America® Fungasol®, the topical preparation has been improved under the Absorbine name with the advancement of Biopolysan booster, a patented technology derived from coconuts. Proven to help treat fungal and bacterial skin conditions, Fungasol's improved formula is effective against gram-positive and negative bacteria, some enveloped viruses, as well as some yeast and fungi. When the zone of inhibition of new Fungasol with added Biopolysan was tested, a 29% boost in activity was recorded compared to original Fungasol. The effectiveness proven in lab tests was seen in action on horses as well, as skin conditions cleared up in as little as a week in some instances.
A variety of skin conditions can be addressed using the Fungasol skin solution system, including rain rot, scratches, girth itch, ringworm, and tail rubbing.
To find out where to purchase Fungasol, and to learn more about the complete line of Absorbine skin and coat care products, visit www.absorbine.com.
Originally Published December 2014 Issue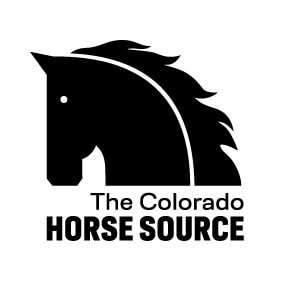 The Colorado Horse Source is an independently owned and operated print and online magazine for horse owners and enthusiasts of all breeds and disciplines in Colorado and surrounding area. Our contemporary editorial columns are predominantly written by experts in the region, covering the care, training, keeping and enjoyment of horses, with an eye to the specific concerns in our region.