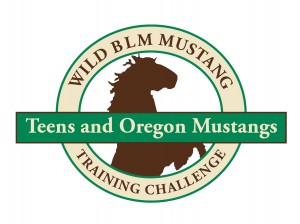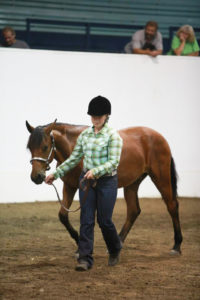 Youth ages 10 and over, and Adults trainers have submitted their applications and been selected into the 2017 Mustang Adoption Challenge hosted by Teens and Oregon Mustangs (T&OM) and sponsored by Coastal Farm & Ranch, the Mustang Heritage Foundation, Old Mill Feed, and Purina. Selected trainers will pick up their mustangs at the St. Paul Rodeo Grounds on December 3, 2016 and get ready for a busy winter! For the second year T&OM is hosting the Teen Riding Division, selected trainers between 14-18 will be given a 2-3 year old wild mustang to gentle and saddle-break. All trainers selected (including those for the riding competition) will have just over 100 days to gentle and train their mustangs before the March 23-26th Final Competition. The final competition will include showmanship, overall body conditioning, in-hand trail and for those in the riding division an additional riding class. In addition to the two teen Divisions, T&OM has an Adult Riding division for those 18 and over that have graduated High School. The adult program will compete in the same categories as the Teen Riding Division.
The Final Competition will be held for the first time as the premier event at the Northwest Horse Fair & Expo at the Linn County Fair and Expo Center, 3700 Knox Butte Rd E, Albany, OR 97322. All three divisions (Youth In-hand, Youth Riding and Adult Riding) will be showcasing their horsemanship skills and the advancement they have been able to make over the winter with their mustangs. Each division will be competing for the title of Teens and Oregon Mustangs Champion and a Trophy Saddle. At the conclusion of the Final Competition a Live Auction Adoption will be held on March 26, 2017 to place the mustangs into new forever homes. Horses will also be available for pre-bidding online throughout the 100-day competition at the Teens and Oregon Mustangs website (www.teensandoregonmustangs.org).
Proceeds from the auction of the mustangs will go directly to the trainer. To qualify to adopt, bidders will be able to complete the BLM adoption form on site at the Final Competition. For more information about how to be a qualified adopter please visit T&OM website or the BLM website (http://www.blm.gov/or/resources/ whb/index.php).
The 2016-2017 Title Sponsor, Coastal Farm and Ranch. Additional major sponsorship includes Old Mill Feed, Purina Feeds and Northwest Horse Fair & Expo and Mustang Heritage Foundation.
About Teens and Oregon Mustangs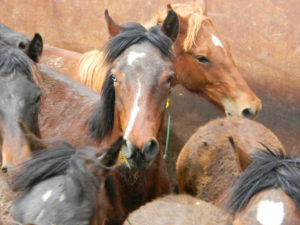 The mission of Teens and Oregon Mustangs is to make Oregon BLM Mustangs more adoptable. In keeping with this mission Teens and Oregon Mustangs has been created to place Oregon Mustangs in adoptive homes through a training event. The goals of this event are to promote adoption through showcasing Mustangs' value and trainability, help Oregon teens improve their horsemanship skills, and build life training skills for Oregon youth through competition. Since the start of T&OM in 2009, over 270 Oregon mustangs have been successfully placed through the program. Teens and Oregon Mustangs, Inc. is a 501-c3 non-profit and donations are tax deductible. If you have any questions, please contact: Erica FitzGerald 503-702-5359, email us at [email protected] or visit the FAQ at: www.teensandoregonmustangs.org Additional photos available upon request.
About the Northwest Horse Fair & Expo
The Northwest Horse Fair & Expo is the perfect event for horse lovers! The 18th annual Northwest Horse Fair and Expo, presented by Akins Trailer Sales, will fill the facilities of Linn County Fair and Expo Center, March 24 through 26 in Albany, Oregon. The largest equine expo in the Northwest provides a family-friendly horse festival, featuring a wide variety of equine entertainment and education for horse enthusiasts. The event includes clinics by world-class horse trainers and riders, breed and Stallion Review demos, exhilarating equine entertainment, a huge trade show and more! Headlining the education at this year's expo is Ken McNabb, covering General Horsemanship, Van Hargis, educating about Ranch Versatility topics, Steve Edwards, focusing on Mules and the education of their owners, Jec Ballou, addressing topics for both Classical and Western Dressage, Peggy Cummings covering Connected Riding and Bonnie Davis with topics for Trail Riders. BreyerWest® will also return to the expo in 2017. BreyerWest® is a fun model horse event featuring model horse hobby demonstrations, model horse shows and fun craft for kids and adults. "We are excited to host the Mustang Adoption Challenge in the 2017 Northwest Horse Fair & Expo and include it in the exciting line-up of events we have planned" said John Cloe, event manager and founder. For complete details on the Northwest Horse Fair & Expo, visit the event website at http://equinepromotions.net/ northwest-horse-fair and follow the Northwest Horse Fair & Expo on Facebook and Twitter for the latest breaking details.
About the Mustang Heritage Foundation
The mission of the Mustang Heritage Foundation and the goal of the event is to increase the adoption of mustangs across the country. The Mustang Heritage Foundation supports this and other events of their own creation to showcase the recognized value of mustangs through a training competition and has placed thousands of mustangs for adoption since September, 2007. Go to: www.mustangheritagefoundation.org for more information.
About the Bureau of Land Management (BLM) – Wild Horse and Burro program
The Bureau of Land Management (BLM) is responsible for managing 258 million acres of public lands, located mostly in the West.  Wild horses and burros roaming public rangelands are managed in a manner consistent with BLM's overall multiple-use mission, as set forth in the Federal Land Policy and Management Act of 1976. Since 1973, the BLM has placed more than 219,000 horses and burros into private care through adoption. For more information, visit: http://www.blm.gov/or/resources/whb/index.php  or call 866-4MUSTANGS.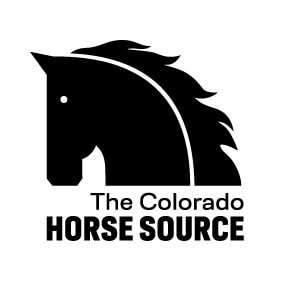 News from the horse industry. Sharing today's information as it happens. The Colorado Horse Source is not responsible for the content of 3rd party submissions.