* Enter for a Chance to Win the Winter Hay Sweepstakes
Horse Health Products Announces the Return of the Winter Hay Sweepstakes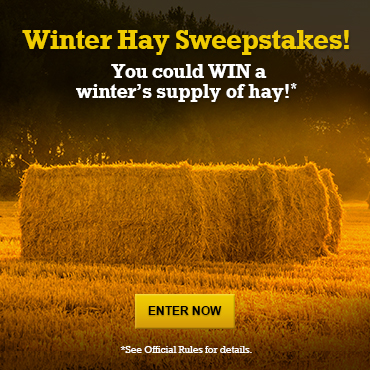 PHOENIX – July 13, 2016 – A glorious summer of riding is the best part of horse ownership.  Whatever your preferred discipline, the joy of being on horseback pushes away all thoughts of stacking bales of hay for the long, cold winter. But soon the season will change, the temperature will drop and horse owners will have to face the expense of buying winter hay. This year, one lucky winner will get an entire winter's supply of hay paid for by Horse Health Products – *up to $10,000 cash towards the purchase of hay payable to the winner's hay vendor or winner, as applicable. See Official Rules for details.
"Previous Winter Hay Sweepstakes winners Jolene of Osceola Thoroughbred Farm, and Elyse of Wind Song Farm, were both delighted to save the money they normally spent on their annual winter hay purchases," said Alyssa Barngrover, marketing manager, Horse Health Products. "Hay is one of the most essential needs for horses, with the average 1,000-pound horse consuming 10 to 20 pounds of hay each day depending on its use and management. As owners of multiple horses, hay represented a major expense for these previous winners."
Horse owners may enter the Winter Hay Sweepstakes in either of two ways: 1) Consumers who purchase a qualifying product at participating retailers will receive an Entry Code and be directed to visit www.HorseHealthProducts.com to follow the instructions for inserting the Entry Code and completing the registration form before 11:59:59 p.m. ET on September 30, 2016, or 2) To receive one entry without making a purchase, mail your full name, mailing address, phone number, email address, date of birth and the words "Winter Hay Sweepstakes Entry" to:  Winter Hay Sweepstakes Entry, PO Box 34820, Phoenix, AZ  85067-4820. Mail-in entries must be postmarked by September 30, 2016, and received by October 10, 2016.
"Horse Health Products provide horse owners with essential, hardworking horse care solutions they can trust. By providing an entire winter's supply of hay, we can help lift that financial burden for one lucky horse owner this year," added Barngrover.
Entries are limited to one per person and per email address, regardless of the method of entry. One grand prize winner will be randomly selected on or about October 13, 2016. To review the Official Rules, visit www.horsehealthproducts.com.
*NO PURCHASE OR PAYMENT NECESSARY TO ENTER OR WIN. VOID WHERE PROHIBITED. Prize is up to $10,000 cash towards the purchase of hay payable to the winner's hay vendor or winner, as applicable.
About Horse Health™ Products
For more than 35 years, horse owners all over the world have relied on Horse Health™ products. The Horse Health™ brand began with Red Cell® supplement, the world's leading liquid feed supplement for decades. Since then, Horse Health Products have been providing horse owners with quality products that get results at an honest price. Horse Health™ products serve both the pleasure horse and performance horse markets with products for fly control, deworming, hoof and leg care, grooming, wound care, leather care and nutritional supplements. For information about Horse Health™ products in the U.S. call toll free at (800) 234-2269 or visit www.HorseHealthProducts.com. Be sure to join us on Facebook for tips and contests at www.facebook.com/HorseHealthProducts and Twitter at www.twitter.com/HorseHealthProd.
When horses are your life, Horse Health™ Products is your brand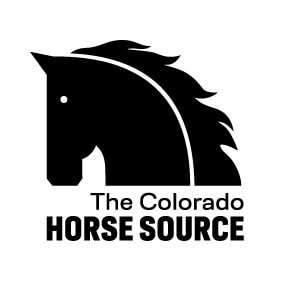 The Colorado Horse Source is an independently owned and operated print and online magazine for horse owners and enthusiasts of all breeds and disciplines in Colorado and surrounding area. Our contemporary editorial columns are predominantly written by experts in the region, covering the care, training, keeping and enjoyment of horses, with an eye to the specific concerns in our region.