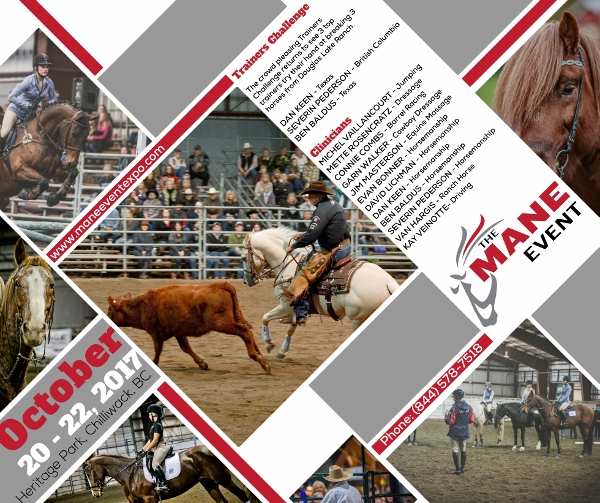 October 3, 2017 – Chilliwack, BC – The Mane Event is geared up and ready to bring you another amazing weekend of equine education, shopping, and entertainment! The 14th Annual Mane Event has almost arrived, being held this October 20-22 at Heritage Park in Chilliwack, BC! There is something for every equine enthusiast The Mane Event with an outstanding line up of clinicians; equine only trade show vendors; the Friday Night Youth Pro-Am; the Saturday night Equine Experience; and the very popular Trainers Challenge.
Education At Its Finest
First off, we would like to thank everyone who took the time to apply to ride with our clinicians! Offering riders the opportunity to grow with the help of a world class clinician is what fuels The Mane Event! The drive to learn is what encourages our desire to keep bringing back a full line up of experts. We are very proud to offer this year's outstanding line up of clinicians: Connie Combs – Barrel Racing, David Lichman – Liberty & Gaited Horses, Evan Bonner – Horsemanship, Garn Walker – Cowboy Dressage, Jim Masterson – Equine Massage, Mette Rosencrantz – Dressage, Michel Vaillancourt – Jumping, Van Hargis – Horsemanship, and Kay Veinotte – Driving. We invite everyone to come audit the clinic sessions, offered in the Alfa Tec Arena and the Horse Council BC Arena, from some of the best in the business! For coaches, viewing or riding in these sessions will count towards updating hours.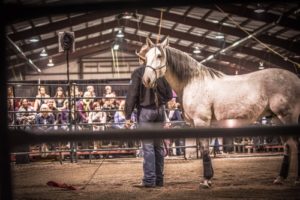 In addition to riding with or learning from one of our clinicians, there is always an opportunity to pick up some tips while watching the popular Trainers Challenge in the Hi-Hog Round Pen. The Trainers Challenge is an education based opportunity for three trainers to demonstrate the techniques they would use to start a colt. This years competitors include: Ben Baldus (Texas), Dan Keen (Texas) and Severin Pederson (BC). This is a judged, weekend long event, but with the overall focus being the success with the horses and through educating the spectators. Our goal through this challenge is to educate equine enthusiasts that there are many different ways to achieve the same outcome – progress towards having a quiet broke horse.
Be sure to stop by and enjoy lectures and presentations from a variety of qualified industry experts in the Hat Doctor Lecture Hall! You'll find a pleasing array of topics including saddle fitting, supplement selection and equine behaviour.
Shop Til You Drop
Heritage Park in Chilliwack, BC offers 65,000 square feet of indoor shopping! It wouldn't be an all equine weekend without 150+ equine only vendors offering their own featured products and show specials! Interested in finding a new feed supplier? We've got them! Just coming to poke around and have your hat cleaned up? You can do that! We are pleased to offer a variety of vendors to fit all your needs from boots to saddles to western décore to health and wellness and everything in between!
Meet your favorite clinician at his or her booth on the trade show floor! If you've missed the opportunity to ride with these experts, many of them have training books and DVDs available for purchase at their booth!
The trade show floor also offers a great opportunity to learn about different clubs, breeds and rescues, with many non-profit and association booths!
Sit Back, Relax & Enjoy

We are ready and rearing for our eventful Friday night entertainment – the Youth Pro-Am! The youth applications have been abundant and made it interesting to pick our competitors for this year! The competition consists of 6-10 teams made up of one Youth (12-18 years old) and one Clinician, and as a team, they compete in a timed obstacle/trail course. This is sure to be a fun and entertaining event as the teams are challenged to complete the course while using only the youth's horse in a relay type competition. Some of the clinicians know what they're getting into while some of the clinicians are new to the competition, which makes for a good laugh during the event! The following clinicians have confirmed their participation for the Youth Pro-Am this year: Dan Keen, Ben Baldus, Severin Pederson, Mette Rosencrantz, Van Hargis, and Evan Bonner.
One of The Mane Event highlights is the Saturday night Equine Experience! The Equine Experience is a fun filled evening after a long day of shopping and learning – we want you to sit back, relax and enjoy! If you'd like to avoid standing room only and first come, first serve seating we offer guaranteed seating tickets on our website, www.maneeventexpo.com. You can expect to see a variety of presenters including The Vancouver Island Coastal Cowgirls, trick riders, drill teams, a liberty demo with David Lichman and his horses, driving demos and much more. This is sure to be an evening of horsey fun you don't want to miss!
See You At The Show!
Be sure to save money until October 17th by purchasing your tickets in advance through our website! Advance tickets will get you into the expo quicker as well by offering it's own expedited line up. If you miss the advance ticket deadline, don't worry, tickets are still available at the door!
We look forward to seeing everyone at Heritage Park in Chilliwack on October 20-22, 2017! Be sure to head to The Mane Event website at www.maneeventexpo.com for more information and like us on Facebook for updates and Clinicians announcements!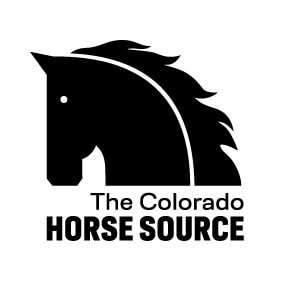 News from the horse industry. Sharing today's information as it happens. The Colorado Horse Source is not responsible for the content of 3rd party submissions.