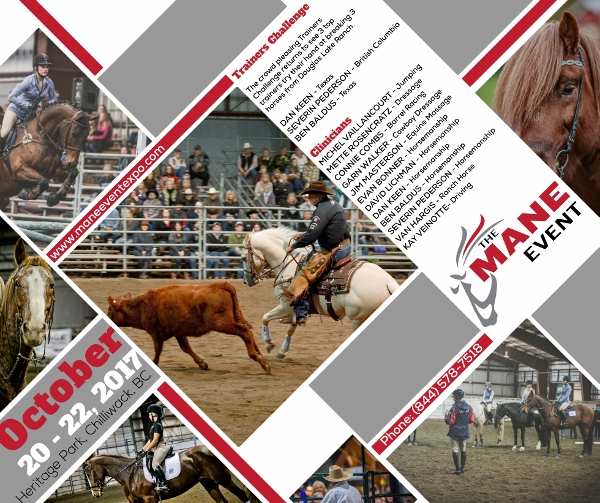 Local media are invited to attend The Mane Event, Equine Education & Trade Fair
Chilliwack, BC – The Mane Event Equine Education and Trade Fair will be holding its 14th annual event in Chilliwack and the media are welcome to attend this exciting equine experience.
DATES:
Friday, October 20 2017 ~ 9:00 am – 8:00 pm
Saturday, October 21 2017 ~ 9:00 am – 8:00 pm
Sunday, October 22 2017 ~ 9:00 am – 5:00 pm
LOCATION:
Heritage Park
44140 Luckakuck Way
Chilliwack, BC
SUMMARY:
The Mane Event, Equine Education and Trade Fair has an average attendance of over 20,000 people, and it features clinics, demonstrations and presentations from 11 world-class clinicians and Olympians who are experts in their fields. Additionally, the Trainer's Challenge provides an opportunity for the public to watch three trainers apply their skills to training unbroke colts, from the Douglas Lake Ranch, over the course of three days. On Saturday night, the Equine Experience offers a diverse range of equine entertainment; from drill teams, breed demos, trick horses, and liberty demonstrations. Don't miss the Friday night Youth Pro-Am, where 6-10 teams made up of one Youth and one Clinician compete in a timed obstacle/trail course. The teams are challenged to complete the course while using only the youth's horse in a relay type competition. Finally, the Trade Show features over 150 exhibitors showcasing all aspects of equine equipment, training and information. Visit www.maneeventexpo.com for complete details.
For more information, pre-event coverage and media registration please contact:
Nicole Barker
(844) 578-7518
[email protected]
www.maneeventexpo.com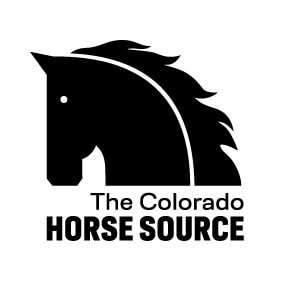 News from the horse industry. Sharing today's information as it happens. The Colorado Horse Source is not responsible for the content of 3rd party submissions.