The Road to the Derby", sponsored by MAGGIE MAE DESIGNS® Custom Millinery and Old Friends, 
Kicks off with "The Alphabet Soup" Chapeau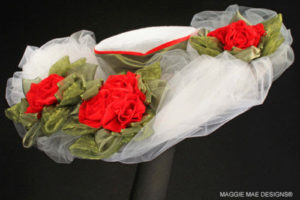 For the eighth consecutive year, MAGGIE MAE DESIGNS® and Old Friends Thoroughbred Retirement are teaming up for an unparalleled shopping experience: "Hats Off to the Horses: The Road to the Derby".
This unique fundraiser features an online auction of one-of-a-kind couture hats created by MAGGIE MAE DESIGNS®, with the 100 percent of proceeds benefiting Old Friends.
The first hat up for bid in our auction series, which kicked off January 1st, honors Old Friends retiree Alphabet Soup, winner of the 1996 Breeders' Cup Classic.
Bidding in this online auction will be available through
January 11, 8:00 pm (EST)
. To bid,  
CLICK HERE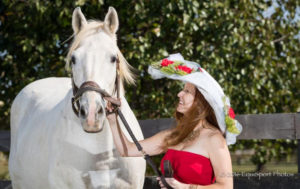 Sally Faith Steinmann, who owns the Massachusetts-based Maggie Mae Designs®, will donate four magnificent millinery creations in 2017 to raise funds for Old Friends, the 501 (c) 3 non-profit organization that cares for over 165 retired racehorses. Each hat is inspired by one of the retirees at Old Friends, and will be auctioned the first of each month through April 1st, 2017. Each will be ready to wear at this year's Run for the Roses.
To date, Steinmann has raised over $26,000 for Old Friends.
ABOUT THE HAT
This handcrafted chapeau is showcased here by jockey Jon Court, his wife Krystal, and their daughter Aubrey (ensembles courtesy of Lexington's Bella Rose Boutique)
To see a behind-the-scenes video of the amazing photo shoot  CLICK HERE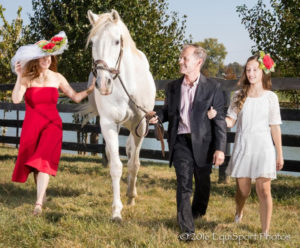 A very special hat was needed to honor this charming retiree. The resulting design reflects Alphabet Soup's pearl-white coat, his familiar racing silk colors of orange-red and sage green, and his proud spirit and athleticism.
The foundation of the heat features a curved, wide- brim created out of pearl-white dupioni silk. A fancy grey braiding was hand stitched to the under brim to reflect the stallion's darker mane and tail when he was a colt.
This article sponsored by: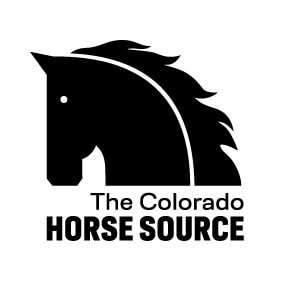 News from the horse industry. Sharing today's information as it happens. The Colorado Horse Source is not responsible for the content of 3rd party submissions.