Don't Cut Corners on Correct Footing
By Dustin Gruetter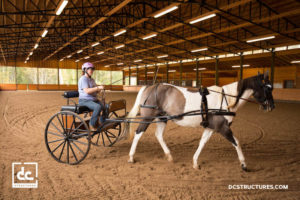 Does choosing arena footing make your head spin? It seems complicated because it is! Of course, equestrians know that caring for horses is no easy task. Poor footing will subject your horse to increased risk of injury and long-term degenerative problems. As such, selecting footing calls for an informed and measured approach that takes a variety of factors into consideration.
Before you even think about choosing an arena footing, however, you must have 100% confidence in your riding arena's base. Solid arena bases adhere to high standards for the three D's: drainage, durability and depth. If you live in a wet region or know your arena will be getting lots of traffic, it may be necessary to go beyond standard recommendations.
Drainage: Opt for a strong base that will enable water to seep into the ground rather than flood the surface.

Durability: Make sure your base is compacted above a 90 percent density so it will hold its integrity and keep rocks from creeping to the top.

Depth: Keep your base layer at no less than four inches deep and up to one foot deep if your equestrian activities call for more support.
Two commonly used natural footing materials to consider:
Sand: Fresh sand contains pockets of air that are great for absorbing shock. That said, it's important to pay attention to how it dries, compacts and erodes over time. Do not exceed a depth of six inches when laying sand in an arena, as this can result in stress to your horse's tendons. This footing material is usually mixed with other products to optimize stability and traction.

Wood Products: Large and durable wood chips can be very low maintenance if done well. This kind of footing can be used on its own or in tandem with sand or stone dust, as it will add cushioning and assist in moisture retention. On its own, it is far less abrasive to horse hooves than its sand or stone dust counterparts. Keep in mind that wood is organic and, as such, will decompose and create a compacted base over time.
Choosing your arena footing is a tall order, but try not to let it get the best of you. As long as you are guided by the will to create a safe environment for your horses, everything—including sand, wood, and stone dust—will settle into place just fine.
An Oregon native, Dustin Gruetter is a serial entrepreneur with a diverse portfolio of businesses to run. His two largest roles are as president of both DC Builders, an elite design and construction firm, and DC Structures, a construction materials company. With more than a decade of leadership and management experience, Dustin lends his expertise to Eris Creative as the head of business development. Dustin lives in Portland with his wife Ilanah, son Maxton, daughter Violet, and dogs Piper and Marley.