Dutch Ovens Make it Easy
by Aliena Hook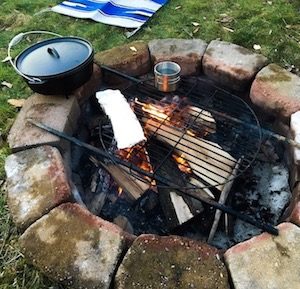 Whether huddled around a campfire after a trail ride or a chuck wagon after a cattle drive, being outdoors works up a special kind of hunger. Cowboy cooking has been around for centuries. Its basic rules are to make the most of whatever food is at hand and make sure nobody goes away hungry. This has been key for cattle ranches and horse-packers alike. The aim is for simple, great-tasting, and filling food that is usually quick to prepare and cook.
One of the biggest advantages to horse-packing over backpacking is the opportunity to pack more stuff. This includes fresh and dried foods that give riders more options — from meals to a cold drink at the end of the day. Dinners are likely the most elaborate meal of the day. Try steak night, pasta night, maybe even burrito night, and don't forget the spices! A flavorful meal is worth the extra few Ziplocs!
A great way to conserve space and make hearty food is with a Dutch oven, though some folks won't want to lug it around. A Dutch oven is a large, heavy cooking pot with a lid. It can be a great tool when making the most of limited ingredients. Dutch ovens were very popular for early settlers and ranchers. The Dutch oven allowed them to use a variety of forms of cooking from boiling to baking. Everything from cakes to casseroles could be made using the uniform heat provided by coals. The Dutch oven, when used correctly, can be the single cooking pot you carry out on the trails.
A Dutch oven-cooked meal is just the thing after a long day on the trail. One of the dishes easily made using the Dutch oven is potatoes. Mashed, cubed, or in a casserole — the possibilities are endless. Potatoes are easy to carry and don't easily spoil. Add some bacon, jerky, or whatever meat you have plus a little onion or garlic and you can make a great meal for any time of the day. Just slice or cube the potatoes, throw them in the pot with a little oil or butter, add your meat and toppings and let it sit with hot coals until the potatoes are soft. With the Dutch oven you don't even need to stir it since heat is distributed evenly throughout the pot. Soon enough you'll have a hearty, delicious meal that can even be reheated later.
Originally Published April 2017 Issue
This article sponsored by: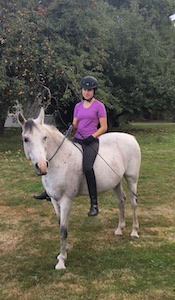 Aliena Hook grew up in the Northwest and discovered horses at a young age while attending a birthday party. Beginning with her first rides and through many years of training, Aliena has strived to develop her own way of training based on natural horsemanship and focusing on the bond between humans and their horses.
When she's not riding, she is writing. Aliena is currently working on her first book about her rescue horse Orion, and the issues surrounding the horse slaughter industry.
Aliena lives and works in Bellingham, WA and owns two Arabian geldings that she trains and learns from on a daily basis. She is a senior at Western Washington University, and hopes to pursue the careers of both trainer and writer in the near future. Contact her at [email protected] or through Facebook.