Sharing a Passion for Team Penning and Ranch Sorting
Interview by Kim Roe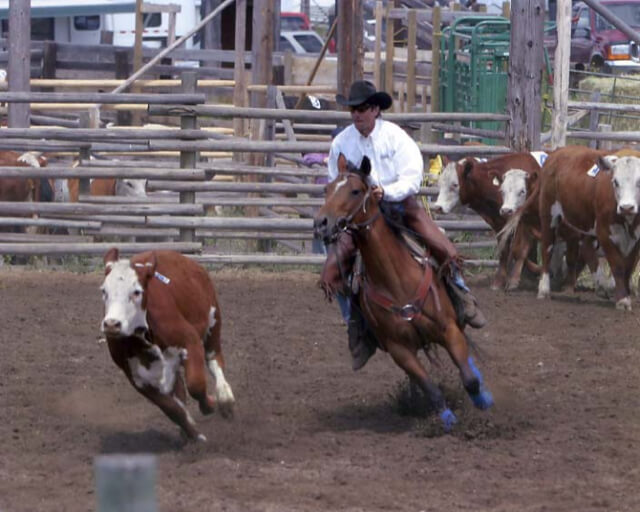 What do you do with horses and why?
My wife, Dee, and I board and train horses at our Diamond D Ranch in Snohomish, WA. We've been there since 2003. We compete extensively in ranch sorting and team penning, traveling almost every weekend all over the West.
I am a firm believer that any horse benefits from being worked on cattle, whether it's his regular job or not. Virtually all of my training horses work cattle—even the pleasure horse prospects. Cattle work benefits a horse by sharpening his attitude and giving him something fresh to do. The horse wants to have a job and a purpose.
Riding to cattle also benefits the rider, giving you a great way to find the holes in your body control. It'll give you a clear understanding of what you need to work on when you get back to the training pen.
How long have you been involved with horses, and what drove your horse passion?
I'm in my 28th year of being involved with horses. I raced hydroplanes for 30 years, winning numerous awards and trophies and setting national records. My wife was into horses and I realized if I wanted to see her, I'd probably better do the horse thing as well. I'm the kind of person who doesn't do anything part way, so I jumped in with both feet! I'm an all or nothing kind of guy. I started with a beat-up old truck and trailer and now own a semi and a living quarters horse trailer.
Do you give clinics, lessons?
Yes. We do a lot at Stewart's Arena in Yelm, WA, but also at many private facilities that rent cows. We go to the Lynden, WA fairgrounds twice per year and give a clinic.
Tell me about your professional life outside of horses. 
I've worked in the printing industry all of my life; I worked my way up to becoming a journeyman pressman, printing press demonstrator, and I now work in pressroom sales and technical service and travel extensively for my work.
What do you love about the sports of cattle penning and team sorting?
They are competitive, family-oriented horse sports that most people can afford to do. People have a lot of fun and join together. The sports are growing like crazy, with huge events that have many teams entered. It's exciting to be involved with so many enthusiastic competitors. In the 28 years we've been involved we've met so many great people and have made many good friends.
I've had the opportunity to ride and own some of the best horses and compete and win some of the biggest shows in North America and Canada with multiple titles and saddles won.
How can people get involved in penning and sorting?
In Western Washington we have the Westside Team Penning Club that is very active. They hold clinics and competitions regularly at Stewart's Arena. Westside Team Penning Club is one of the largest team penning and sorting clubs on the West Coast.
Joining a club in your region is a great start. People can contact me about coming to their area and giving a clinic.
2019 Westside Team Penning Club Schedule of Events
Saturdays are team penning, and Sundays are ranch sorting. All are held at Stewart's Arena in Yelm, WA
March 23–24: Penning Clinic with Roger Bra
April 6–7, May 4–5, June 8–9, July 6–7, August 3–4, September 14–15, October 12–13
More information at westsideteampenningclub.com
Learn more about John Heggenberger and the Diamond D at www.diamonddranch.org
Call John at 360-568-6514 or email [email protected]
Kim Roe grew up riding on the family ranch and competed in Western rail classes, trail horse, reining, working cow, and hunter/jumper. She trained her first horse for money at 12 years old, starting a pony for a neighbor.
Kim has been a professional dressage instructor in Washington state for over 30 years, training hundreds of horses and students through the levels. In recent years Kim has become involved in Working Equitation and is a small 'r' Working Equitation judge with WE United.
Kim is the editor of the Northwest Horse Source Magazine, and also a writer, photographer, and poet. She owns and manages Blue Gate Farm in Deming, Washington where she continues to be passionate about helping horses and riders in many disciplines.