Fun And Prizes
By: Steve Breitenstein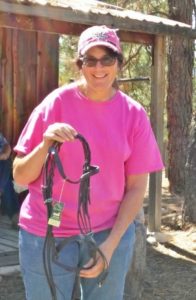 The Fall Fun Ride at Idaho City was a ton of fun this year. The weather was perfect, we had a good crowd (about 30 folks) and lots to eat. The trail was about six miles long and went up through the pines; it wasn't too challenging for the horses or riders. There was some up and down, but nothing anyone couldn't handle. Rocky Widner rode his horse Clark, and Colleen, a guest of Terri Franich, rode Monte. Colleen hadn't been on a horse in a while and wanted to try riding a Blazer. She did very well with Monte and we had a grand time.
We had three nice prizes: A set of large leather saddle bags, a hand tooled leather rosebud show halter, and a nice headstall with matching reins. There was smoked turkey, pulled pork, and lots of side dishes and desserts. As always, we had more than enough food.
The Cowboy Campground always treats us like family. The camping spots have stalls for the horses, fire rings and tables. There was also an arena in the middle to warm up before taking off up the trail. Idaho City has hot springs, which are very nice, and restaurants with wonderful food if you don't want to grill your own.
Hopefully we will see you all again next year, and bring some more friends with you. All horses and riders are welcome.
The mission of ABHA is to encourage and support members of the Association, while they raise, exhibit, promote and enjoy the American Blazer Horse. It is also our goal to maintain a history of the Blazer Horse by recording their bloodlines and achievements for the preservation of the breed. blazerhorse.com