An Interview with Leslie Martien
Interview by Kim Roe
Working equitation (WE) is one of the fastest growing equine disciplines in the world. The sport appeals to people from both English and Western disciplines, and all breeds of horses are found competing in it. Designed to highlight and celebrate the qualities of a working (or ranch) horse, competitions feature three or four trials: dressage, ease of handling (obstacle work that is judged on style), speed (obstacle work that is timed), and a cattle phase that resembles cattle sorting or penning. Sanctioned internationally by the World Association of Working Equitation (WAWE), there are world championships as well as competitions held throughout Europe, Australia, New Zealand, and the United States.
Leslie Martien is a Colorado resident who has been very active and generous in volunteering her time to promote the sport in both the national organization, USA Working Equitation (USAWE), and the Colorado working equitation scene. Here she kindly answers some questions about WE in Colorado.
How did you get interested in working equitation (WE)? Describe your journey in WE in Colorado and the US.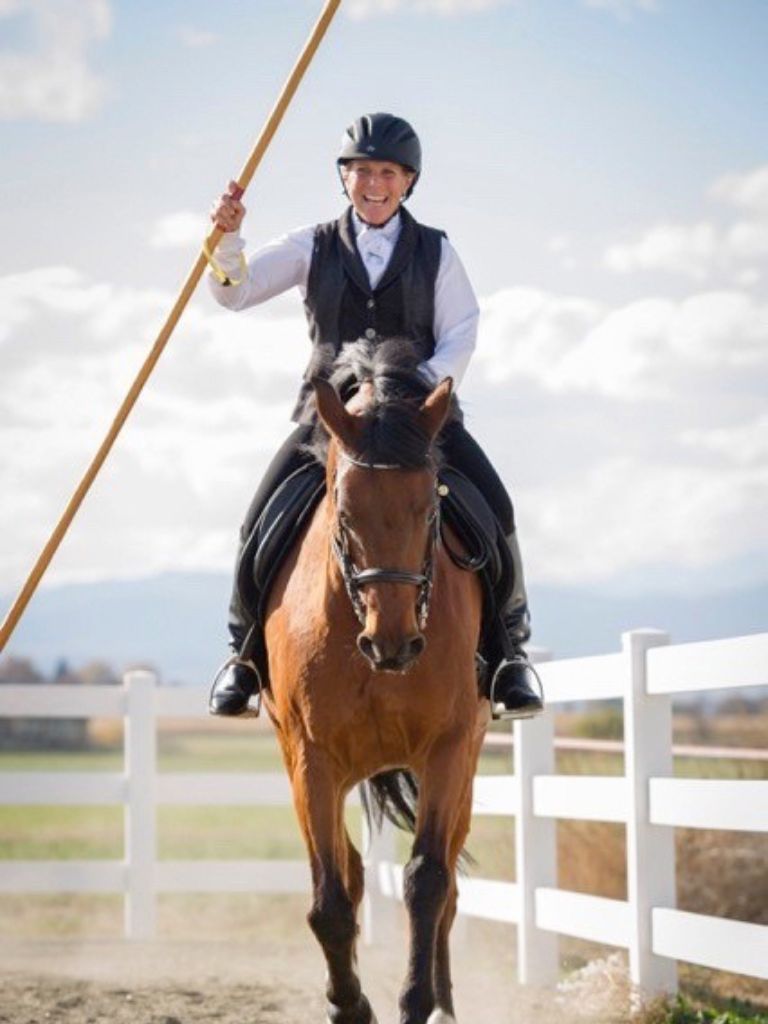 My working equitation journey began about nine years ago when I attended a playday put on by some of the founding members of High Country Working Equitation in Colorado. Like many of us who try this sport, I was immediately hooked, and so was my horse.
That summer I was involved in arranging to have Nuno Matos (of Portugal) come to Colorado to teach a working equitation clinic, and in October of that year I attended the Haras Cup in Texas. The following summer I joined the board of High Country Working Equitation as secretary and returned to Texas to take a three-day working equitation seminar taught by Claudia Elsner Matos. At various times I've been on the board of WE United and the Confederation for Working Equitation and had the privilege of being on the merger team when the two organizations joined forces at the beginning of the Covid pandemic (creating USA Working Equitation).
I remained on the board of High Country Working Equitation until I become president of USA Working Equitation (USAWE) in 2021. I continue to serve on the Rules Committee, which I joined in 2018 and am a member of the Licensed Officials Committee and the bylaws task force for USAWE.
How did working equitation begin in Colorado?
Several of our local trainers heard about the sport from a variety of sources, including a Western dressage clinic. They came together to organize some play days, form a club, and bring in some working equitation judges to provide us with clinics, and the rest is history.
How would someone interested learn more about working equitation in Colorado?
Chris Stanko, the current president of USAWE and High Country Working Equitation (HCWE), is a member of the USAWE Coaches Network. Chris lives in Niwot, CO and rides, trains, and teaches at Hobby Horse Farm in Boulder County. Chris is also a licensed technical delegate with USAWE. Kathleen (Kitty) McLaughlin is an "L" judge with USAWE and has her own facility, Circle Star Arena, in Platteville, located in Weld County. Kitty's facility has a permanent working equitation course set up in her outdoor arena and an indoor arena for the dressage trial (and the ease of handling and speed trials when crazy afternoon Colorado weather descends). Kitty is also able to provide cattle clinics on occasion. Both Chris and Kitty have been riding and teaching for many years in multiple equestrian disciplines, and both are passionate about working equitation.
Is there a USAWE affiliate organization in the state?
Currently, High Country Working Equitation is the sole affiliate organization in Colorado. However, HCWE held its annual kick-off party in early February at Hobby Horse Farm in Firestone, CO and there were several equestrians in attendance who are very interested in forming an affiliate organization in the southern part of the state. These enthusiasts are also interested in becoming coaches, licensed officials with USAWE, and having working equitation clinics and schooling shows.
Are there schooling shows and rated shows happening in Colorado? Where?
We have three schooling shows scheduled for this year; the first one was in the middle of March at Hobby Horse Farm in Firestone. The other two are being held at Circle Star Arena in Platteville in May and September. There are also six USAWE licensed shows scheduled at those facilities: two in April, two in June and two in August with USAWE judges Sue Watkins, Rebecca Algar and Doreen Atkinson respectively.
For more information about High Country Working Equitation visit www.highcountryworkingequitation.com
To learn more about Working Equitation in the USA visit usawe.org
See this article in the May/June 2023 online edition:
Colorado Horse Source Magazine's May/June 2023 Issue is HERE!
Kim Roe grew up riding on the family ranch and competed in Western rail classes, trail horse, reining, working cow, and hunter/jumper. She trained her first horse for money at 12 years old, starting a pony for a neighbor.
Kim has been a professional dressage instructor in Washington state for over 30 years, training hundreds of horses and students through the levels. In recent years Kim has become involved in Working Equitation and is a small 'r' Working Equitation judge with WE United.
Kim is the editor of the Northwest Horse Source Magazine, and also a writer, photographer, and poet. She owns and manages Blue Gate Farm in Deming, Washington where she continues to be passionate about helping horses and riders in many disciplines.