One challenge horse folks have is how to include our non-riding family members in our weekend outings or vacations. It's a dilemma! We want to trail ride or camp with our horses, but we don't want to leave our loved ones behind. Sometimes a solution can be found with a little creativity.
RoseAnne Feathertson and her partner Michael O'Neal have found a unique way to enjoy leisure time together. RoseAnne rides her Lipizzan mare, Zamora, and Michael rides a mountain bike. It took a little practice for RoseAnne and Michael to work out the logistics, and Zamora needed a short course in acceptance too, but it's turned into a nice way for them to spend time together doing what they both love.
I asked RoseAnne a few questions about their exceptional trail-riding partnership.
How did Zamora initially deal with Michael and his mountain bike?
The first time Zamora saw "Seamus" (Michael's bike, named by another horse rider) she freaked out! She jumped back in fright and snorted and danced around. But within minutes she was fine. It was a very quick acceptance.
Didn't you say Zamora can actually become a little herd-bound at times about Michael and his bike?
Michael and Seamus are very much a part of her herd. Zamora does not give the bike a second thought. You know the way a mare will get close to another horse and pin her ears and shake her head? She will do this to Michael and Seamus. I take care that she does not bump him or give him a nip…
Our favorite rides are through the woods. I love the winding paths. We like to go fast and ride close to one another. It takes a lot of focus to stay on the path and not to overtake Michael! We do take turns leading. We love the Anacortes Community Forest, Capitol Forest, and the eastern side of Heady Road (in Whatcom County). We go camping by ourselves and with other horses. Michael especially loves the camping part of our adventures.
Any places that didn't work well?
We really enjoyed the beach, but the sand can be tricky for the bike. It has to be hard-packed or Michael gets sucked into it. But when we find good going for him, the long-sustained canters are heaven for me.
How do other horses you meet on the trails react to you two?
No real problems. I'm not sure they see us as a herd. We ride with other people; the bike is no problem. With walkers or strangers, we will announce that we are coming, bike and horse, and we go to the side of the trail if needed.
Any stories relating to Michael on his bike and you on Zamora that you want to share?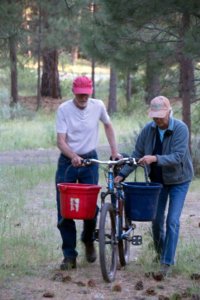 We camped with friends at a spot within sight of the performance area, the Gorge at George. On our first outing, we descended down a very steep path through two mesas towards the Columbia. To say the least, it was a steep and winding path.
At one point we trekked through a patch of three-foot-high grass that was immediately followed by a steep trail of loosely packed shale. The path then dropped down dramatically and on my left was a very steep drop off; nothing in my line of vision but vista. One misstep and there would be dire consequences. The trail then made a 90-degree turn with the same drop off. Yikes!
We all made it safely, but in retrospect, that trail was too scary for me. I'll do my best to never do that again. When I think of Michael riding that trail, I realize I'm just a passenger who has delegated navigating the footing to my horse. Michael is doing an enormous amount of work. While his "steed" is predictably well behaved, he is navigating the terrain foot by foot. And let's not forget there is the return trip back up the hill.
That same trip we went back up another less strenuous trail, but for Michael it was still up, up, up. There are times when I've looked behind me from atop Zamora and I see Michael push the bike uphill, apply the brakes, catch up to the bike, and repeat these steps for his assent.
Kim Roe grew up riding on the family ranch and competed in Western rail classes, trail horse, reining, working cow, and hunter/jumper. She trained her first horse for money at 12 years old, starting a pony for a neighbor.
Kim has been a professional dressage instructor in Washington state for over 30 years, training hundreds of horses and students through the levels. In recent years Kim has become involved in Working Equitation and is a small 'r' Working Equitation judge with WE United.
Kim is the editor of the Northwest Horse Source Magazine, and also a writer, photographer, and poet. She owns and manages Blue Gate Farm in Deming, Washington where she continues to be passionate about helping horses and riders in many disciplines.