Blazer Horse President Hosts Ride and Potluck
by Steve Breitenstein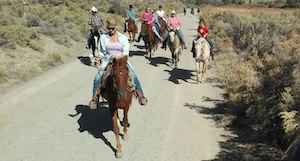 Another fun ride for the ABHA! On October 1st, ABHA president Rocky Widner gave an open invitation to join him at his place in Oreana, Idaho for a fall ride. The weather was beautiful, the ride was great and the company was even better.
He had some obstacles set up so we could practice getting our horses used to different things that we might encounter on the trail. Then we went down the road and onto the BLM land.
It was a great ride on a beautiful day in the Owyhees. We had riders of all ages – our youngest was 7-year-old Paige Warr. Those who turned out for the ride were able to meet new people, and after the ride everyone shared a potluck meal.
For those of you who haven't had the privilege of riding out with Rocky, you missed out! Don't feel bad though; Rocky always enjoys having people over and often opens his place up to group trail rides. Don't have a horse? No worries, as Rocky has extras and loves to share. Yvonna Bocci borrowed one of Rocky's geldings and is ready to ride him again. It's a wide open world for riding out there. The rides can be as long or as short as you want.
Check your Blazer Times for Rocky's number and give him a call. Remember to check the American Blazer Horse website for upcoming dates so you don't miss the next group ride! Visit www.blazerhorse.com.
Originally Published December 2016 Issue
This article sponsored by:
The mission of ABHA is to encourage and support members of the Association, while they raise, exhibit, promote and enjoy the American Blazer Horse. It is also our goal to maintain a history of the Blazer Horse by recording their bloodlines and achievements for the preservation of the breed. blazerhorse.com