Shopping For Horse Wear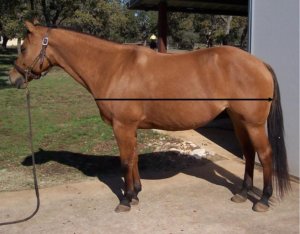 by Eleanor Blazer
You've decided your horse needs a blanket. It's time to go shopping!
First determine size, weight and material of the blanket. To figure out what size your horse needs, you'll have to do some measuring. Begin by putting a halter and lead rope on your horse for control. Use a tape measure or length of string. If using a tape measure be careful, some horses will react when it's pulled out and stretched along the body. Desensitizing may be needed. Once you have your horse acclimated to the tape or string, measure from the center of the chest, across the point of the shoulder, along the barrel, and to the edge of the tail, in somewhat of a straight shot.  
American blanket sizes run in two-inch increments (68", 70", 72", etc.). European sizes run in three-inch increments (69", 72", 75", etc.). If your horse falls between the sizes, round up to the larger size. Many manufacturers will provide a chart that will help you determine what size to order or ask that you add another inch or two to your measurement. Refer to the manufacturer's ordering instructions.
Before ordering you'll have to determine the weight and material you want. A term you will see often is denier. Denier is used to measure the weight of fabric based on the fineness of the threads. This isn't insulation weight, but toughness of the material. The smaller the number, the less tough the material from which the blanket is made. For example: nylon with the rating of 210-denier will have less strength than nylon rated 1200-denier. A sample of ratings: 210 – very light; 420 – light; 600 – medium; 1200 – heavy; 1680 -extra heavy.
The higher the denier rating the more the blanket will weigh. If your horse doesn't need an indestructible blanket don't spend the extra money. For warmth get an insulated blanket – don't increase the denier rating. The degree of insulation a blanket offers is rated in grams per square meter. The higher the number, the more protection the blanket offers. For example a blanket rated at 200 grams (about seven ounces) would be considered medium. 400 grams would double the insulating factor.
Blankets and sheets will be offered in several types of material. Nylon, polypropylene, polyester and cotton are common choices for the shell or liner. Nylon is very durable and is resistant to mold, bacteria and rot. It is easy to clean. Nylon can be used as the outer shell for insulated blankets, as lining or by itself in a sheet application. Nylon is also better for the hair coat as it slides instead of catching on the hair. Nylon is the most expensive blanket material. Polypropylene is less durable than nylon, but more durable than polyester and cotton. It also breathes better than cotton. Polyester is light in weight and not as strong as nylon or polypropylene. The denier rating must be higher to reach the same durability as nylon or poly at a lower rating. It is an economically priced material. Cotton is rarely used by itself as it does not dry as quickly as the synthetic materials and is harder to clean. Some manufacturers use synthetic materials blended with cotton. 
Insulation is usually made with a synthetic material, such as poly fill. Synthetic insulation retains its insulating properties even when wet. Many horses have blankets and sheets for every change of weather. In the last 48 hours Babe managed to wear most of hers! 
During the night it was below 32 degrees, so she wore her 300 gram insulated blanket. After I rode, I put on the medium weight cooler. When she was cooled out, I switched to her waterproof turnout sheet so she could go in the paddock; it was warm and raining. Tonight it's not to be as cold so she'll wear her 200 gram poly filled medium blanket. Babe is under lights and does not have a winter coat, so temperature variations keep me busy! 
* For information about caring for horses take the online course "Stable Management" taught by Eleanor Blazer. Earn certification or work toward a Bachelor of Science degree in equine studies. Go to www.horsecoursesonline.com for more information. Visit Eleanor's web site at www.thewayofhorses.com
Published February 2012 Issue
Eleanor Blazer was raised training and caring for horses. She learned to ride and care for the horses her family bought and sold. Many of these horses required improved nutrition when they arrived for training. Eleanor's experience and research has benefited both horses and horse lovers in the field of equine nutrition. An equine nutrition consultant, based in Bulverde, Texas, she keeps busy doing equine nutrition consultations, conducting seminars, and speaking to youth groups about horse care and nutrition. Eleanor is the author of the syndicated column The Way of Horses. She has more than 20 years experience helping and being a mentor to those wanting to know how to provide the very best care and nutrition for our special friend – the horse.