Blazer Horses One of the Features
by Bessie Fletcher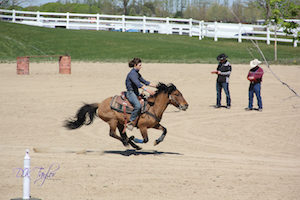 Here we go again! Spring is here and it's time for the Idaho Horse Expo, April 21, 22, and 23 at the Ford Idaho Horse Park in Nampa Idaho. The headliner for this year is Pat Parelli. The Idaho Horse Council does a superior job of covering all aspects of horse training by bringing different styles of trainers each year. For all you Parelli lovers out there this is your year! Along with the main attraction there are always many other fun and educational events that make a well-rounded and informational Expo.
As usual we will have a Blazer on display at the Friday night All Breed Challenge, so come support your Blazer team!
There will be plenty of Blazers in the Cowboy Race too. This is an event our horses really shine in. It is very entertaining to watch or you can ride – there are youth, amateur, open and pro divisions. There is still space for additional participants. Contact the Idaho Horse Council for applications.
There will be a talent show on Saturday night and it is sure to be one of the highlights. We will have our Blazer booth there and will be offering a catalog of Blazers for sale; if you have a horse to sell contact us and we can include it in the catalog. If you are hoping to have another one in your pasture come take a look. As in other years we will have Blazers on display throughout the Expo.
Originally Published March 2017 Issue
The mission of ABHA is to encourage and support members of the Association, while they raise, exhibit, promote and enjoy the American Blazer Horse. It is also our goal to maintain a history of the Blazer Horse by recording their bloodlines and achievements for the preservation of the breed. blazerhorse.com