The Legacy Continues
Compiled by Kim Roe from an Interview by Karen Pickering
In March, Northwest Horse Source publisher Karen Pickering interviewed trainer and clinician Josh Lyons at the NW Horse Fair and Expo in Albany, Oregon. A resident of Cross Plains, Tennessee, Josh is the son of the well-known and much-loved John Lyons. Josh admits to having big shoes to fill following in his father's footsteps, but his avid followers and wide-spread success proves his talent and passion for teaching and training.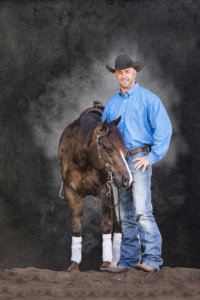 Josh Lyons has won two world champion titles in reining (NRHA) and is an Oklahoma Futurity Finalist. He also has championships in rodeo, winning in both saddle bronc riding and team roping.
Josh began giving clinics at 16 years old. He learned quickly that it wasn't about being the "best" but about helping people in any way he could. He worked for a hunter-jumper barn when he turned 18 and also studied dressage, and touts the importance of being a versatile horse trainer. Josh's proven methods have helped people around the world, from beginners to professionals. His simple philosophy: The only tools you need to bring to the barn are knowledge and motivation.
When did you know horses would be your profession?
I decided to follow in my father's footsteps when I was 12. I grew up with my dad doing clinics and going on the road with him. I remember one time a lady came up to dad at a truck stop in Arizona or Utah at 3:00 in the morning. We were there having breakfast on one of our trips. This woman thanked dad for changing her life and changing how she looked at her horses. This had a big impact on me.
When did you start training horses?
I broke my first horse at 13. I didn't know anything, but it was a beginning. I played football and basketball in school and had college scholarships for both, but I felt driven to do clinics, train horses and help people.
Name a goal in your riding.
One of my goals is to make the NRHA Million Dollar Trainer list in reining.
Can you name someone (other than your father) who taught you?
I've ridden with just about everyone. Many of them are good friends.
How did your certification program come about?
Dad and I started the certification program together. We did the first certification program and then I took over from then on. I was 18.
Tell me about the life of a clinician.
It's good, but tough on family life. You have to be solid. You have to keep your priorities straight and be level-headed. I've been married 22 years, and my wife and I have four children. My family has been my biggest supporters. I teach clinics 32 to 36 weekends a year. Some years I stay home more to focus on my own training (reining). Sometimes I wonder what might have been, but I never regret my decision to be in the horse business.
Tell me about your relationship with your dad (John Lyons).
We're different, but the rules, principles and integrity are the same. Some of my exercises are different––for example, how I train lead changes.
I never want to be separate from my father. We both stand for hard work, honesty and a belief that we're not special. Anyone willing to work hard can do this. It's not about making John or Josh Lyons look good, it's about making our students successful. Deliberate practice and hard work are what make success, not talent or gift. I like to help people and believe a better relationship with their horses leads to improved relationships with other humans and a better life.
Kim Roe grew up riding on the family ranch and competed in Western rail classes, trail horse, reining, working cow, and hunter/jumper. She trained her first horse for money at 12 years old, starting a pony for a neighbor.
Kim has been a professional dressage instructor in Washington state for over 30 years, training hundreds of horses and students through the levels. In recent years Kim has become involved in Working Equitation and is a small 'r' Working Equitation judge with WE United.
Kim is the editor of the Northwest Horse Source Magazine, and also a writer, photographer, and poet. She owns and manages Blue Gate Farm in Deming, Washington where she continues to be passionate about helping horses and riders in many disciplines.