Insight from an Obstacle Judge
by Laura Schonberg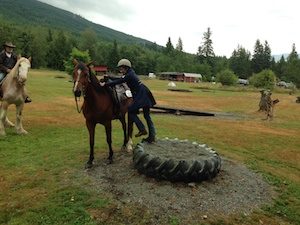 Getting involved with Equestrian Trail Sports (ETS) has been one of the most rewarding and interesting things I have done as a horse owner and rider. I am relatively new to competitive trail riding and obstacle courses and the time spent at these events and in training to be a judge is something that has had a wonderfully positive impact on my horse-related activities.
At a recent schooling show at Fire Mountain Trail Course in Sedro Woolley, I judged the mounting obstacle. I had honestly hoped for something that was more challenging or required a higher level of skill. To my surprise, it actually highlighted three foundational pieces of horsemanship.
1. Mounting is an exercise that takes patience and understanding by both horse and rider. At the show, horses were nervous, reared, bolted and shied in all directions. Some straight-up refused to approach it if the rider was standing on the tire. Only a few of the riders received scores that were above a basic level of competency.
2. Communication and connectedness between horse and human is paramount. In this situation, the human had a goal, but the horse did not understand. Because the request was brand new and/or in an unfamiliar situation, it would offer the "wrong" thing. Since it was a high pressure situation the rider's "ask" often became a punishment, leading to the horse's refusal.
3. Mounting requires a foundation of skills that are built on small steps done well, over time, in a variety of situations. In order to position the horse at the tire, tools and strategies are necessary to move the horse in different directions. Riders pushing with all their weight on the horse's shoulder for it to step closer, or popping it in the mouth to get it to backup, all contributed to mounting being stressful when it should be the most natural part of riding.
Turns out, I learned much more than any rider that I judged: the seemingly simple task of leading a horse to a mounting obstacle and then getting on is an aspect of riding that challenges and exposes the very basic relationship between a horse and its rider. Time to saddle up and go find an unfamiliar mounting block!
Originally Published August 2014 Issue
Thankful to call the Pacific Northwest home, Laura Schonberg is an educator in a local school district and is outside at her place when she isn't inside at work.  Summers are spent cow-girling at a friend's ranch, with forrays into the Cascade Mountains as time and weather permit year-round.  Winter finds her at a local barn doing dressage lessons to support her ranch riding, and re-starting horses through the county's equine rescue program.