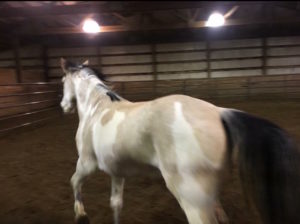 My name is Amee Korsmo and I am a trainer in the Adult Division of the Teens and Oregon Mustangs Trainers Challenge that will showcase at the NW Horse Expo in March for the first time this year! I want to tell you about how special this program is and about my beautiful South Steens HMA Buckskin Tovero gelding Chex!
I am a second-generation horsewoman and grew up watching my mom. As far back as I can remember, horses have always been a part of my life. My very first horse was a pony named Fancy Pony.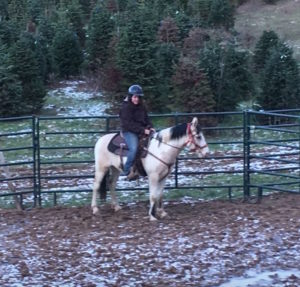 Fast forward to today and I have successfully shown horses all my life. In 2014 I showed my AQHA/NFQHA Buckskin gelding Kelvin Peppy Bar at Yamhill County 4H, winning blue ribbons and a spot on the Yamhill County 4H State Team. Kelvin Peppy Bar and I earned OQHA Top 10 Awards for most hours logged in Oregon 2012, 2013, and 2014. I am my mom's assistant at Running Wild Ranch helping with many wild mustangs. My mom says I love to desensitize the wild ones!
I have known for about 3 years that I wanted to do Teens and Oregon Mustangs!! I got my new mustang on December 3, 2016. They assigned me a BLM mustang number 3748 and I ran to see which one was mine, because I had waited three long years for my chance! I got his neck tag off in 30 minutes, was brushing him in an hour and had the saddle pad on him by the second day.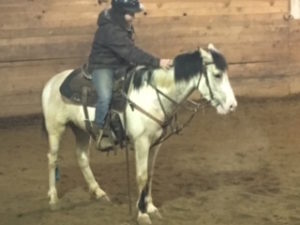 Today Chex and I are in Day 67. We can do the following things: we walk, trot, canter, side pass, haunch turns and showmanship. He trailers very well, baths, clips, ties, and is excellent for the farrier and vet. I look forward to the NW Horse Expo where we showcase all our hard work together over the past 100 days. I won't be keeping Imacolofulchex "Chex" at the end of the competition. He will be auctioned off on August 26, 2017 at 6 pm to the highest bidder.
I am thankful and appreciative for this amazing program, Teens and Oregon Mustangs Trainers Challenge, to be giving me this incredible opportunity to train a wild mustang! I look forward to my future training wild mustangs and I would highly recommend this program to any youth or adult who wants a journey of a lifetime! ~ Amee Korsmo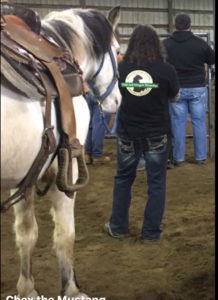 Learn How You Can Support Teens & Oregon Mustangs
Adopt a Mustang, Give a Future.
OUR MISSION: Provide positive life-changing experiences for trainers of all ages through the development of leadership, horsemanship, and teamwork while educating the public about training and adoption of Oregon's wild Mustangs.
OUR VISION: By 2024, Teens and Oregon Mustangs will be recognized in the United States as a premier organization that improves the adoptability of Mustangs, develops trainers of all ages, and is critical to the healthy and sustainable management of America's natural resources and preservation of western heritage.
OUR VALUES:
Trainer Development – Inspire life-long learning and develop confidence, responsibility, consistency and leadership.
Diversity – Encourage a variety of training techniques that showcase the Mustang's trainability across various disciplines.
Successful Adoption – Strive to maintain our 100% adoption rate and value the hard work it takes to get there.
Training Toolbox – Provide ample opportunities and tools for trainers to overcome any training obstacles in their path.
Public Awareness – Educate the public about Mustang horses, heritage, and management and the related management of natural resources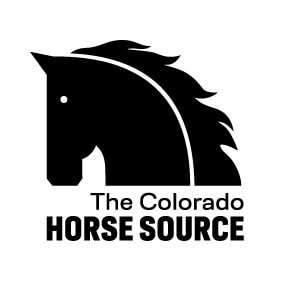 News from the horse industry. Sharing today's information as it happens. The Colorado Horse Source is not responsible for the content of 3rd party submissions.