Front Cover – The Best Exposure You Can Purchase for Your Equine Business!
Now just $1500! 50% off
Imagine your business featured on the front cover of Colorado Horse Source, plus a full-page color article featuring your business inside the magazine. Not to mention that our online edition means your COHS cover story is timeless and can be used as a reference for years to come. Your cover image will also be featured on our website home page and article archive main page. Be the first one to take a cover in Colorado's newest equine publication. See samples of past issues in our other publication, The Northwest Horse Source.
Here's what our NWHS cover advertisers say: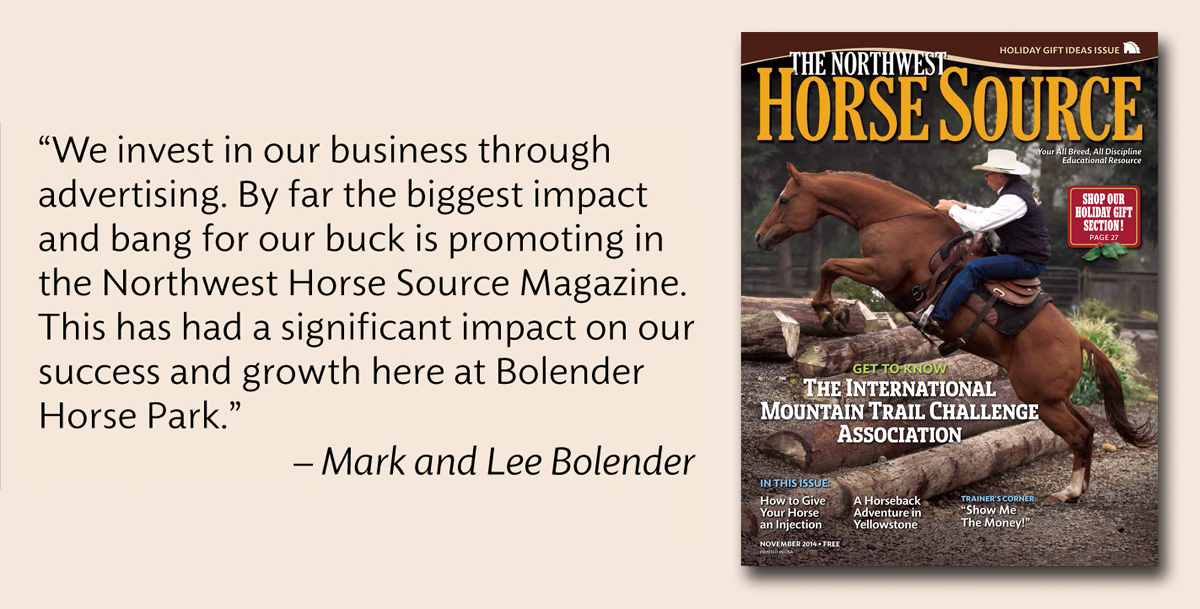 Benefits of purchasing a front cover with The Colorado Horse Source Magazine:
Our other publication, The Northwest Horse Source has been In print since 1995 and now online as well. Take advantage of our years of experience in the Horse Industry and get the premium positions in the Newest Edition of the Colorado Horse Source Magazine!
Credibility, branding, exposure and a timeless advertising piece: We can help you set up a link to your cover story from your own website, letting the entire Colorado community know about your business or order gloss flyers with your cover on one side and your story on the other side for future promotional use.
Timing is everything – don't delay in reserving your spot! We only have 6 covers per year, so make sure we can include you in an upcoming issue.
View previous issues of the Northwest Horse Source to give you an idea of the quality content and advertisers. Click here.
Call today if you'd like to be on the cover of the March/April edition that will be displayed at the Rocky Mountain Horse Expo!
Your investment of $1500 gives you:
The front cover image on the magazine
Your full page, full color article or ad inside the magazine
Tell the story of your business or organization in a personal, detailed, and informative way
Your magazine front cover and story is featured on the Colorado Horse Source home page
Your magazine front cover image on the cover of the magazine
Your full page, full color article or ad inside the magazine with a live link to your website from our digital edition.
Share links to your online cover story for added exposure
Use your included cover story story as a brochure – printed or online
Possibility of making full color brochures on demand or in quantities
Exposure to targeted Colorado horse owners.
Featured in our newsletter and social media.
How Do I Purchase a Cover?
Colorado Horse Source Cover purchase requires a $500 non-refundable deposit to reserve your space plus a recommended monthly advertising banner for just $75/month. This provides the best exposure for your business, as repeated exposure has repeatedly been shown to raise advertising effectiveness. Exceptions to the monthly commitment are special events and regular clients who have already run a minimum of six ads prior to COHS cover purchase.
To reserve your space call: 360-332-5579 and ask for Karen or email [email protected]
Back Cover Facts
The back cover is currently available. This is a very targeted and rare opportunity. If you would like to learn about other high-impact advertising options with COHS, please call 360-332-5579 to learn more about digital and print display advertising and more!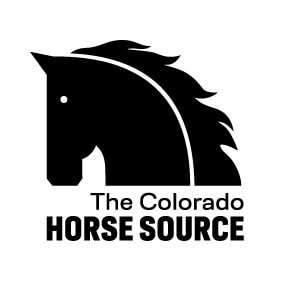 The Colorado Horse Source is an independently owned and operated print and online magazine for horse owners and enthusiasts of all breeds and disciplines in Colorado and surrounding area. Our contemporary editorial columns are predominantly written by experts in the region, covering the care, training, keeping and enjoyment of horses, with an eye to the specific concerns in our region.