Camp with Horses and Ride this Oregon Beach
by Kim Roe
Is it on your bucket list to gallop your horse across a beautiful sandy beach and play in the ocean waves? Do you love camping and want to bring your horse along on your vacation? On Oregon's north coast, off of Highway 101, there is a state park that offers the perfect spot to fulfill this dream.
Nehalem Bay State Park is found between Cannon Beach and Tillamook, Oregon, just south of the town of Manzanita. The park offers access to a spectacular four-mile stretch of beach that runs along the Nehalem Spit, as well as the two-mile Spit Trail, a gravel trail that runs through the sand dunes.
The entire beach is open to horses at Nehalem Bay State Park. You can ride to the beach from both the horse camp or the day-parking area, riding over trails that wind through the dunes. The beach is open to other users as well, so horses may encounter joggers, walkers, and Frisbee players, among other things.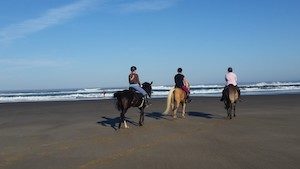 Nehalem Bay State Park offers camping amenities that will keep you and your horse comfortable. The wonderful accommodations feature corrals, toilets, fire pits, picnic tables, and potable water. The campsites are private and surrounded by coastal pines. Most sites are back-in with room for one trailer, but a few are pull-through. You'll find hot showers and flush toilets at the nearby family campground.
The day-use area has parking for several trailers, plus a toilet and a warm-up corral. The horse facilities cost $21.00 per day.
Reservations can be made 24 hours a day, from 1 day to 9 months in advance. Reserve online at www.oregonstateparks.org.
Call-center reservations are available Monday through Friday 8:00 a.m. to 5:00 p.m. at 800-452-5687.
Originally Published September 2017 Issue
Kim Roe grew up riding on the family ranch and competed in Western rail classes, trail horse, reining, working cow, and hunter/jumper. She trained her first horse for money at 12 years old, starting a pony for a neighbor.
Kim has been a professional dressage instructor in Washington state for over 30 years, training hundreds of horses and students through the levels. In recent years Kim has become involved in Working Equitation and is a small 'r' Working Equitation judge with WE United.
Kim is the editor of the Northwest Horse Source Magazine, and also a writer, photographer, and poet. She owns and manages Blue Gate Farm in Deming, Washington where she continues to be passionate about helping horses and riders in many disciplines.