by Laura Daley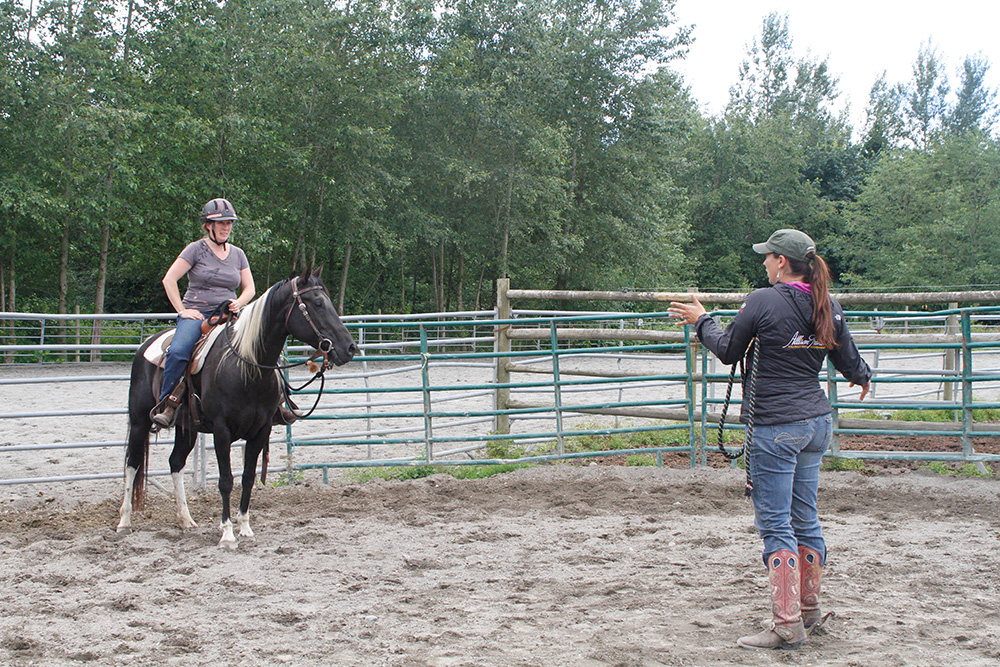 Training, by definition, is: the act to form by instruction, discipline or drill, to teach so as to make fit, qualified or proficient, to undergo instruction, discipline or drill. Instruction and practice is good for both the horse and horseman. A training schedule helps with setting and achieving goals and keeps the horse and rider team working to perfect not only the basics of horsemanship, but the opportunity to excel at a chosen discipline. The routine of training according to a schedule helps build confidence and the horse/handler relationship. Routine exercises also come in handy when traveling to new places as they will serve as a way to manage any nervousness (whether in horse or handler) as they offer comfort in practicing what is familiar. The repetition of the routine helps focus horse and rider and serves as a solid foundation from which to work through fear.
While routines are necessary and helpful, it is also important to plan for the unexpected. All horsemen know that they need to train not only for the known but also train and be prepared for the unknown and unplanned for. It is critical for the fearful team to train for the physical, mental and emotional well being of both horse and handler. This means that within a training routine the unexpected becomes part of the program. By learning how to react to sudden stimulus in a controlled environment, the rider learns how to automatically respond in an engaged and thoughtful manner. Taking the time to train yourself and your horse how to handle surprises will help you both overcome fears.
Physical training is the foundation of horsemanship and is the easiest and most practiced for typical riders. Mental training is the study and knowledge used to perform the physical. Learning about your horse—its habits, breed and specific discipline, as well as education on care, custody and control—is great for building confidence and erasing fears. Emotional training is the least practiced and the hardest to apply. People are often taught they are not responsible for emotions; they just "happen" and any consequences must be dealt with. However, you can learn to control your emotions and how you react to them when they show up unexpectedly such as from a fright or emergency situation. It takes hard work to learn to control your (and your horse's) feelings. Sometimes, the best way to work with personal emotions is away from the horse. It is done in the review of lessons and by journaling your feelings and reactions. Emotional training is also done by visualizing your response in a given situation and practicing in a controlled environment. Eventually, your response to an emergency will become automatic. By including all three areas into routine training—physical, mental and emotional—you will be well on the way to riding fear free.
Published in September 2015 Issue
Laura Daley is a professional No Limits Horsemanship certified horse trainer and registered Professional Association of Therapeutic Horsemanship (PATH) riding instructor. Laura's specialty is helping fearful riders. Using techniques she has developed over her lifetime of teaching, she has helped hundreds of people become fear free. Read more about it in Riding Fear Free: Help for Fearful Riders and Their Teachers available on Amazon UK, BN, and other major online retailers. Or check out the RFF website at www.ridingfearfree.com, Riding Fear Free Facebook, or Twitter Feed