Using Gifts as Motivation to Push Past Fear
by Laura Daly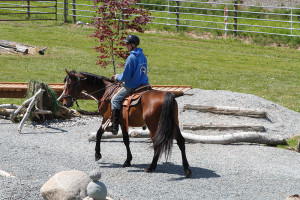 How do you find the one thing that can keep you going even when the task seems impossible? When dealing with large-scale fears, you need an equally large reason to motivate you to continue on the journey of letting them go. Remembering your reason for getting into horses in the first place can be just such a motivator. What makes you keep riding even though you are afraid? When you are able to identify the one special thing that continues to motivate you to try again, no matter how fearful you are, it is a reason to keep going.
When it seems that fear is going to get the best of you, you can reduce its impact by recalling the reasons you love horses. What are some of your earliest and most pleasant memories involving horses? When did you feel most comfortable in the saddle? What are some successful moments you've experienced with your horse? Each and every day, this exercise will help you continue taking the necessary steps that move you closer and closer to riding fear free.
Do not forget to reward yourself with little gifts along the journey. The path is never straight and easy and unplanned events happen to everyone. When you come out of a difficult situation it can help to reward yourself with a special gift. That one gift can be used as a positive motivator and reward for thinking differently and changing your actions. The gift can be large or small, but it must mean something to you. It must be a big enough reward or motivator to help you change your thinking and how you feel about a specific exercise or horse activity. Remember, the best gift you can give yourself is forgiveness and the willingness to never give up. It is a journey, not a one-time event, that takes you to the place of not only riding fear free, but learning to live fear free as well.
Do you have a specific fear-related question you'd like Laura to address? Email it to [email protected] and look for Laura's response in an upcoming article.
Published November 2014 Issue
Laura Daley is a professional No Limits Horsemanship certified horse trainer and registered Professional Association of Therapeutic Horsemanship (PATH) riding instructor. Laura's specialty is helping fearful riders. Using techniques she has developed over her lifetime of teaching, she has helped hundreds of people become fear free. Read more about it in Riding Fear Free: Help for Fearful Riders and Their Teachers available on Amazon UK, BN, and other major online retailers. Or check out the RFF website at www.ridingfearfree.com, Riding Fear Free Facebook, or Twitter Feed