Rediscover Your Passion at an Equine Event
by Laura Daly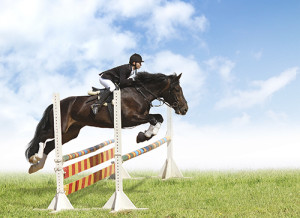 Riders who are bogged down in fear need to rediscover their passion for horses. One of the best ways to do that is by attending horse-related activities such as shows, competitions, or demonstrations. You can choose a simple schooling show or a major competition like Grand Nationals or The Olympics. The event should include lots of people interacting with horses so that you can observe their differing activities and partnerships.
Most people would gravitate to an event that features their own passion or favorite breed. However, for the purpose of helping you in your fear-free journey, it is best to choose an event that sparks your interest but does not have anything to do with your current discipline, style of riding, or breed of horse. This exercise is about finding your joy and passion for horses, so you need to be free to observe relationships between horses and riders without the pressure of comparison. For instance, if you are a jumper and are just trying to jump a cross pole without fear, you would not want to go to a jumping competition and see people jumping at your goal of four feet. This would be the wrong kind of pressure, and you might be tempted to compare and contrast.
By choosing an event unrelated to your current discipline, you will be freer to observe the interaction and connection between horses and their riders. Look for riders who display true partnership with the horse. They might not always be the winners of the class, but they are the ones having fun, enjoying the moment and not letting the pressure of competition interfere with a positive relationship. Go past the "pomp" and spectacle of the show ring and look for the quiet riders who smile as they ride. Those are the ones you want to study and learn from. In this way, you can rediscover passion and find the courage to continue your journey to live and ride fear free.
Laura Daley is a professional No Limits Horsemanship certified horse trainer and registered Professional Association of Therapeutic Horsemanship (PATH) riding instructor. Laura's specialty is helping fearful riders. Using techniques she has developed over her lifetime of teaching, she has helped hundreds of people become fear free. Read more about it in Riding Fear Free: Help for Fearful Riders and Their Teachers available on Amazon UK, BN, and other major online retailers. Or check out the RFF website at www.ridingfearfree.com, Riding Fear Free Facebook, or Twitter Feed