Normal order restored as Germany takes Olympic Dressage team gold once again
By Louise Parkes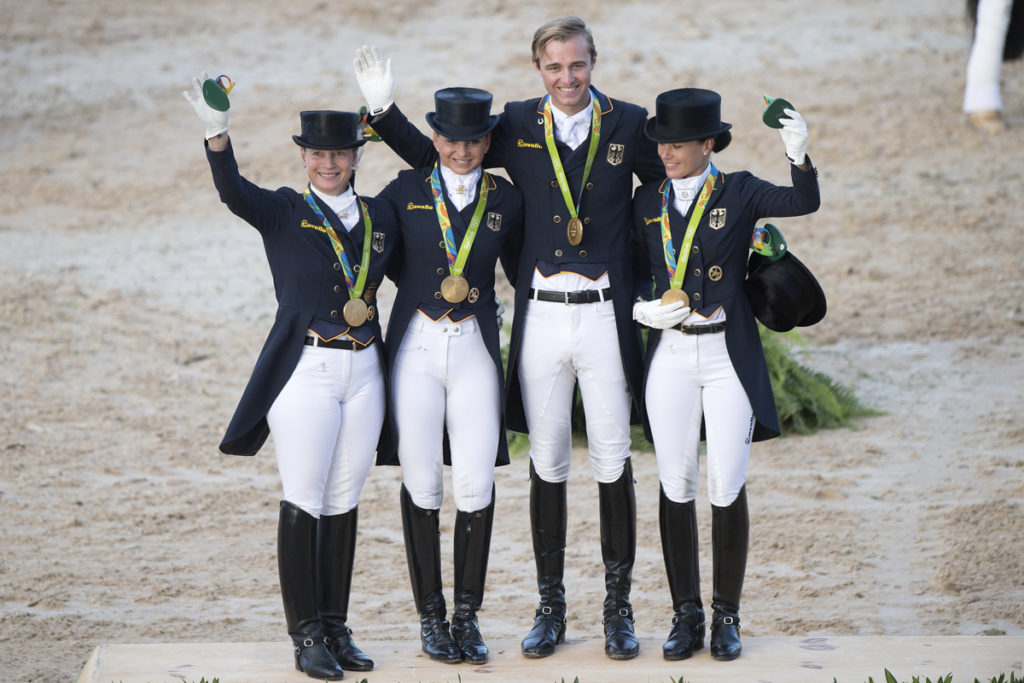 Like re-booting to re-establish a connection, Germany clinched team Dressage gold in considerable style at the Olympic Equestrian Park in Deodoro today. Germany has now won eight of the last nine Olympic team Dressage contests – with only Great Britain spoiling the party on home soil in 2012 – and today's result brings the Germans overall tally to 13 sets of Olympic team golds.
Already looking like the ones to beat after topping yesterday's Grand Prix, they stamped their authority all over today's deciding Grand Prix Special with a team total of 81.936. Great Britain had to settle for silver with 78.595 while Team USA, posting 76.667, fended off the Netherlands for bronze. It was a tough day for the Dutch who lost out on a podium placing by a margin of just 1.15 percentage points. And with last-to-go German team member, Isabell Werth (47), posting the highest score of the day – 83.711 – with the fabulous mare Weihegold and pinning Britain's 2012 double-champions Charlotte Dujardin (31) and Valegro into second place in the individual standings, the stage is set for a fascinating battle for the individual title in Monday's Freestyle.
This was Werth's sixth Olympic gold medal, her first two collected in Barcelona (ESP) in 1992 where she claimed team gold and individual silver. And she has now matched the record set by the Netherlands' Anky van Grunsven with nine Olympic medals in total. If she picks up another on Monday she will hold a whole new record.
Sönke Rothenberger's pathfinding ride for Germany with Cosmo was only good enough for 10th place at the end of a day on which many riders exceeded even their own expectations. The judges were unrelenting however in punishing mistakes and, already reduced to a team of three, Dutch chances of overtaking the Americans slipped away when Edward Gal and Voice posted 73.655. "I wanted to take some risks, but there were too many mistakes" he admitted afterwards. Going in the latter stages of competition the Americans knew what they had to do, but it came down to the final rider to ensure the bronze, and Laura Graves and Verdades really nailed it with a personal-best score of 80.644.
In silver medal spot as the day began, the British felt the pressure, but Carl Hester wasn't prepared to take any monkey-business from his naughty gelding, Nip Tuck, who lost marks with silly spooking in yesterday's test. "There was no way he was going to do that again today!" he said today after posting 76.485. And even though Dujardin's performance wasn't quite what she wanted due to a mistake in the first half-pass which cost her dearly, she still earned a massive 82.983.
But Dorothee Schneider and Showtime had already scored 82.619, and world number one Kristina Bröring-Sprehe and Desperados were only a little short of that with 81.401, so when Werth threw down 83.711 after a magical and confident test with the lovely mare Weihegold the German win was in the bag. Werth knew she had produced something extra-special, "today's performance was near the optimum, I don't think it will be easy to repeat it – this was a day of days!", she said.
Result here
Quotes:
Edward Gal: "He (Voice) showed much more expression but with the mistakes the scores were really low. He felt sharper than in the Grand Prix, we had a mistake in the two-tempis and then he felt like he wanted to run away. I had to take some risks but I made too many mistakes and that was a pity."
Diederik van Silfhout NED: "I'm really happy, he didn't make any mistakes he just got a little bit tired at the end. It was a long trip and he's been here now two weeks. You do best but I was hoping for 78/79, I had a good feeling coming out of the arena so I was a bit disappointed with the result. He was really sharp and up, he always wants to fight and to go brilliantly. After yesterday we just said we would give everything today and do our best."
Hans Peter Minderhoud NED: "It was much better than yesterday, more freshness and energy, there were some small things but I was disappointed with the score – it's two points less than yesterday. We (the Dutch team) talked together as a group yesterday and agreed we didn't want to go home without a medal so we would fight, so we had to take some risks today and now we have to wait. The new draw in the group is not good for us, there is only one percent difference with the Americans but it's quite tough how it works. They all have a number four rider too, it hasn't been an easy time for us at this championships but we did what we could – we will wait and see."
Dorothee Schneider GER: "my horse did an amazing job, he felt easy, I was so delighted. In  passage I had so much power in the hind end. Going into Freestyle I'm 50 kilos lighter! (with relief)  He's fit and he wants to do it, so I won't do too much with him before Monday."
Steffen Peters USA:  "there were a couple of little fumbles but 74.198 was the score we needed before I went in and I got 74.622. I've been waiting for this since 1996!"
Fiona Bigwood GBR: "She (Orthilia) spooked at a camera, they are flight animals so what can you do – it was just one of those things."
Laura Graves USA: "To get that elusive 80 percent and to do it at the Olympic Games! I knew it was going well and you hope that is reflected by the marks from the judges. I had no idea what I needed to do, there was pressure but it doesn't achieve anything to let it get to you. He (Verdades) gets pretty wound up in the warm-up but he is a great performer when he comes into the ring, he really likes it!"
This article sponsored by: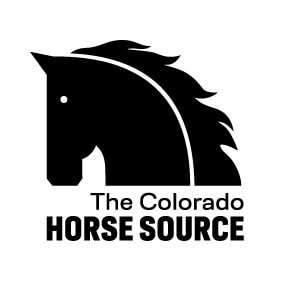 News from the horse industry. Sharing today's information as it happens. The Colorado Horse Source is not responsible for the content of 3rd party submissions.