By Simona Diale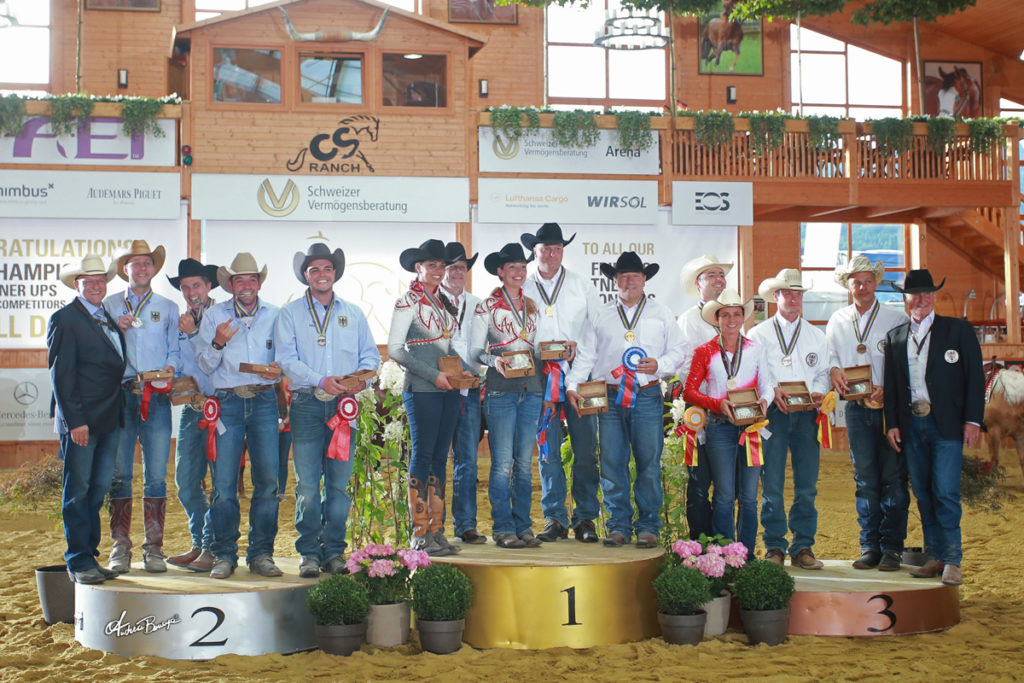 Though Belgium may be a small country, the Belgian team at the 2016 SVAG FEI World Reining Championships in Givrins, Switzerland, posted a big score to take home the gold medal in front of Germany and Austria. The heat of the competition could be felt from the very first moment the in-gate opened but it wasn't until the last rider of the day would perform that the final placings would be determined.
In a field of 44 riders vying for the team medals as well as a spot in the individual competition, NRHA Million Dollar Rider Bernard Fonck was the last entry of the day. With his mount Smart N Sparkin between the reins, not only did he post the top score of the day (222), his result made the final team score rise to a 661.5, one and a half points higher than team Germany who until that point was in the lead.
"The pressure was on because I knew that our final standings would depend on my run," said Fonck. "I went in the arena knowing that I had to mark at least a 220.5 to claim the gold medal and my plan was that if we went past the first maneuvers – the spins – without penalties, then I would ask my horse for more. I did not think that Smart N Sparkin would make any mistakes because he's a really talented and good minded horse, but in case that would have been the scenario, then I would have aimed for the second step of the podium. I am extremely happy that things worked out the way they did because I've been riding this great stallion for a long time now and I am very grateful to his owners, 7 Heaven Reining Horses, for their trust in my program and for giving me the opportunity to show him here. I now look forward to the individual competition on Saturday though my main goal was that of earning the gold here. I would like to thank all my team for giving it all they had and, of course, all the owners of the horses!"
The second highest score for Belgium was the 220 earned by Cira Baeck and Whizasunnysailor BB. Owned by Ruediger Diedenhofen, the 8-year-old stallion, a.k.a. 'Sailor', has an impressive show record to his name with Baeck in the saddle. "Once again he was with me all the way and gave me all he had," said a smiling Cira. "I just love this horse! His big heart and talent never cease to amaze me and placing this medal around his neck is the best thing that I could have ever hoped for."
Ann Fonck and Nic Ricochet, owned by Vannietvert-De Pauw, were the second duo to perform for team Belgium
on Thursday
afternoon. Their score of 219.5 was the first step toward making it to the highest step of the podium. The fourth member of the team was Piet Mestdagh who was seen riding his own Reining Whiz.
Team silver for Germany:
Members of the German team are no strangers to the pen and they have left their mark in more than one FEI competition. Alexander Ripper riding Hollys Electricspark (owned by Christian and Rosy Wagner), Dominik Reminder and GR Hug A Jewel (owned by Vanety Korbus), Grischa Ludwig and Gwhiz Im Smart (owned by Momo & Amy) and Verena Klein riding her own Olena Joe Cody gave it all they had. They were leading the team competition with a total score of 660 until Fonck turned the cards on the table. "We are really proud of the result achieved here today," said German team coach and multiple past German reining champion, Nico Hörmann. "In coming here we knew that the level of competition would be very high but we had a group of great horses and riders who were able to achieve this result and we made our flag fly high!'
Posting the highest score – a 221 – for team Germany was Grischa Ludwig riding Gwhiz Im Smart. Dominik Reminder and GR Hug A Jewel closed his performance a half a point behind. Ripper and Hollys Electricspark scored a 218.5.
Team bronze for Austria:
With a total score of 653.5, team Austria settled for third place honors claiming the bronze medal. Earning the highest score (221) for his team was Martin Muehlstaetter aboard Jacpoint Quarter Horses' 7-year-old stallion, Gotta Gold Chain. Based in the U.S.A. where he runs his own training facility, Muehlstaetter made his way to Switzerland to compete for his country. "This was certainly a great experience and I am very happy that we made the podium," he said. "I am very thankful to Tina and Klaus of Jacpoint QH for giving me the opportunity to ride this great horse here." Joining the duo on the podium were team members NRHA Million Dollar Rider Rudi Kronsteiner and AB Peppy Diamond (owned by Jennifer Nixdorf) who scored a 218.5, Tina Kuenstner-Mantl and Nu Chexomatic (owned by Jacpoint QH) scoring a 214.5, and Johannes Hasenhauer riding Keen Little Juice (owned by Olga Hofmann) with a 207.
"My team was simply great and we couldn't be any happier for this result," said team coach Gerold Dautzenberg. "Unfortunately one of our horses was slightly injured before the competition so we had to retire him, but at the end of the day all our riders did a wonderful job and we are thrilled to go back home with the team bronze."
Missing the podium by one point was Team Italy. In the first and only edition of the FEI World Reining Championships for Seniors held in 2008, on home-ground the Italians had earned the team gold medal in front of team U.S.A.
Building up to the medals
Who would have a chance of stepping on the podium was determined once Italy's Gennaro Lendi, riding his Yankee Gun, posted a 219 to bring his team's total score to a 652.5. Three horses later, Austria's Martin Muehlstaetter and Gotta Gold Chain (owned by Jacpoint Quarter Horses), thrilled both the crowd and the judges. A 221 appeared on the scoreboard and secured his team a medal by bringing the total score to a 653.5 behind Germany and in front of Italy.
Germany's team favourite, Grischa Ludwig riding Gwhiz Im Smart (owned by Momo & Amy), was determined to keep his country's flag high. They ran an impressive pattern #5 and closed their run with a 221 bringing the total score to a final 656.5. In order to determine who would conquer the coveted FEI World Reining Championships medals, the athletes and the public had to wait for the very last horse-rider-combination to make their way in the pen. Belgian Bernard Fonck and Smart N Sparkin did exactly that!
The team competition was also the first qualifier for the individual competition that will be held on Saturday. Riders that did not automatically qualify will have a chance to earn a spot in the consolation held on Friday morning prior to the SVAG FEI European Reining Championships for Young Riders and Juniors team competition.
This article sponsored by: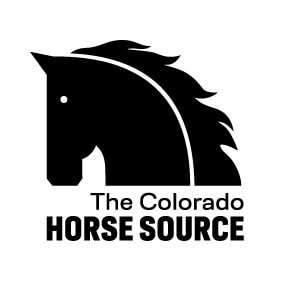 News from the horse industry. Sharing today's information as it happens. The Colorado Horse Source is not responsible for the content of 3rd party submissions.